Looking Back, Giving Back: A HIAS Volunteer Pays Forward
By Sharon Samber, HIAS.org
Apr 19, 2021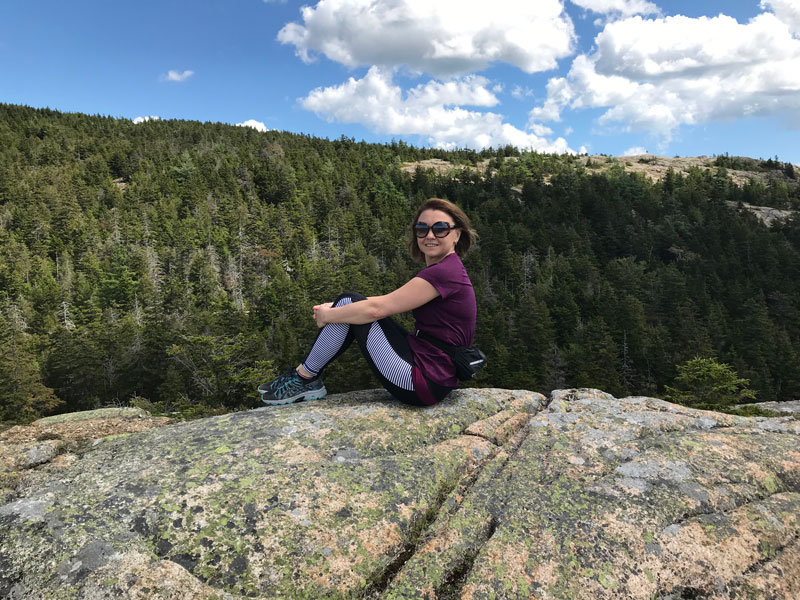 (courtesy Inna Zubashko)
The teacher made them practice handshakes over and over.
A handshake had to be strong but not too hard and not too weak, said the woman with the blond curly hair, so the students worked on their handshakes until they got it right.
If it weren't for that first teacher in a HIAS cultural orientation class going through the details of life in America, Inna Zubashko has no idea where she would be today.
Twenty years ago Inna came to the United States from Ukraine with her extended family. She didn't know much English or how she could get a job, let alone restart her life alongside her husband, 8-year-old daughter, parents and grandparents.
HIAS gave Inna the time and the tools to learn English and prepare for entering the workforce. Learning and training for 4-5 hours every day made a huge impression on her.
"That teacher changed my life," Inna recalls by telephone from her apartment in Hell's Kitchen on the West Side of Manhattan. "Many years later I realize what a difference she made."
The teacher, the class, and the job recruiter from 2001 are all fresh in Inna's mind as she plans the HIAS employment orientation classes that she now teaches to new refugees. She has always worked full time, but when a cousin arrived from Ukraine several years ago Inna was reminded of her own difficult start in America and realized she could also be giving back to the exact place that helped her.
As we begin Volunteer Appreciation Week (April 18-24), Inna's story is a reminder of the importance of what happens at the beginning of an immigrant's experience in a new country.
Inna went to college in Ukraine and had a degree in applied mathematics when she came to the U.S. but she knew she would have to start over. Over the years she has worked at a number of fashion companies that managed big names like Calvin Klein and Tommy Hilfiger, and worked in a number of different positions in strategy and production, as well as digital implementation. She is a manager at Amazon now, but she remembers the important things that happened soon after her arrival in the country.
"That foundation that I had in the beginning and the financial help from HIAS, and having the ability to study and learn and adjust — that's what helped me most," she said. "Without it, I wouldn't have been able to get where I am."
Inna's first job recruiter from the local refugee agency that HIAS partnered with told her to find people who are successful in whatever company she works in and see what she can learn from them, and then adapt that information for her own success.
"I've had that same mentality throughout my career," Inna said. "And I tell the refugees in my classes to do the same!"
Mostly women attend Inna's employment orientation classes, and the former refugee encourages the new immigrants to be independent. She helps them understand the job interview process, make LinkedIn profiles, and draft cover letters, but she also dispenses advice that doubles as life guidance.
It's important to be curious and to find out as much information as you can about the work you want to do, Inna counsels her students. Read up about a company on their website before you apply for a job, and even if networking doesn't feel natural you should do it, because being open-minded is the right way to approach work. Inna added you never know what can happen in your life and career and so you should always keep your options open.
Some students are not confident about the changes they need to make in their lives and see the work-life balance in the U.S. as very daunting. Inna is ready to address those issues as well.
"I tell these women that they are immigrants so they have already made a change, and they can keep changing," Inna said.
One story Inna likes to share in her classes is about a time when she was looking to change jobs and for some reason was not getting any interviews. After discussing with a friend, the friend surmised that Zubasko was asking too little for a starting salary and that was making companies shy away. As soon as Inna asked for more money, she got a job offer.
The lesson is one Inna is eager to impart.
"It's important to know how much you are worth," she said.