Five Ways Americans Can Welcome Refugees
By Ayelet Parness
HIAS.org
Oct 10, 2023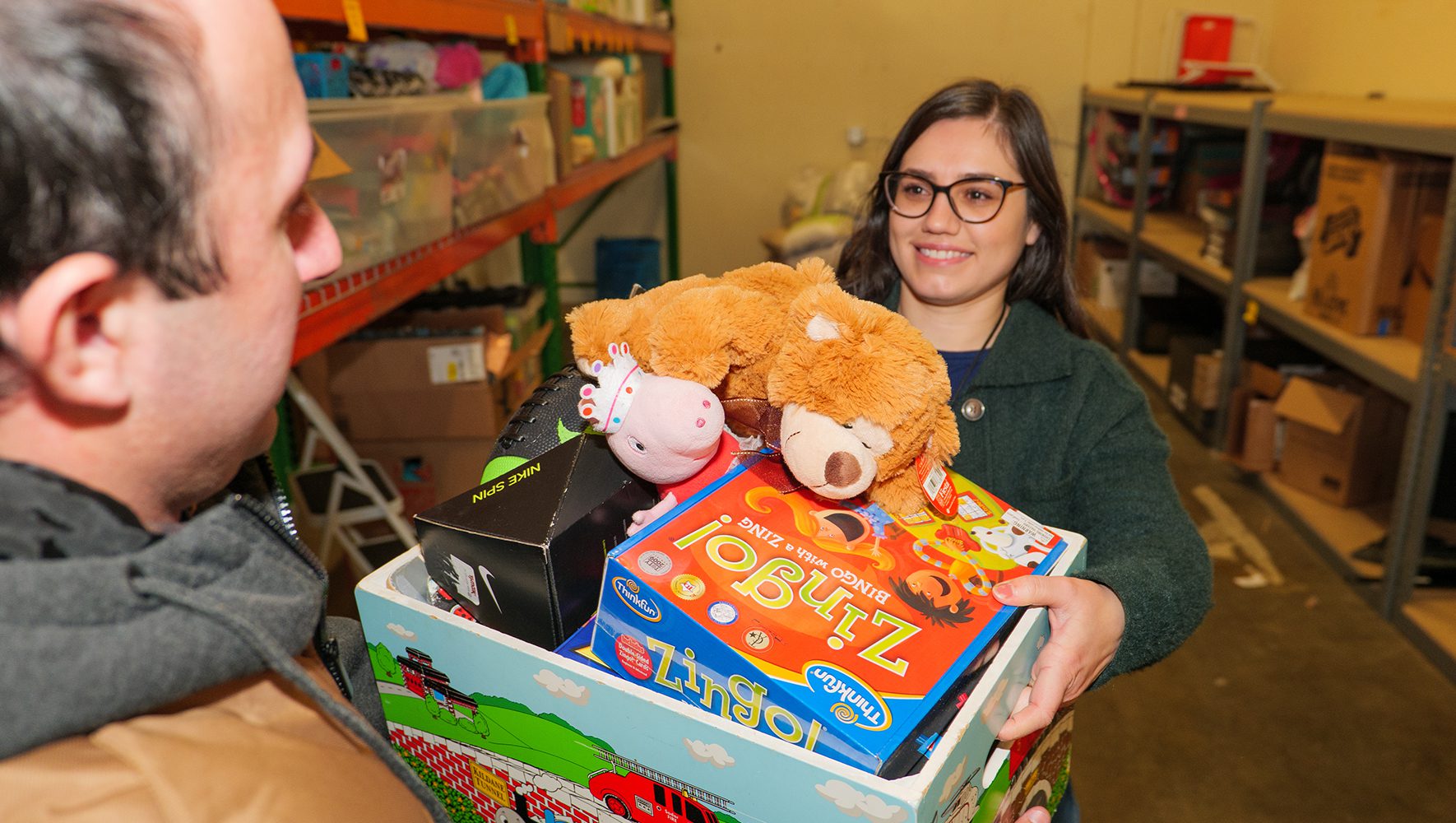 Right now, a record 110 million people — over 1 in 74 worldwide — have been forcibly displaced. As this number continues to grow alongside a rise in anti-immigrant rhetoric, it is more important than ever for ordinary people to take steps to help refugees and other displaced people find welcome, safety, and opportunity.
Below are five ways that people across the United States can directly help refugees, asylum seekers, and other displaced people find welcome in their communities, across the U.S., and around the world:
1. Sponsor refugees through the Welcome Corps
In January, the Biden administration announced the Welcome Corps program. This new initiative allows ordinary Americans to sponsor refugees from around the world in order to expand the country's resettlement capacity. Through the Welcome Corps, a group of five or more vetted volunteers provide initial financial, resettlement, and emotional support to a refugee family or individual as they acclimate to their new community and life in the United States.
Currently, sponsor groups are matched with refugees who they do not already know. While the program started with matching refugees from Sub-Saharan Africa, it has expanded to welcome people from around the world and will allow sponsors to request to be matched with refugees based on their region or spoken language. In the future, sponsors will be able to name specific refugees they want to sponsor and refer them to the U.S. Refugee Admissions Program.
HIAS is a Private Sponsor Organization for the Welcome Corps. This means HIAS supports sponsors at every step of their journey, from helping them develop a welcome plan and budget to providing ongoing training and support through office hours and dedicated staff.
"By giving everyday Americans the chance to play a leading role in welcoming and integrating refugees, the Welcome Corps allows people across the country to cultivate their very own welcoming communities," said Andrea Gagne, senior program manager for private sponsorship at HIAS. "We're working side by side with sponsors to create safe, supportive, and caring communities for refugees to begin rebuilding their lives."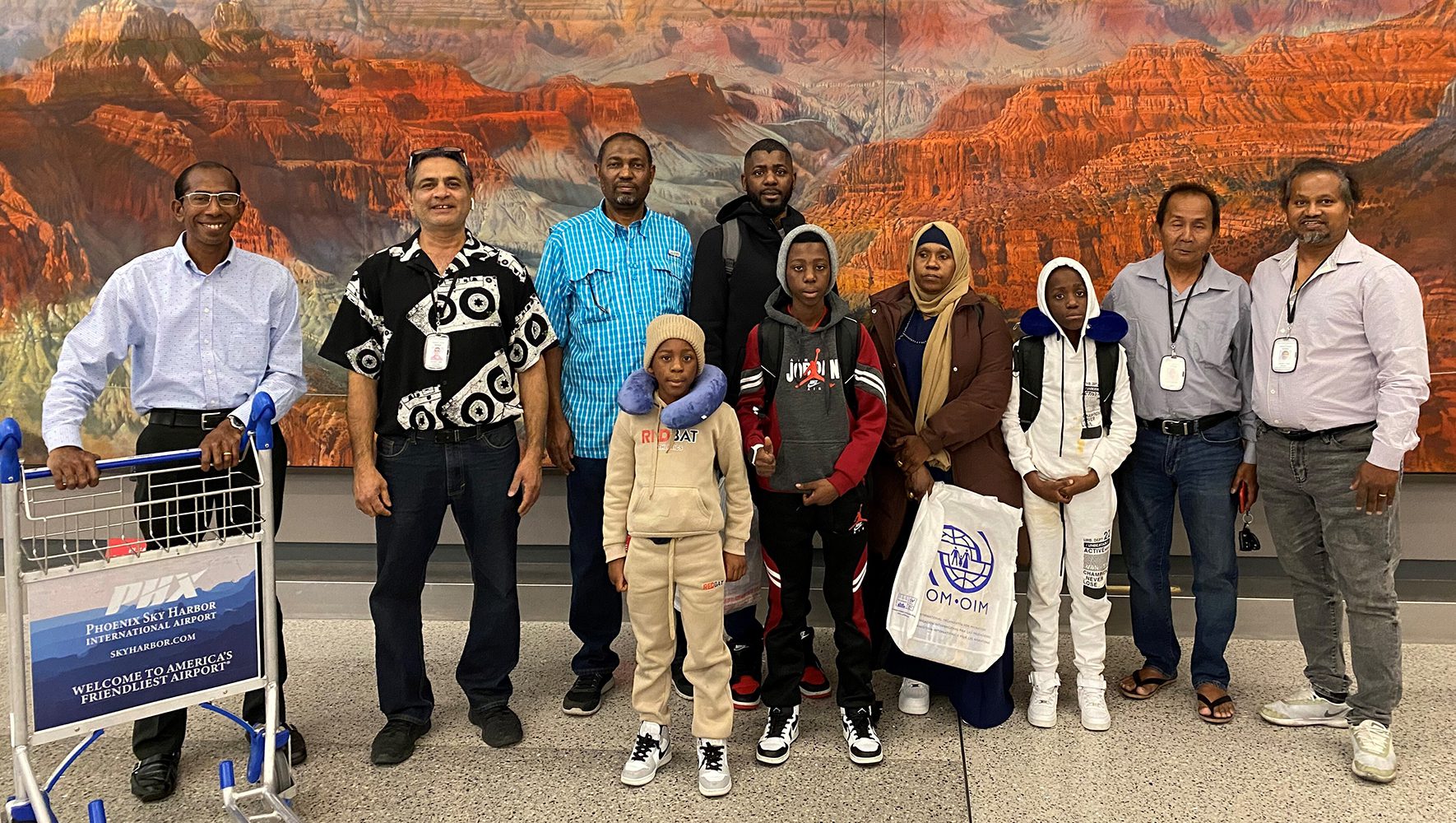 HIAS' work with the Welcome Corps builds on our Welcome Circles program, launched in response to the overwhelming need for additional resettlement capacity after the Taliban's takeover of Afghanistan. As part of the Sponsor Circle initiative developed by the Community Sponsorship Hub, HIAS mobilized our community of volunteers to first welcome Afghan evacuees and later those displaced by the war in Ukraine through this Welcome Circle model. The circles have had a profound impact on the people they have helped resettle in the United States.
"Everything that a person, a family [needs], they help us with," said Anisa*, whose family was resettled by the Intertwine Interfaith Welcome Circle after fleeing Afghanistan. "We found a new family in St. Louis."
"We're working side by side with sponsors to create safe, supportive, and caring communities for refugees to begin rebuilding their lives."
Andrea Gagne, senior program manager for private sponsorship at HIAS
2. Help a local resettlement organization resettle refugees in your area
HIAS works with a network of 29 resettlement partner sites — local Jewish and secular service agencies in communities across the country working to help refugees resettle and integrate into their new communities. But these organizations don't exist in a vacuum. Local communities play a major role in helping their new neighbors thrive and put down strong roots.
One way people can get involved is through community co-sponsorship, a process by which groups of volunteers work with a local agency to take on some, but not all, of the responsibilities involved in helping a refugee family or individual resettle in their area. Currently, 10 HIAS resettlement partners offer such co-sponsorship programs.
Pastor Marc de Jeu is a member of Undivided in Christ, a non-denominational Christian coalition that has been working with HIAS resettlement partner JFCS Pittsburgh to provide support for a family of three, a mother and two children who were resettled from Latin America. "[With JFCS,] we've got support every step of the way — extremely responsive support," he said. "We've never felt like we were on our own."
Co-sponsorship groups work in partnership with local resettlement organizations to determine where they can best support newcomers, helping them with anything from finding employment and enrolling in school to locating housing and applying for benefits. The groups, which vary in size but usually consist of eight or more volunteers, will divide into smaller teams to tackle these tasks in an organized way. For example, one team might work on securing affordable housing while another helps navigate healthcare. Depending on the organization, this formal commitment lasts six months to a year.
In addition to helping refugees meet their basic needs and reach important milestones toward self-sufficiency, these groups also help refugees build relationships and become more integrated into their local community. "We can focus on a bit more of the relational connection and some of the emotional supports," de Jeu said. "It's a matter of finding those places of initial connection and common ground … developing the initial relationships that help you feel socially capable."
If you're interested in helping refugees through your local resettlement office but not quite ready to take on co-sponsorship, there are other types of volunteer opportunities available. In the Seattle area, for example, volunteers work with Jewish Family Service to welcome new families by grocery shopping, making home deliveries, and helping with moving and storage. From organizing and contributing to furniture drives to providing interpretation services, there are many ways that volunteers can support refugees. Simply reach out to your local resettlement organization to see how you can get involved.
"It's a matter of finding those places of initial connection and common ground … developing the initial relationships that help you feel socially capable."
Pastor Marc de Jeu, co-sponsorship group member
3. Volunteer with HIAS to welcome asylum seekers and migrants
Unlike refugees, who arrive in the U.S. with a roadmap and funding in place for where and how they will start their new lives, asylum seekers often come to the U.S. in the immediate wake of a crisis and cannot access many public benefits as they wait for their cases to be decided. Working out of our offices in New York City and Silver Spring, Maryland, HIAS' volunteer programs help provide wraparound services, mentorship, and support to asylum seekers.
One way to volunteer with asylum seekers is through direct service, in which volunteers are trained to work one-on-one with HIAS' legal clients. Long term volunteer opportunities include mentoring asylum seekers, helping them navigate systems like healthcare and public transit, and serving as English language tutors or conversational partners. Volunteers might also work with clients on a shorter-term basis to meet a specific goal, such as polishing a resume, applying for a new social security card, or finding affordable housing. HIAS volunteers speak a combined 20 languages, and often offer their skills for interpretation or translation.
"Volunteers and clients have worked together to navigate metro systems, apply for secondary education, work on English vocabulary, build community, and tons more," said Caroline Wolinsky, HIAS' volunteer program manager. "We also have a robust letter writing program, in which volunteers come together over Zoom to write monthly letters of solidarity and compassion to people in immigration detention."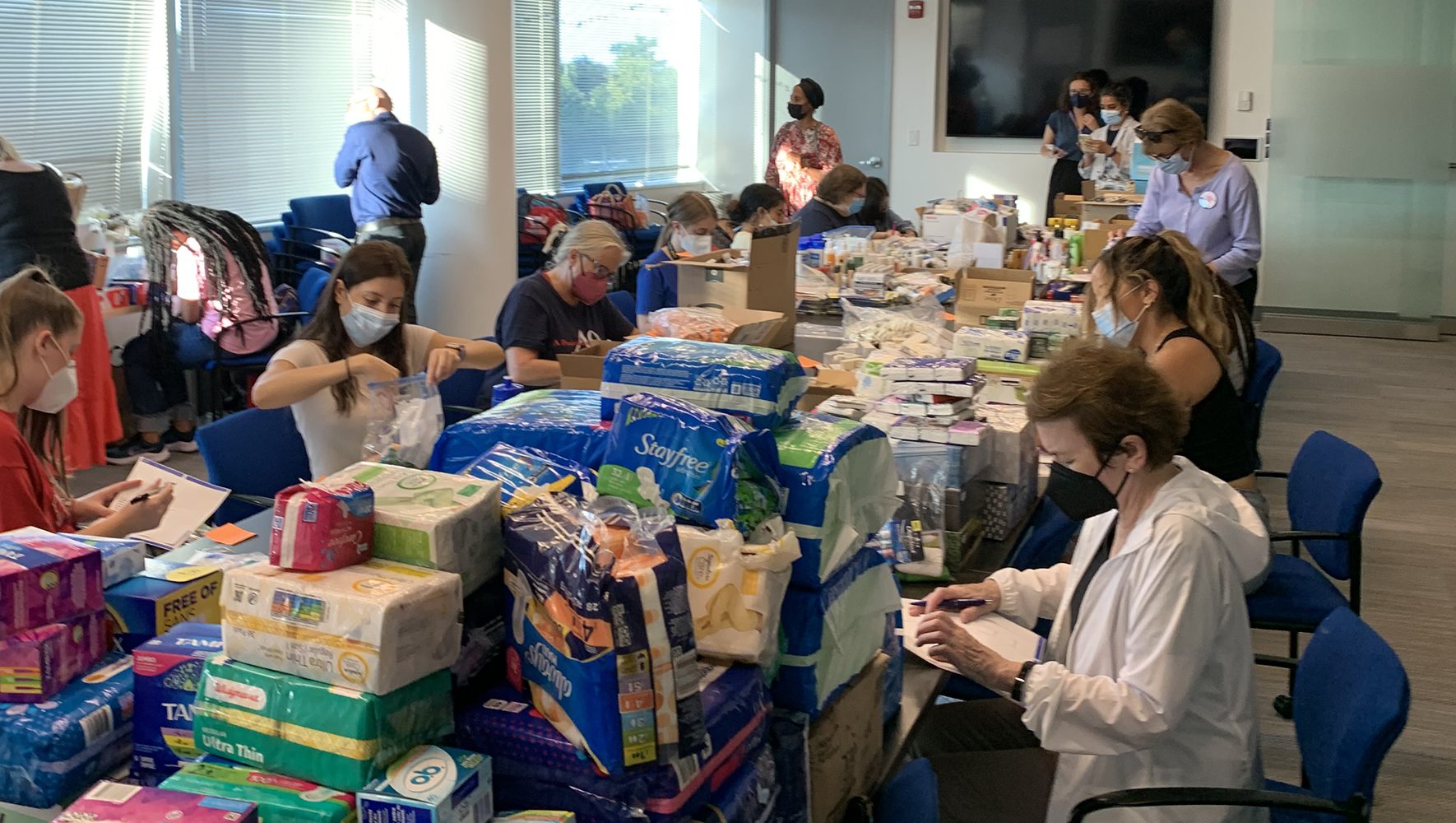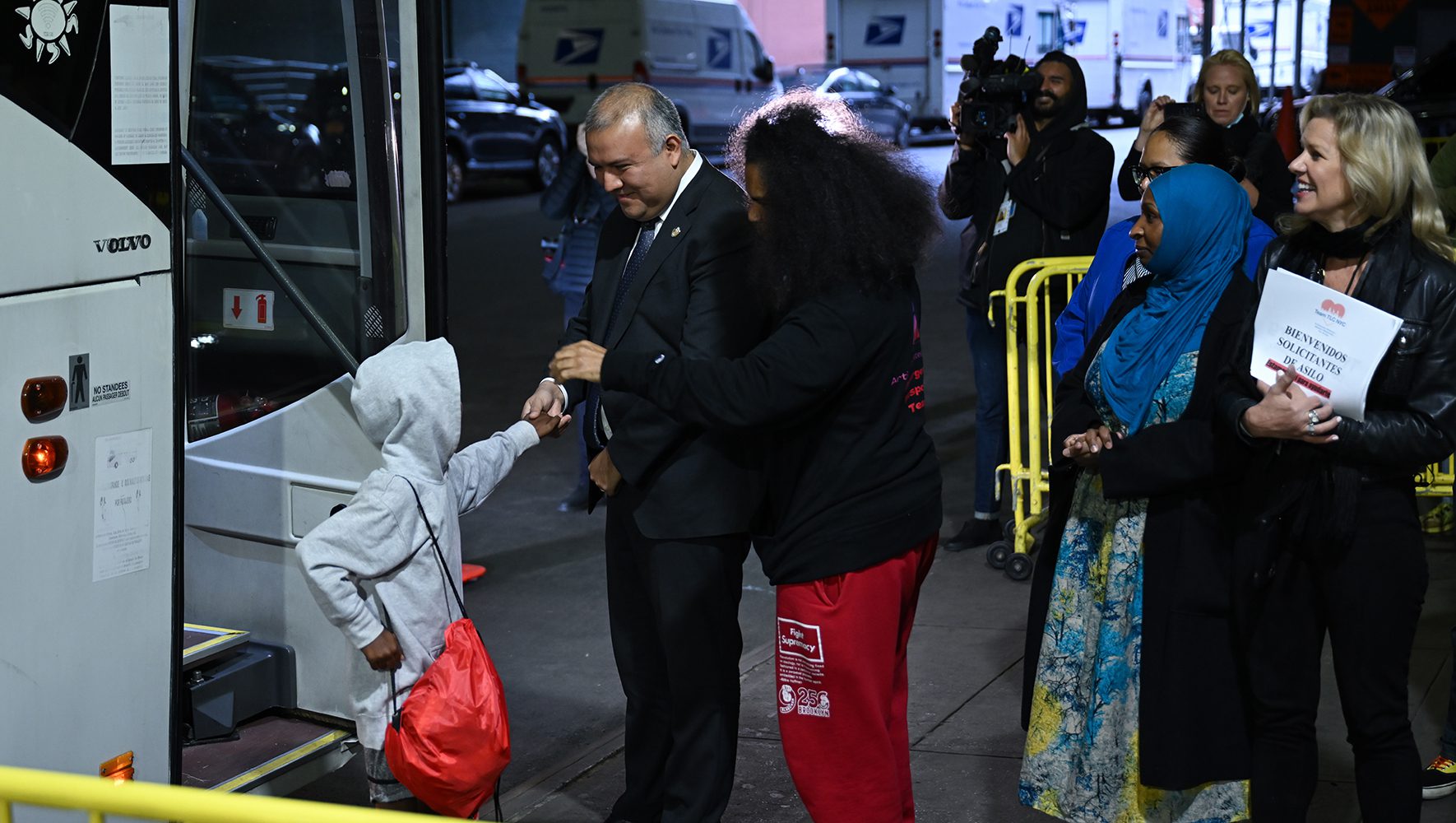 Over the last two years, many cities around the country have seen an increased number of migrants and asylum seekers arriving from the U.S.-Mexico border. Some have chosen to move to a specific destination in an attempt to reconnect with family and friends or to find opportunities.
Others have arrived on buses sponsored by the governors of Arizona, Florida, and Texas — often without a clear understanding of where they are going and what support and resources they can expect when they arrive.
In the D.C. and NYC areas, where such buses continue to arrive frequently, HIAS is coordinating with other organizations and mutual aid networks to mobilize volunteers in response to newly arrived asylum seekers and migrants. There are a variety of ways to assist, from working with new arrivals directly to hosting donation and assembly drives for needed items to creating resource guides for people new to your community. HIAS plans to expand these efforts in New York even further in the coming months.
Not in those areas? We've also compiled a list of ways for you to assist asylum seekers and migrants arriving in communities across the country.
4. Provide legal assistance to displaced people
Looking to assist displaced people with your legal expertise? HIAS works with attorneys and law students across the United States to help refugees, asylum seekers, and other forcibly displaced people access vital immigration legal services.
HIAS' pro bono network is a vital part of our U.S. legal programs, adding to the work carried out by HIAS' dedicated staff attorneys in New York City and Silver Spring, Maryland. Participants receive training and resources to assist people seeking humanitarian relief in the United States. Given the ever-changing nature of U.S. immigration law, HIAS hosts regular webinars to keep volunteers up to speed on the latest trends and policy changes.
The pro bono opportunities that are available shift regularly in response to the needs of forcibly displaced populations. For example, the Department of Homeland Security recently re-designated Temporary Protected Status (TPS) for citizens of Ukraine, Afghanistan, and Venezuela — meaning that individuals from those countries who have been residing in the United States since specified dates will be able to apply for temporary legal status and work authorization. This designation is given when conditions in the country, such as conflict or natural disaster, make it temporarily unsafe for its nationals to return home.
"Our team anticipates receiving a number of referrals from TPS-eligible individuals from these countries," said Rachel Zoghlin, assistant director for pro bono and partnerships at HIAS. "People will come to HIAS looking for assistance preparing and submitting their applications to USCIS. Our team looks forward to training and mentoring volunteer attorneys interested in taking on these matters and assisting those who cannot safely return to their home countries in gaining humanitarian relief."
Volunteer attorneys can help forcibly displaced people in many meaningful ways, from providing full direct representation to clients in immigration court and before USCIS to taking on projects with a more limited scope. While some opportunities, such as direct representation, are only for those in the New York and D.C. metro areas, many other aspects of the program are available to legal professionals across the United States. Additional areas of opportunity include providing limited scope representation to asylum seekers, conducting comprehensive legal research, helping asylees and refugees apply for their green cards, and assisting former refugees and asylees with applications for U.S. citizenship.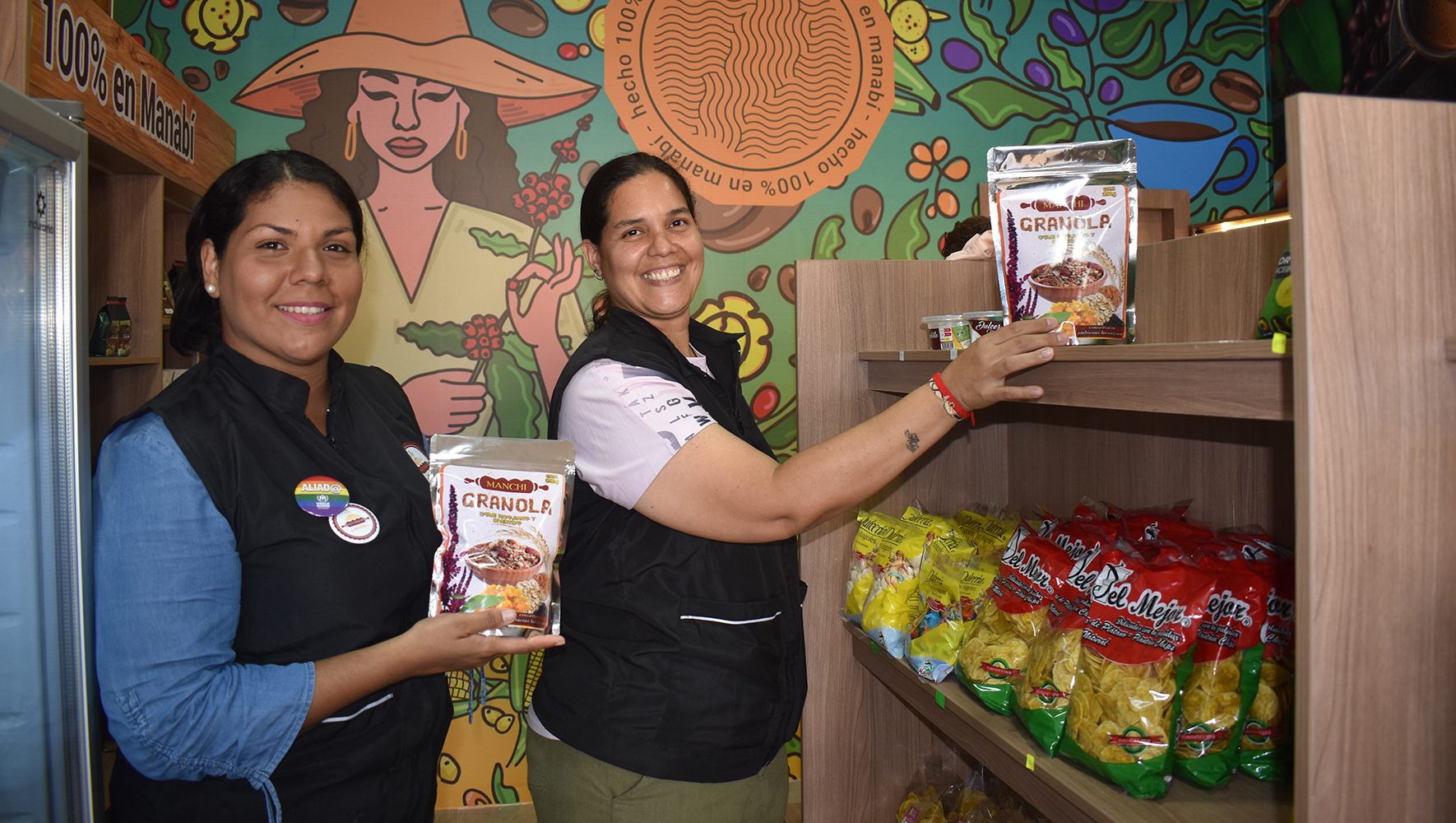 5. Support HIAS' work in the U.S. and around the world
In addition to providing resettlement and legal support to displaced people in the United States, HIAS is active on the ground in over 20 countries around the world, working to improve the lives of displaced people. HIAS provides vital services to refugees and asylum seekers globally and advocates for their fundamental rights so they can rebuild their lives.
Donating to HIAS means helping displaced people like Claudia Gomez and Isabela Ruiz*, a couple building a life and a business together in Ecuador after leaving their native Venezuela behind. Through HIAS Ecuador, they have received entrepreneurship training and seed capital to help them grow their business selling vegan snacks. In a recent interview, Gomez and Ruiz told HIAS, "we started our business in the program, and now we're suppliers of organizations like UNHCR and Plan International. Our snacks are selling really well. We want to inspire other people that they can follow their dreams and open up their own business too."
It also means supporting our emergency response work in areas like Chad, where hundreds of thousands of people have fled the ongoing civil conflict in Sudan. Working in concert with agencies such as the UN Refugee Agency (UNHCR) and the World Food Organization, HIAS is distributing food and other necessary supplies and providing vital services such as mental health support, gender-based violence prevention, and child protection to those who have fled.
Together, we can help create a world in which refugees find welcome, safety, and opportunity. Support our work with a donation today.
* Pseudonym used for client's protection.