Emergency Response in Israel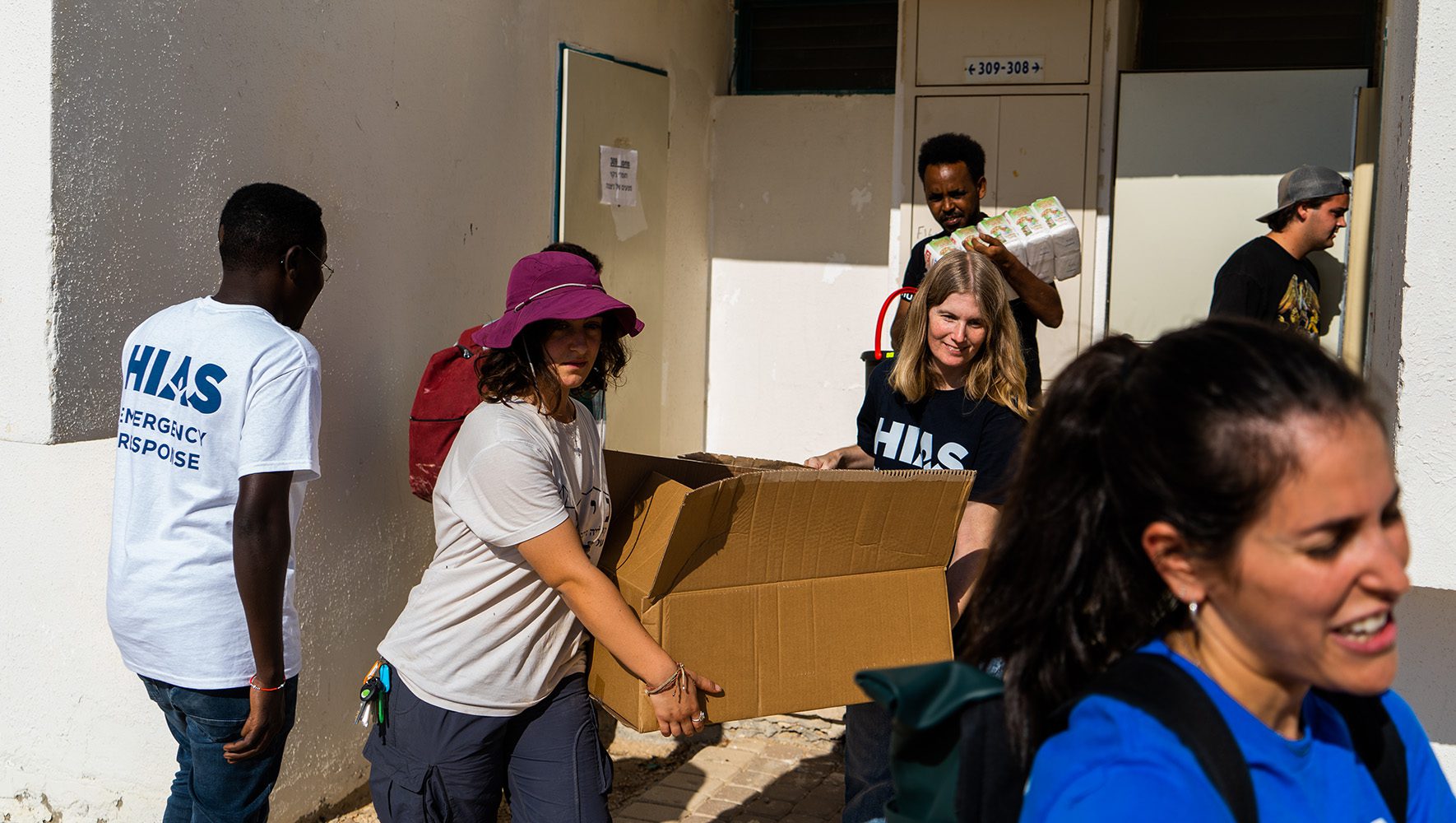 Overview
This page will be updated frequently to reflect HIAS' response to this developing crisis.
Latest update: December 1, 2023.
After the unprecedented October 7 terrorist incursion into Israel, the impact continues to be felt across the country. There were around 1,200 people killed, and many thousands wounded. Some of the estimated 240 people captured and held hostage in Gaza have been released. An estimated 200,000-250,000 Israelis have been internally displaced, including dozens of communities near the Gaza Strip and along the border with Lebanon.
Donate to support our emergency response in Israel now
Emergency Response
HIAS has worked in Israel since 1950, developing strong knowledge of the operating environment and a powerful network of local partners across the country. Within 24 hours of the brutal attacks, HIAS activated its Emergency Response to provide life-saving support to those displaced in Israel, including critical information to asylum seekers and displaced families. 
Humanitarian needs 
HIAS emergency response teams assessed displaced communities and consulted with local and national NGOs within 48 hours of the attacks. Assessments confirmed the need for coordinated and sustained basic needs including cash assistance, counseling and psychosocial support, and an array of protection programs for the displaced, especially children and displaced persons who fall outside of government support, such as refugees and migrant workers. Like many rapid onset emergencies, there is a swell of community-organized services and support for those displaced. However, more sustainable solutions are needed as teams prepare for the days and weeks ahead.   
HIAS emergency response  
HIAS began with emergency protection services and shelter assistance and has now expanded its response to include cash assistance, provision of food and household items, and psychosocial support services. Remote vulnerable communities that were forcibly displaced from the attacks in the South, including Eritrean families who had been seeking asylum in Israel before the crisis, are especially at risk. HIAS is providing:
Urgent items such as hygiene supplies, blankets, school supplies, and dignity kits
Cash and voucher assistance to those affected by the crisis, especially those in shelters
Help through local partners for additional health, protection, housing/shelter, and legal services
Mental health and psychosocial support
Child protection
Referrals and information for additional services
HIAS has over 20 national partnerships, which are being reconfigured to support urgent needs, and has also formed new partnerships during this emergency.
Emergency Response in Israel
Nov 10, 2023
HIAS is working to meet urgent humanitarian needs and providing support in response to the mass terror attack of October 7. Learn more about our emergency response.