In the Darien, Refugees Receive Help All Along the Way
By Beverly Goldberg
HIAS.org
Sep 7, 2023
Darién Province, Panama — The only way to arrive at the village of Bajo Chiquito in times of high precipitation is to take a wooden canoe against the current for four hours through the Chucunaque River, deep in the Panamanian jungle. The journey begins at the break of dawn, in an untouched natural landscape of vegetation and wildlife. But signs of refugees and migrants through the Darién jungle quickly appear — camping mats, shoes, plastic bottles, and styrofoam meal boxes accumulate in garbage patches along the river. Each day here, hundreds of boats of refugees and migrants travel out of the jungle and towards temporary reception centers in Panama.
As political, social, and economic crises become more acute around the world, more refugees and migrants are making the risky journey through the Darién Gap, a dangerous stretch of jungle that connects Colombia to Panama. In 2022, almost 250,000 people crossed the jungle, which is set to rise in 2023 to 500,000. Among them are growing numbers of gender-based violence (GBV) survivors, women at risk of experiencing sexual violence, and LGBTQ people.
Many refugees traverse multiple countries in the Americas on their journeys, making it difficult for them to receive adequate protection and continual support. To rectify this problem, HIAS has been implementing cross-border programs, providing an innovative way to support GBV survivors and LGBTQ people in the Darién. Financed by AECID, UNHCR and the Hilton Foundation, these programs provide information about risks on the route, psychological counseling services, and legal support to people in Colombia, Panama, Costa Rica, and Honduras. People who receive support can be referred to HIAS offices located in countries further ahead, where staff members are already aware of the complexities of their case.
"Currently, we're seeing many women and LGBTQ people arriving in a critical situation," said Daniela Montesinos, HIAS Panama's coordinator of operations in the Darién. "We're seeing a lot of single mothers with large groups of children, women that have survived extreme situations of GBV, and LGBTQ people that have experienced violence during the crossing through Darién Gap."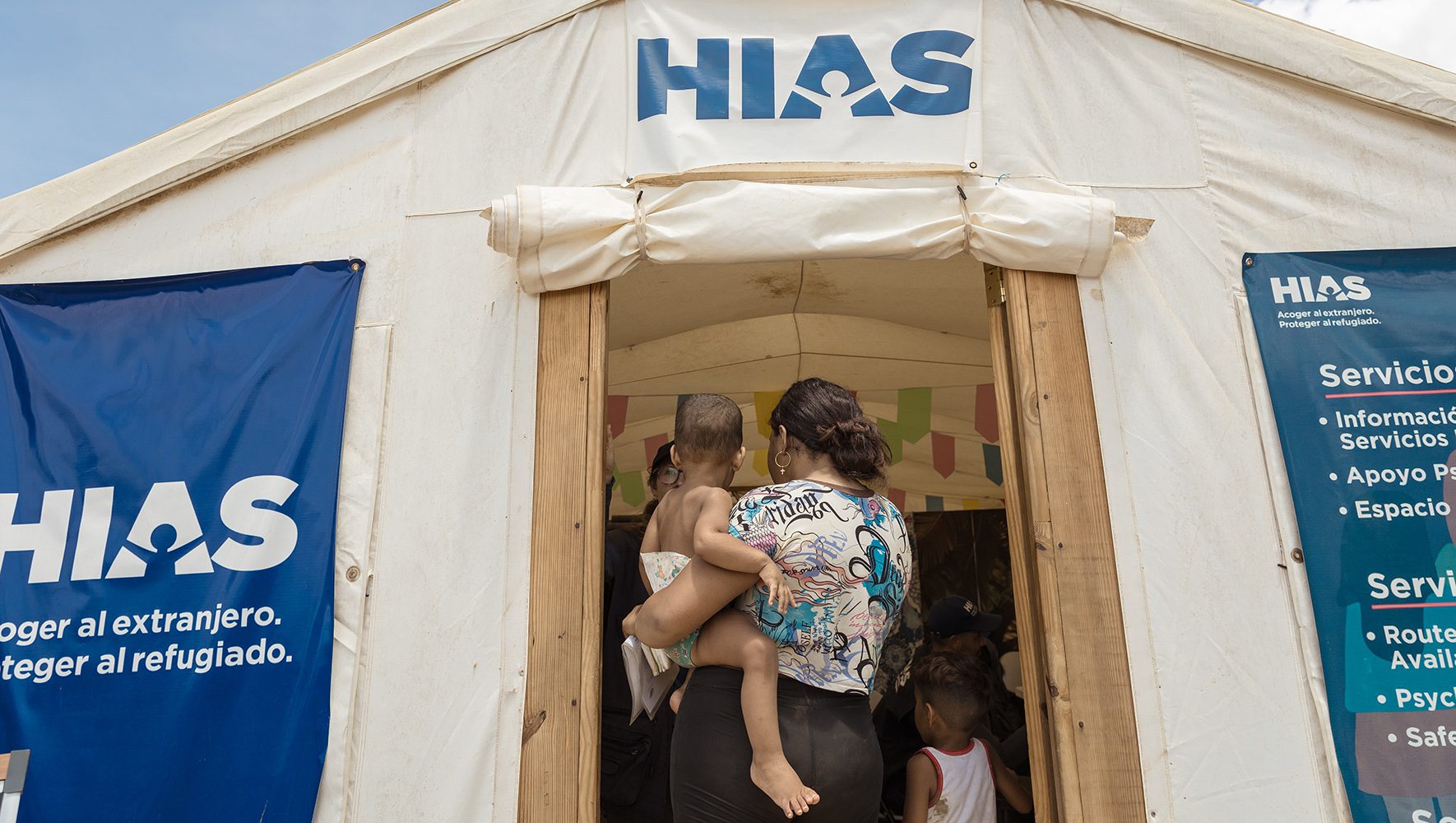 Supporting survivors of GBV in the Darién Gap
In the Darién Gap, many refugees and migrants who previously experienced GBV are at high risk of experiencing this again in the jungle. One-quarter of all people who receive HIAS attention in the Darién reported traveling with survivors of physical, psychological, or sexual violence, and 23% reported experiencing abuse during their journey.
HIAS' cross-border program allows GBV survivors in the Darién to begin a process of psychological interventions and legal support. GBV survivors interact with HIAS staff in different countries that can provide them with support from a survivor-centered perspective. A combination of psychological first aid and follow-up counseling sessions provide survivors with tools to process trauma and build resilience.
Carolina*, a GBV survivor from Peru, received attention and support from HIAS in the Darién. She escaped from a physically abusive relationship after making several requests to the authorities for protection that went unanswered. "I used to work as a teacher in Peru, but with the violence and threats I was experiencing, it became impossible to leave my house," she said. "Sometimes, you feel really alone in a situation of GBV, but speaking with HIAS has shown me that's not the case. The fact that I can go to HIAS in Costa Rica for further support makes me feel like there are people looking out for me."
A GBV survivor from Ecuador, Melany*, was also subjected to abuse by her former partner. She decided to make the journey through the Darién with her children in search of safety abroad. "HIAS has helped me a lot here. They've given me psychological support, medicine for my children, and other items that we need to wash and clean ourselves. I know that wherever we end up, HIAS will be there. In Costa Rica for example, we can get more help" Melany said. "This gives me peace of mind."
LGBTQ people find a safe space in HIAS in the Darién
Among the thousands of refugees and migrants crossing through the Darién each day are many LGBTQ people from across Latin America searching for a better future abroad. Many report experiencing discrimination in their countries of origin and during their journey. HIAS Panama supports those who have experienced trauma and hate crime in a space where LGBTQ people feel safe and supported through our cross-border program.
"A lot of people tell us that they've been attacked and beaten in their countries of origin due to their sexual orientation or their gender identity, said Dilsa Sanchez, HIAS Panama's GBV officer in the Darién province. "We also see a lot of cases of LGBTQ people who don't have enough money to survive because their families cut them off. That's why many decide to travel through the Darién."
Santiago* and Andres* are two gay men from Venezuela who moved to Peru four years ago. There, they opened a successful hairdressing business that helped establish them in their new home and to earn a living. However, one day, they were threatened by armed groups that took over their neighborhood, and they knew that they had to flee. They now join growing numbers of refugees and migrants crossing the Darién that have been displaced twice.
When they made their way out of the Darién jungle, they went straight to HIAS for support, where they received psychological first aid and counseling through our cross-border program. "I was already in touch with HIAS in Peru, where I attended workshops and different events, and from this experience, I knew it was an organization that defended the rights of the LGBTQ community and created a safe space for us," Santiago said.
Andres was also pleased with the attention he received. "The fact that HIAS is a safe space for LGBTQ people is a relief for me. Ever since I first approached HIAS here in the Darién, I felt right away that they wanted to support us, more so than in other organizations we've approached on our journey," he said.
*Names have been changed to protect the identity of program participants