Why Community Is So Crucial to Refugees' Mental Health
By Annie Bonz
Director of MHPSS Programs
Oct 10, 2023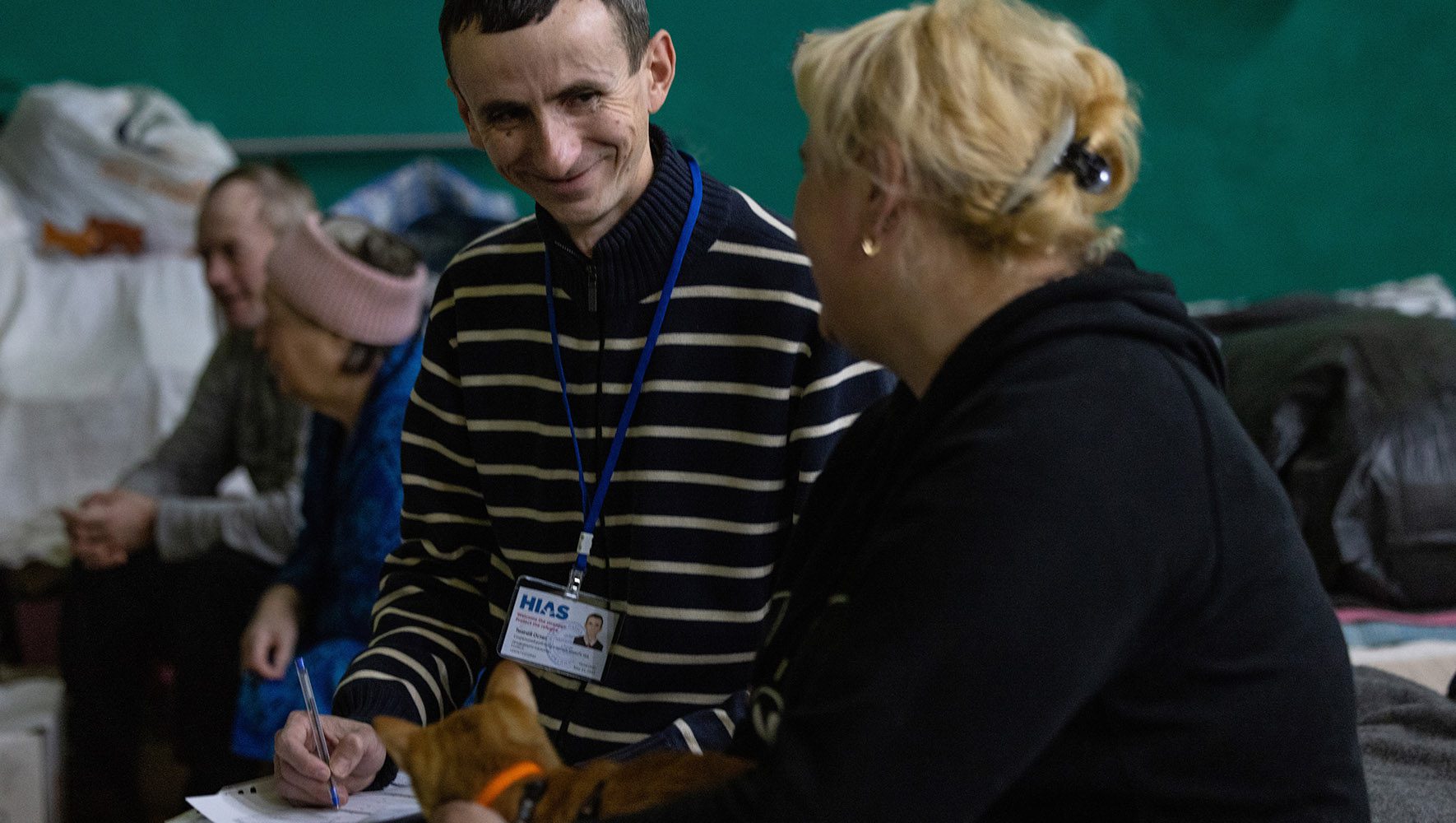 When people are displaced from their home from conflict, violence, climate-induced crisis, or other insecurity, they are immediately faced with a long list of practical concerns. Where will they live? How will they keep their family members safe? What will they do for work? Where will their children attend school? But beyond these questions lie challenges that are no less difficult to overcome: a loss of control, uncertainty about the future, and stress reactions such as difficulty sleeping, inability to focus, and sadness, isolation, and disconnection. 
On World Mental Health Day (October 10), HIAS is proud that Community-based Mental Health and Psychosocial Support Services form one of our four core programming areas. The first word of the program — community-based — is intentional. As refugees rebuild their lives far from home, HIAS recognizes that providing services that center communities and families is paramount to the success of our mental health work. 
The uncertainty and stress that refugees may feel cannot be met by individual solutions alone. Communities and services that are tailored to their needs are essential. HIAS works with refugee and host communities in multiple ways that affect individuals, their families, and the greater social bonds they form with the outside world.   
In 2022, HIAS reached more than 105,000 people around the world directly and indirectly through mental health services and activities. We have developed and harnessed networks of community members — especially during the COVID-19 pandemic — so that people receive training in community management, empowerment, and the promotion of healthy behaviors can disseminate information within their communities, make proactive referrals, and connect people in crisis to the help they need.  
HIAS works hand in hand with community outreach workers (some of those workers have even  become HIAS staff) and leaders in the community. Both can help HIAS gain access to the community and allow our services to reach greater numbers and specific populations. In many cases, communities seek to learn and own the practices HIAS provides because they must continue the work after we leave. We may have mental health and psychosocial support approaches based on global best practices, but with the community's input we can co-design and adapt programs appropriately and give them a better chance to succeed long-term. 
Community-based activities play a crucial role in promoting well-being and raising mental health awareness.
Community leaders act as a focal point, and can tell us what programming is best for them — and then help drive implementation. Art, play, sports-based and cultural activities, rituals and celebrations-based initiatives, and clubs are all based on participants' interests. For example, in Ukraine we have helped create chess clubs, allowing people to connect in a safe space and putting some structure into place through play. Refugees are uncertain about their future, and one of the more important things we can do through our services is to promote a sense of structure.   
Community-based activities also play a crucial role in promoting well-being and raising mental health awareness, which encourages clients to access appropriate forms of support. In Honduras, community leaders who recognized the importance of promoting mental health and well-being were trained and supervised to deliver low-intensity psychological interventions for stress management to community members affected by violence, poverty, and the impact of natural disasters. As a result of this community approach the outreach to vulnerable communities and people with mental health needs has been impactful. Over 8,000 people in Honduras have been able to participate in community spaces to talk about the importance of mental health and have increased their resilience through learning positive coping skills. These group support spaces, helped by HIAS and its partners, are led by the community for the community.  
HIAS' engagement with the community can work to jump start support to local organizations and build the capacity of civil society and local authorities to implement MHPSS services for refugees. In Poland, our partnerships with grassroots organizations have helped increase access to MHPSS services, implement community-based psychosocial support interventions, and provide technical support to programming.   
At HIAS, when we provide mental health and psychosocial support services, the descriptor "community-based" is not pro forma. It is essential, it is necessary, and in essence it is the backbone of our work. Just as those refugees in crisis cannot do the work without a support system, we cannot help those in crisis without the support of the community at large. When we work together holistically, we can achieve the best results for those in need of mental health support.