Homeland Security Secretary Nielsen Testifies on Border Security
By Sharon Samber, HIAS.org
Mar 06, 2019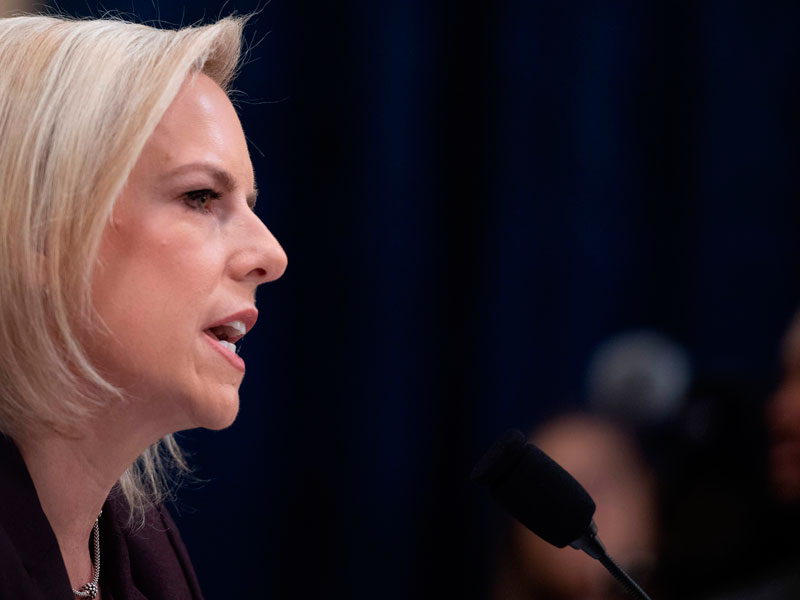 (JIM WATSON/AFP/Getty Images)
Under intense questioning from Democratic lawmakers, Department of Homeland Security Secretary Kirstjen Nielsen today defended the Trump Administration's declaration of a national emergency at the Southern border and asked for changes in laws regarding the process of asylum seekers into the United States.
"We want to strengthen legal immigration," Nielsen testified at the House Homeland Security Committee hearing. "But it is simply spiraling out of control."
Nielsen repeatedly used terms such as "crisis," and "catastrophe" to bolster her argument that the border cannot be made secure without funding to build a wall, and she denied prior knowledge of the family separation policy.
Some Democrats had difficulty accepting Nielsen's testimony. At different times Nielsen was accused of being "deceitful," performing "verbal gymnastics," and possibly lying to the committee.
The treatment of children in detention facilities and the treatment of asylum seekers had several committee members grilling Nielsen.
"Are we still putting children in cages?" Rep. Bennie Thompson (D-Miss.) asked, and then refused Nielsen the chance to deflect the question. "Don't mislead this committee," he added.
"What you all are doing are not within the confines of the law," Rep. Nanette Barragan (D-Calif.) said angrily.
Each and everyday asylum seekers are outright and illegally denied entry into our country, despite what U.S. immigration law says. @SecNielsen and the Trump administration will and must be held accountable. pic.twitter.com/DujreKDaRz

— Nanette D. Barragán (@RepBarragan) March 6, 2019
HIAS submitted a statement for the record to the House of Representatives Committee on Homeland Security, emphasizing the problems with the administration's "Remain in Mexico" program that requires asylum seekers wait in Mexico while their case moves through U.S. immigration courts.
"Under American immigration law, people who arrive at the U.S. border have the right to seek asylum, and are permitted to remain in the U.S. while their claim is processed," the statement read. "The Remain in Mexico program raises serious concerns about access to legal representation, due process rights of asylum seekers, and the ability of attorneys to represent their clients effectively and fairly."
Before the program began, HIAS staff had meetings with humanitarian aid workers at Mexico's northern border region and found they were under-resourced and overwhelmed. Many asylum seekers have gone without access to safe housing or other support and resources.
"At HIAS, we know that a border wall or Remain in Mexico will not deter families seeking safety from coming to the U.S. Instead, it will impede life-saving access to safety, most immediately for those asylum seekers waiting in Mexico, but also for those who are forced to choose longer and more dangerous routes to reach El Paso and other ports of entry," the statement read.
Nielsen did note reports of abuse of migrants along the journey to the U.S. and the need to counter human smuggling and trafficking. She said she is working with UNHCR to increase asylum capacity and has been working with countries in the Northern Triangle to address the root causes of migration.
The Senate is expected to vote next week and join the House in rejecting President Trump's national emergency declaration, but the president is expected to veto the measure. The issue is likely to then go to the courts.