2022 in Review: War in Ukraine Adds to Record Displacement Worldwide
By Sharon Samber
HIAS.org
Dec 14, 2022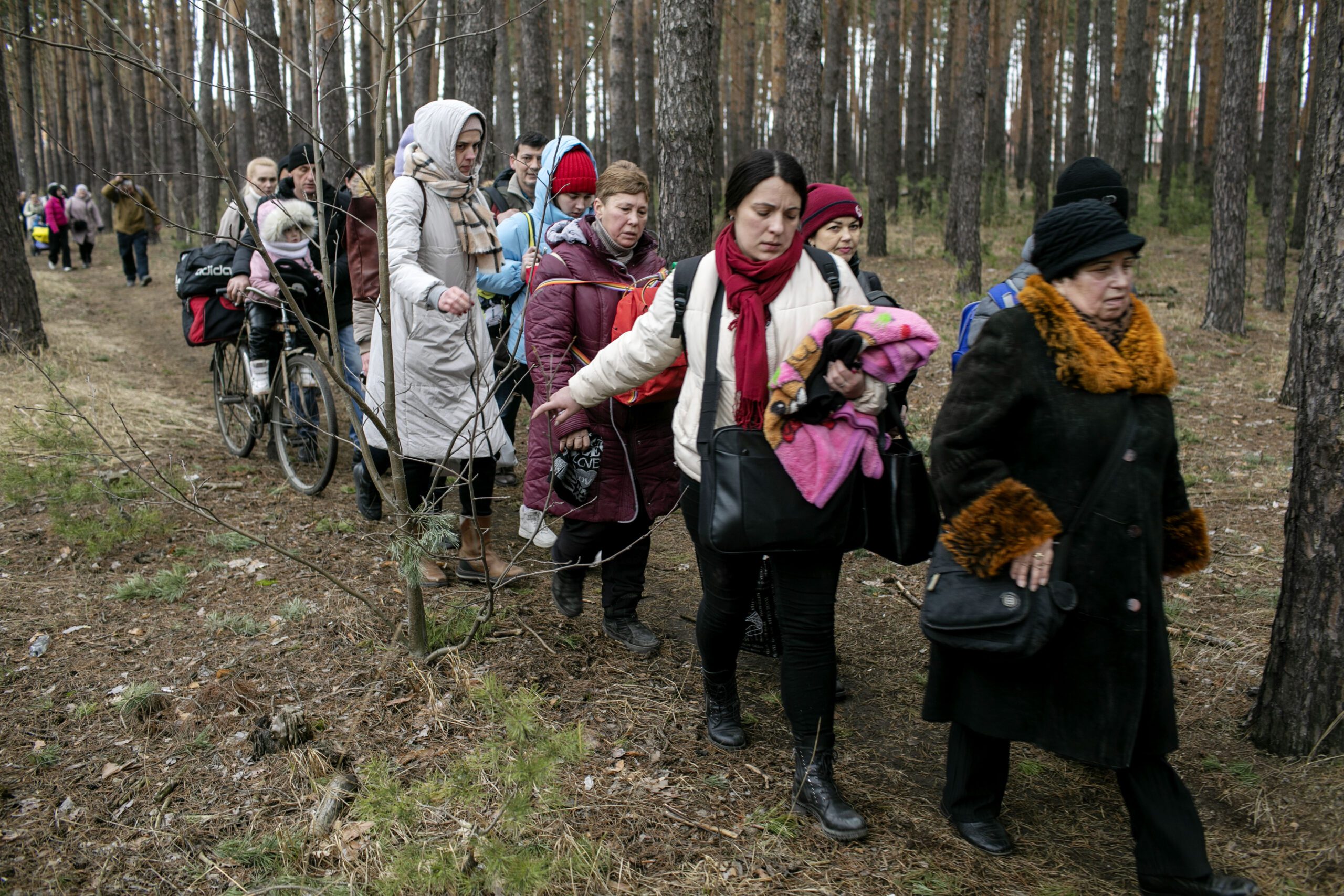 A year ago, as 2021 wound to a close, one could have hoped that 2022 would turn the page on what had been a difficult year, one dominated by the pandemic and the Afghanistan refugee crisis — and there might be some peace and quiet and perhaps even some improvement for displaced persons around the world.
But only 55 days into the new year, those hopes were dashed. Russia's invasion of Ukraine on February 24 initiated a major war that changed the global refugee picture and brought the number of displaced people in the world to a record 100 million. In the first months following the invasion, one-third of Ukrainians were forced from their homes, resulting in the largest displacement crisis in Europe since World War II.
HIAS responded by providing immediate financial resources to Right to Protection (R2P), the independent Ukrainian NGO HIAS helped found in 2013, to bolster the organization's ability to provide crucial legal and humanitarian aid to internally displaced people. With HIAS' support, R2P implemented a direct cash distribution program, established a telephone hotline, and helped refugees find temporary housing and navigate needed social services. Then, realizing the need for long-term help as well, HIAS re-established operations in Ukraine to provide services, opened new offices in Poland, Moldova, and Romania, and partnered with local organizations and communities to reach the growing numbers of people in need. Since the beginning of the war in Ukraine, HIAS and our partners have helped 650,000 displaced people in Poland, Moldova, and Romania.
"2022 will be remembered as the year that HIAS reopened in Europe to help European refugees fleeing for their lives," said Mark Hetfield, president and CEO of HIAS. "We have seen this too many times in our history — but throughout the United States and Europe, HIAS and the Jewish community continue to rise to the challenge. We are working every day to give refugees the opportunity to make new homes and new lives."
While the refugee crisis in Ukraine dominated the news for much of the year, 2022 brought many other significant challenges that informed HIAS' work. Asylum seekers continued to arrive in large numbers at the U.S.-Mexico border, where a holdover policy first implemented by the Trump administration worsened a humanitarian crisis. Meanwhile, Afghan refugees temporarily resettled in the United States following the 2021 collapse of the government in Afghanistan struggled to secure legal status. Within HIAS, community engagement through private sponsorship of refugee families as well as advocacy priorities grew throughout the year. HIAS continued its own growth as well, reaching more than 1.1 million people.
Here is a look back at some important moments from 2022:
In 2022, more than 200,000 people passed through one of the most dangerous borders in the world: the Darién Gap, the jungle that separates Colombia from Panama.

Many of these migrants making the journey came from Venezuela, Cuba, and Haiti — but some traveled from as far away as Bangladesh, Pakistan, and Ghana. HIAS has assisted refugees and migrants throughout, with particular focus on women who have suffered gender-based violence (GBV). Our staff is even present in some of the more remote areas: for example, HIAS was the

first organization to operate

in the community of Canaán Membrillo, which has 300 inhabitants.
HIAS opened new country offices in Guatemala, Honduras, Moldova, Poland, and Romania.

HIAS' work in the two Central American nations — the 10th and 11th countries in the Latin America and Caribbean region in which HIAS operates — have faced a sustained crisis due to widespread violence, climate change, and poverty. HIAS is leading efforts to address increasing humanitarian needs like GBV and mental health issues along main migratory routes in Central America and Mexico. And as HIAS continues its emergency response to the Ukrainian displacement crisis, an expanded presence in Europe will allow the organization to develop a fully localized approach toward supporting and protecting refugees, with a focus on economic inclusion, mental health support, and the prevention of and response to GBV. With this expansion, the organization's global network now reaches the United States, Mexico, and across Europe, Africa, the Middle East, Central and South America, and the Caribbean.
 

In 2022, HIAS adapted the Welcome Circles model for Ukrainians.

The sponsor circle program was an emergency initiative intended to augment the United States' capacity to welcome and

resettle Afghan newcomers

, and it functions as a private supplemental approach to traditional resettlement. HIAS expanded its circles to Ukrainians when the U.S began to accept them, and HIAS Europe has set up circles as well. Circle members help newcomers in myriad ways, including setting up new homes, signing up for language classes, finding jobs, accessing health care and other benefits, and registering their children for school. There are now about 55 Ukrainian welcome circles —  across the United States and 10 European countries —  helping hundreds of people. 
In the Koukou Angarana region in eastern Chad, where HIAS works in the Goz Amir refugee camp, more than 1,000 households were affected by severe flooding at the end of July.

The high waters affected many in local communities as well, and thousands were displaced by the torrential rains — with scores of homes and businesses damaged or destroyed. As one of the main humanitarian aid partners of UNHCR and the World Food Program in eastern Chad, HIAS distributed food, sandbags, tents, blankets, plastic sheeting, and mosquito nets. The flooding situation in Chad worsened when heavy rains in September caused the Chari and Logone rivers (which meet in the capital, N'Djamena) to overflow, forcing thousands more to seek shelter. HIAS continues to respond to the situation at two sites, Koundoul and Ngueli Pont, providing mental health services, referring cases for medical and/or legal services, conducting GBV workshops, and distributing food and equipment.
As of press time the fate of Afghan Adjustment Act — bipartisan legislation that would allow evacuees from Afghanistan to apply for permanent legal status in the United States — is still unclear, but it is possible that it could pass as part of an omnibus bill in 2022.

HIAS has been advocating for this legislation since shortly after the fall of Kabul. Currently, refugees admitted under humanitarian parole are given only two years of legal status in the United States. Without a clear path to adjust their status, they must apply either for a Special Immigrant Visa (SIV) or for asylum; both systems are highly complicated and severely backlogged. The Afghan Adjustment Act would create a separate, streamlined process by which evacuees could apply for an adjustment of their status, prioritizing those who might qualify for SIV status and providing contingencies in the event that an evacuee's parole expires before they receive a permanent status. 
World Refugee Day 2022 marked a grim milestone

: For the first time in human history,

more than 100 million people are displaced

from their homes. As the United Nations refugee agency reported on June 20, there are 27.1 million refugees and 4.6 million asylum seekers across the globe. The report also included a special data compilation through May 2022 showing the millions who fled Ukraine following Russia's invasion. To put the figures in starker terms: 1 in every 78 people on earth has been forced to flee violence or persecution. Also noted: more than two thirds of refugees come from just five countries: Syria (6.8 million), Venezuela (4.6 million), Afghanistan (2.7 million), South Sudan (2.4 million), and Myanmar (1.2 million).
Title 42 and MPP —  two policies implemented at the U.S.-Mexico border that contributed to the breakdown of the U.S. asylum system — finally met their end in 2022.

HIAS has been advocating for their elimination since the beginning of the pandemic. The Department of Homeland Security ended the Migrant Protection Protocols (MPP) and said it will no longer enroll those seeking asylum in what was also known as the "Remain in Mexico" program, which forced asylum seekers to wait in often violent and unsafe conditions in Mexico as their cases were pending. A June 30 U.S. Supreme Court ruling upheld the Biden administration's action to terminate MPP. Title 42, the public health order that was invoked by the Trump administration at the beginning of the pandemic in March 2020 — in essence

stopping people from seeking asylum

at the U.S.-Mexico border— was finally blocked. There have been more than 2 million people who have been expelled under Title 42. The changes in the system may not be fully felt and understood until well into next year, especially if last-minute congressional deals that affect "Dreamers" end up tied to an extension of Title 42. (No deals were finalized as of press time.)
As this challenging year comes to an end, there is much work to do to mitigate the plight of refugees around the world. But, with a dedicated global staff of more than 1,700 and thousands of supporters behind us, HIAS is well positioned to continue to make a difference in 2023.