HIAS Responds to Severe Flooding in Chad
By Sharon Samber
HIAS.org
Aug 19, 2022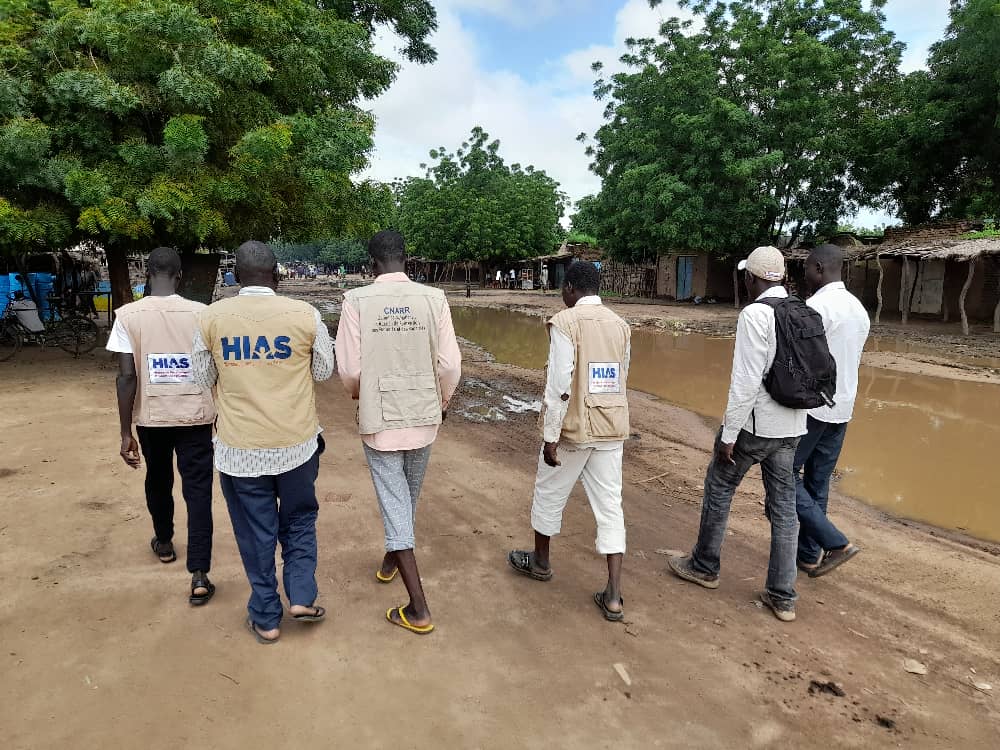 Update Nov. 20, 2022: The flooding situation in Chad has recently worsened. Heavy rains in September caused the Chari and Logone rivers (which meet in the capital, N'Djamena) to overflow, forcing thousands more to seek shelter.  At present, more than one million people within Chad are internally displaced.
At two sites, Koundoul and Ngueli Pont, HIAS is providing mental health services, referring cases for medical and/or legal services, conducting gender-based violence workshops, and distributing food and equipment such as mats, tarpaulins, mosquito nets, and blankets.
You can help refugees impacted by the flooding in Chad by donating to HIAS' emergency response fund.
In the Koukou Angarana region in eastern Chad, where HIAS works in the Goz Amir refugee camp, more than 1,000 households were affected by severe flooding at the end of July. The high waters affected many in local communities as well, and thousands have been displaced by the torrential rains, with scores of homes and businesses damaged or destroyed.
Flooding happens every summer in eastern Chad. But this year felt different. "This flood surprised us," a flooding victim told a HIAS program manager who was responding in the field. "There is water everywhere and too many mosquitoes that make us sick and vulnerable. We need emergency materials."
As one of the main humanitarian aid partners of UNHCR and the World Food Program in eastern Chad, HIAS is distributing food, sandbags, tents, blankets, plastic sheeting, and mosquito nets. HIAS Chad is supporting clients impacted by the flooding, as well as providing assistance to host communities in surrounding villages.
"We are actively coordinating and responding to the flooding, with the rains still coming down," said Carrie Taneyhill, HIAS' director of emergency and humanitarian response. "There is so much attention on other larger emergencies in the news right now, but there are lots of smaller-scale crises happening that devastate communities. We are hoping to scale up our response to bring some relief to those who have been affected to ensure they know they aren't forgotten."
Several HIAS offices in the camp have been damaged or destroyed by the floods, temporarily suspending programming. HIAS Chad will shift its focus to providing emergency aid in the Goz Amir camp and surrounding areas until refugees can return and offices can be restored and/or rebuilt.
"We are always on the frontline to provide essential services and psychosocial support in such emergency situations, as well as in protracted situations," HIAS Chad Country Director Roch Souabedet said. "Our wish and plan is to be able to assist affected refugees and the host population by helping them rebuild their houses and get food and non-food items which are urgently needed for their survival." Souabedet added that some buildings are not made for the increasingly extreme weather, and he will work with technicians on new construction materials that can better adapt to climate conditions.
Chad is one of the most environmentally degraded countries in the world; much of the country has an arid climate and little rainfall. Since the soil is so dry, it cannot always absorb the heavy rainfalls in the summer, leading to runoffs and flooding. For years the UN's refugee agency has recognized Chad as being particularly vulnerable to the effects of climate change. Meanwhile, conflict and the worst drought in decades are destabilizing neighboring countries in eastern Africa, increasing the number of displaced people coming into Chad.
HIAS Chad was founded in 2005 to respond to the critical needs of refugees from the genocide in Darfur. Souabedet now supervises over 120 staff who work in 13 refugee camps along the eastern border, in addition to an office in the capital, N'Djamena. Violence and instability in Sudan and South Sudan, Nigeria, Cameroon, and the Central African Republic continue to drive people across the border into Chad, compounding the already protracted refugee crises. There are now more than 1.2 million displaced people in Chad, including 600,000 refugees.
Help refugees impacted by the flooding in Chad by donating to HIAS' emergency response fund.