Act Locally
Imagine you were suddenly uprooted to a completely new country after experiencing devastating trauma. Everything is different: the language, the culture, the laws and so much more. This is the daily experience for people resettled as refugees.
In a time when more than 110 million people have fled their homes because of persecution or conflict, it is hard to imagine how one person, one group of people, one community, can make a difference. Yet, at its core, refugee resettlement is a local endeavor, and the involvement of the local community plays a significant role in helping newcomers successfully restart their lives. Across the United States and Europe, groups of volunteers are stepping up to provide the supportive, caring reception that makes such a difference. This is what HIAS Welcome Circles are all about.
What is a Welcome Circle?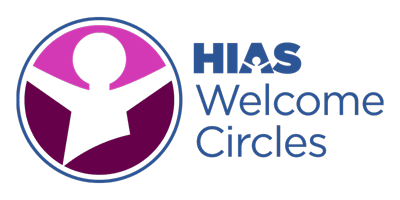 A Welcome Circle is a group of individuals who provide financial, resettlement, and emotional support to newcomers for six months until they reach self-sufficiency. Circles can form as part of a synagogue, organization, community center, or other faith or interfaith community, or they can be made up of private individuals.
Most circles have 5-8 core members who lead on different tasks, such as finding housing, signing up for benefits, helping enroll children in school, and assisting adults with job readiness and employment. In the U.S., HIAS works closely with Welcome Circles all over the country, providing volunteers with a wide range of support on all aspects of refugee resettlement, including dedicated support, specially developed resources, and access to a vibrant, online community. In Europe, HIAS works with Welcome Circles across the continent who are assisting those who have fled Ukraine.
Welcome Corps
While the number of people fleeing persecution and conflict continues to grow, fewer than 1% of refugees can access resettlement. HIAS is a Private Sponsorship Organization (PSO) for Welcome Corps, a private sponsorship initiative developed by the U.S. government to expand the U.S. Refugee Admissions Program's capacity to resettle refugees.
HIAS has evolved our Welcome Circle program to integrate with Welcome Corps; Private Sponsor Groups (PSGs) forming through Welcome Corps can select HIAS as their PSO to gain training, mentorship, and other HIAS supports. The combined breadth and depth of our network of local resettlement partner agencies and HIAS Welcome Circles enables HIAS to help more refugees join communities across the U.S. and create opportunities for everyday Americans to play a meaningful, direct role in this process.
Why Partner with HIAS?
Following the fall of Kabul in 2021, HIAS launched the Welcome Circle initiative in response to the overwhelming need for additional resettlement capacity to help the 76,000 Afghans evacuated. As part of the Sponsor Circle movement developed by the Community Sponsorship Hub, HIAS' network of volunteers – faith-based, ethno-cultural, and unaffiliated groups – came together to welcome Afghan evacuees into their communities. When Russia invaded Ukraine in 2022, displacing nearly eight million people from the country, HIAS' private citizen-powered model met the needs of displaced Ukrainians too. With our unique combination of expertise and our extensive network of organized and active communities, HIAS has been a frontrunner in this fast-developing sector. HIAS offers private sponsor groups with whom we partner a range of supports including one-on-one guidance, regular workshops and trainings, weekly office hours, downloadable tools and guides, and a online Community of Practice that provides private sponsors 24/7 access to resources, discussion boards, and more.
Building on a Century of Experience
HIAS' expertise in refugee resettlement dates back to the agency's founding in the 1880s. During the first century of our existence, we resettled approximately 4.5 million Jewish refugees. Today, we help refugees from around the world who are in danger because of who they are, regardless of race, religion, and nationality. Across the United States, we resettle refugees and organize communities in partnership with our network of 27 local resettlement agencies, hundreds of congregations and thousands of individuals.
Since the inception of the Welcome Circle program in late 2021, HIAS has trained, vetted, certified, and provided ongoing guidance to more than 100 circles across 20 states in the U.S., serving nearly 400 individuals to date. In Europe, HIAS has launched circles in 11 countries, and has served more than 700 displaced Ukrainians.
Uplifting Choice Through Tech
HIAS believes that whenever possible, putting choice and agency in the hands of affected populations results in better resettlement outcomes and has used using RUTH (Refugees Uniting Through HIAS) a proprietary platform to help match forcibly displaced people in need of sponsorship with HIAS Welcome Circles in the U.S. This novel technology, created with HIAS' academic partners Oxford University and Worcester Polytechnic Institute, captures refugees' resettlement preferences, considers any special circumstances and uses an algorithm to recommend optimal sponsors. RUTH has been utilized for individuals with humanitarian parole status.
Requirements
Please note that all Welcome Circles must:
Launch with a minimum of five people over age 18. HIAS recommends the core group not exceed eight people.
Commit to a six-month period of support, with the goal of assisting adult newcomer(s) to achieve self-sufficiency. While the national program requires a minimum three-month period, HIAS recommends a longer six-month timeline.
Raise funds to assist newcomers with initial living expenses. While the national program requires a minimum of $2,425 per newcomer, in HIAS' experience this number often falls short of the realistic cost. If you don't know yet what family size you are able to support, don't worry – HIAS has tools to help you with this calculation.
Pass mandatory background checks and an online knowledge assessment on the roles and responsibilities of circles as part of the application process.
Develop and submit a "Welcome Plan" which articulates the ways the Circle will connect newcomers to services during the initial resettlement phase. This plan will cover securing housing, accessing benefits, connecting to healthcare and education, and other forms of community orientation.
Contact
For more information about HIAS Welcome Circles in the United States, please email PrivateSponsorship@hias.org.
For more information on the HIAS Europe Welcome Circles or to get involved, contact Liora Jaffe or Meiron Avidan.
Private Sponsorship through HIAS & Welcome Corps
In January 2023, the Biden administration announced the biggest expansion of U.S. refugee resettlement in four decades — private sponsorship of refugees, also known as the Welcome Corps. Learn more about the Welcome Corps, HIAS' Welcome Circle model, and how everyday Americans can use this program to welcome refugees to your cities, towns, and neighborhoods.