After More Than Two Years, Title 42 Set to End May 23
By Ayelet Parness, HIAS.org
Apr 08, 2022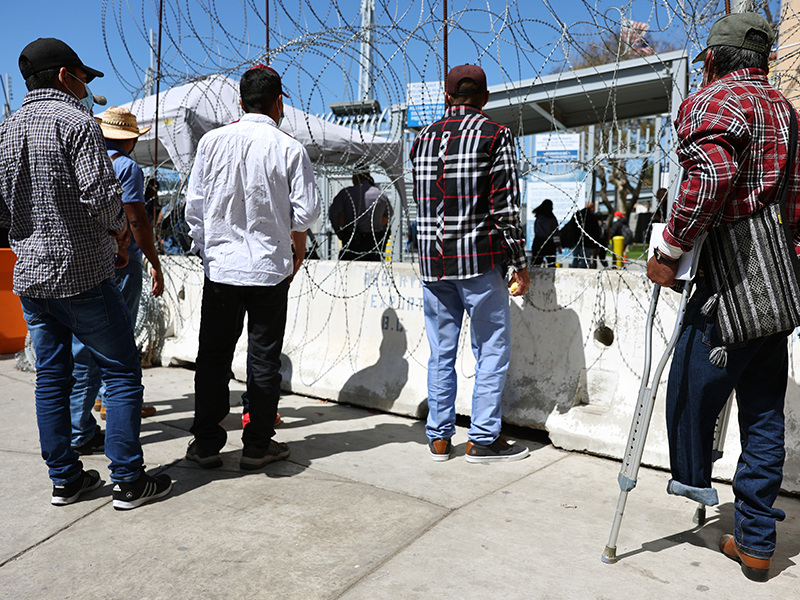 (Mario Tama/Getty Images)
After over two years of preventing asylum seekers from exercising their right to seek asylum at the U.S. border, Title 42, a World War II-era public health law invoked by the Trump administration ostensibly to prevent the spread of COVID-19, is finally set to end on May 23.
Under U.S health law, section 265 of Title 42, the U.S. government can expel non-citizens before they even have the opportunity to seek asylum if there is a communicable disease in their country of origin. The Center for Disease Control announced the order to end Title 42 Friday, April 1.
Public health experts and advocates alike have stated that preventing people from seeking asylum has no public health rationale and asylum seekers can be processed safely. Yet the policy remained in place even as other COVID-19 related precautions, including restrictions on business and leisure travel, were phased out.
"The stated rationale of Title 42 was safety, but nobody really thought keeping some people out of the U.S. while admitting others would stop a virus," said Naomi Steinberg, HIAS' vice president for U.S. policy and advocacy.
Since March 2020, over 1.7 million expulsions have been carried out under Title 42, with far-ranging consequences for those expelled. Human Rights First has tracked at least 9,886 cases of kidnappings, torture, rape, and other violent attacks on people expelled to Mexico due to the Title 42 policy since President Biden took office.
"No one can ask for asylum," explained Sue Kenney-Pfalzer, HIAS' director of border and asylum network during a March 20 border briefing. "Instead, what people have to turn to is crossing irregularly: people cross the river, climb the wall, cross the desert. It's because they have no other choice."
The methods of border crossing necessitated by Title 42 are highly dangerous and incentivize smuggling and kidnapping operations dominated by drug cartels. In 2021, at least 650 people died while attempting to cross the U.S.-Mexico border, the highest number recorded since 2014. U.S. Customs and Border Protection also reported having carried out 12,833 rescues of those who crossed the U.S.-Mexico border over the last fiscal year.
"The only ones benefiting from Title 42 are the cartels," said Kenney-Pfalzer.
While this announcement is welcome news for HIAS, which has long campaigned for the end of Title 42, the fight is not yet over. There are now several congressional efforts and legal challenges to stop the termination of Title 42, so Steinberg warns that continued advocacy is necessary. In addition, adults and families will continue to face immediate expulsion until the order's official end on May 23, as announced by Secretary of Homeland Security Alejandro N. Mayorkas.
After Title 42 is lifted, those seeking asylum in the U.S. will still face an uphill battle. The Migrant Protection Protocols (MPP), also known as the "Remain in Mexico" program, which forces many asylum seekers to wait in dangerous areas of Mexico until their court hearings, remains in effect. As of January 2022, those wait times for an asylum hearing averaged five years, though the Biden Administration recently announced plans to streamline the asylum process.
"Even after Title 42 is relegated to the history books, our work is not over," said Steinberg. "We must continue to advocate for fair and humane asylum policies, as well as sufficient staffing, resources, and coordination with organizations working with asylum seekers on both sides of the border, that ensure due process and the equitable treatment of all people seeking protection."