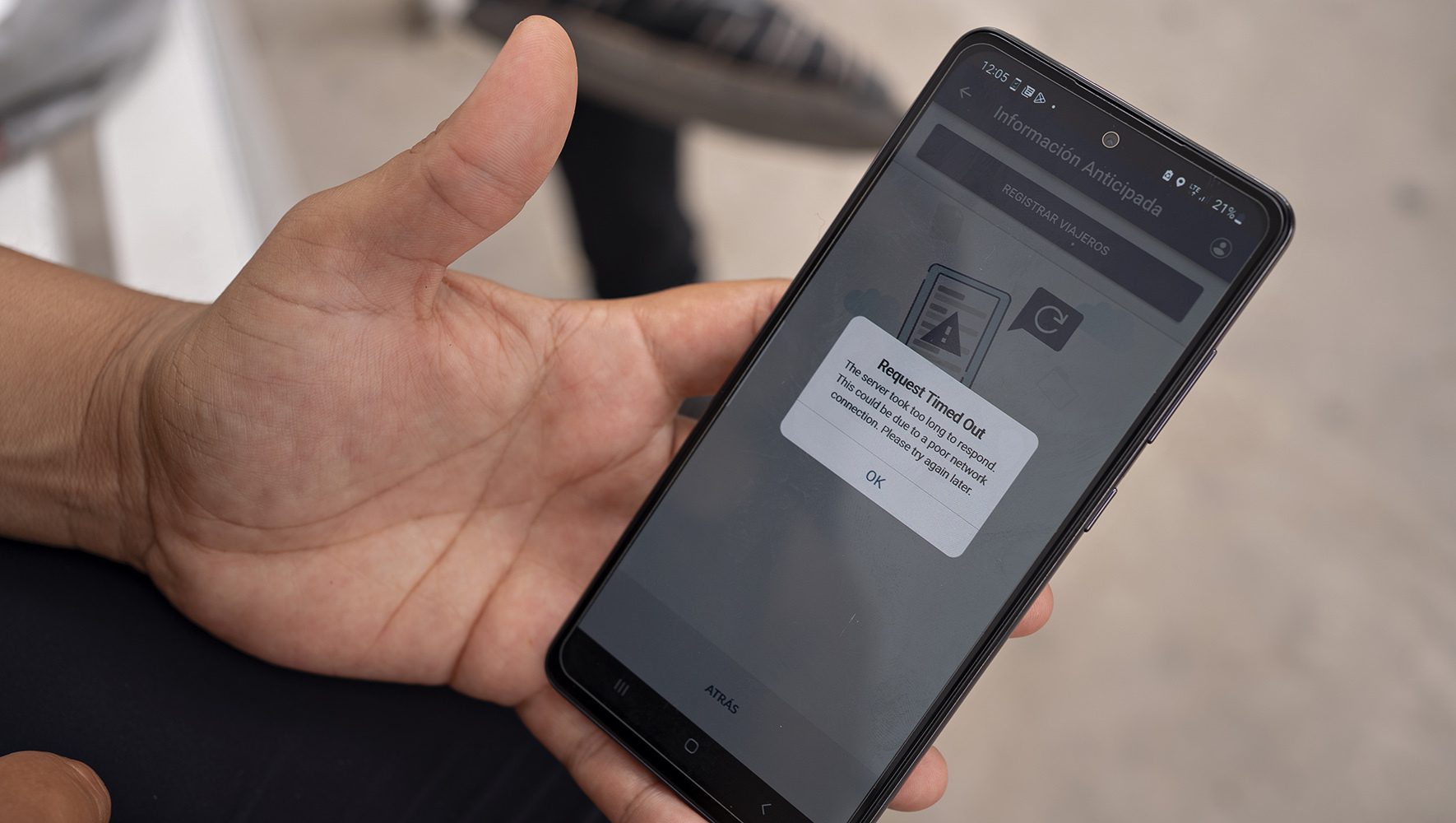 On August 7, many asylum seekers waiting in northern Mexico received welcome news. They were notified via email that they had been granted an appointment to present themselves at a port of entry — the first step toward claiming asylum in the United States.
But when they checked CBP One, the mobile application used by U.S. Customs and Border Protection (CBP) to schedule these appointments, their hopes were dashed. There was no record of their appointment in the system. The message had been sent in error.
"Some of them, when they received the email, called their families to tell them, 'We got the appointment!' — then they found out it was a mistake," said Rocio Melendez Dominguez, HIAS Mexico's managing attorney. "They were very sad. They were confused. They thought maybe they [had done] something to erase their appointment, but it was just a technology error, like a glitch."
The erroneous appointment emails are just one of a multitude of issues that have plagued CBP One users since the application's functionality was expanded in January 2023, allowing noncitizens seeking asylum at the U.S.-Mexico border to preschedule appointments via their mobile application. Despite the severe technical glitches that accompanied that rollout, many of which have persisted through multiple updates, the Biden Administration has since made CBP One a key part of its border management policy.
With the passage of the asylum ban in May 2023, the application became the only viable option for nearly all people trying to seek asylum in the U.S. Under the ban, those who approach the border without a CBP One appointment or who cross between legal ports of entry are largely ineligible to apply for asylum. The app was supposed to simplify a process criticized for being inefficient, slow, and capricious. But nearly six months after the ban went into effect, CBP One continues to present substantial obstacles for asylum seekers. Both CBP's practice of turning away asylum seekers without CBP One appointments and the asylum ban itself face ongoing litigation.
"Some of them, when they received the email, called their families to tell them, 'We got the appointment!' — then they found out it was a mistake."
Rocio Melendez Dominguez, managing attorney for HIAS Mexico
To use the CBP One app to schedule an appointment, asylum seekers must be located in northern or central Mexico. After registering for an account, users have a 23-hour window each day to request an appointment. Appointments are then distributed at random the following day, with a portion of the appointments reserved for users who have had their accounts open the longest.
The biggest problem with CBP One is that demand far exceeds the supply of available appointments. As of this writing, only 1,450 appointments are available across the eight participating ports each day, accommodating a small fraction of the number interested. HIAS Mexico staff estimate that the average wait time is one to two months. In cities along the border, shelters are filled beyond capacity, and many people wait for appointments in makeshift camps. Asylum seekers are often targeted for violence and persecution as they wait.
Error messages and glitches in the app are another major challenge. According to HIAS clients, the app frequently crashes, refuses to accept their photos, or has a faulty geolocation mechanism, preventing them from successfully making appointments. Some errors are even labeled "fraud detected," causing distress for asylum seekers who believe they are being accused of a crime.
Requiring asylum seekers to use CBP One also presents many additional barriers to access. Many of HIAS' clients do not have smart phones or the digital literacy skills needed to use the application. Asylum seekers may not have reliable access to internet or electricity, and some have reported that the cell phones they used to register with CBP One have been lost or stolen, leading to difficulty accessing their accounts. The app is also only functional in three languages – English, Spanish, and Haitian Creole – that do not cover the full range of languages spoken by people seeking asylum in the U.S.
"CBP One is very complicated for most people. The process of registering is complex," said Luis*, a Colombian national who spoke with HIAS staff in Tapachula under the condition of anonymity. "They ask complicated questions that people don't know how to answer, such as if people have traveled in the past year. Not everything is available in Spanish, in spite of [the app] letting you choose the language."
Misinformation, scams, and exploitation surround the use of CBP One. People charge money to register asylum seekers for accounts and appointments. In some cases, people outside of northern or central Mexico are charging asylum seekers to register them for appointments through the app via a VPN; some appointments are successfully obtained in this manner, while other asylum seekers have been sent fake appointment confirmations. Asylum seekers have reported paying people anywhere from a few dollars to thousands for help using the CBP One app.
Rumors circulate, spread both by smugglers seeking to capitalize on confusion and by well-meaning but misinformed fellow asylum seekers. These include that use of CBP One will be discontinued, that it is faster and easier to cross between ports of entry than to wait for an appointment, and that CBP One prioritizes single women with children.
"It's impossible to find a place to find accurate information about [CBP One]," said Luis. "There should be centers with Wi-Fi connection points where you can find someone that can help you register. There are places in Tapachula where people can help you register — but they charge you."
"CBP One is very complicated for most people ... they ask complicated questions that people don't know how to answer."
Luis*, a Colombian national and CBP One user
From the beginning, HIAS Mexico staff have been working to help clients stay informed and secure CBP One appointments. HIAS Mexico has been sharing information about changing policies and how to use the app, as well as debunking misinformation through outreach, social media, and "Know Your Rights" presentation. Staff work with clients to overcome errors by providing technical assistance, including helping clear the app's cache, changing the phone's time zone, and, when all else fails, trying to contact CBP. Staff also help those without access to smartphones to register for accounts and appointments.
Psychologists at HIAS Mexico have also been helping clients manage the emotional and psychological toll of waiting for an appointment. This assistance ranges from psychological first aid to providing tips for managing anxiety and other emotions and getting sleep. Nevertheless, the app's failures are emblematic of an approach to the border that has fallen far short of addressing the problem.
"This kind of policy produces a lot of desperation in people," said Melendez Dominguez. "It's like buying a lottery ticket and sitting in wait to see if you've won."
*Pseudonym used for safety reasons.