We Still Need to Help at the U.S-Mexico Border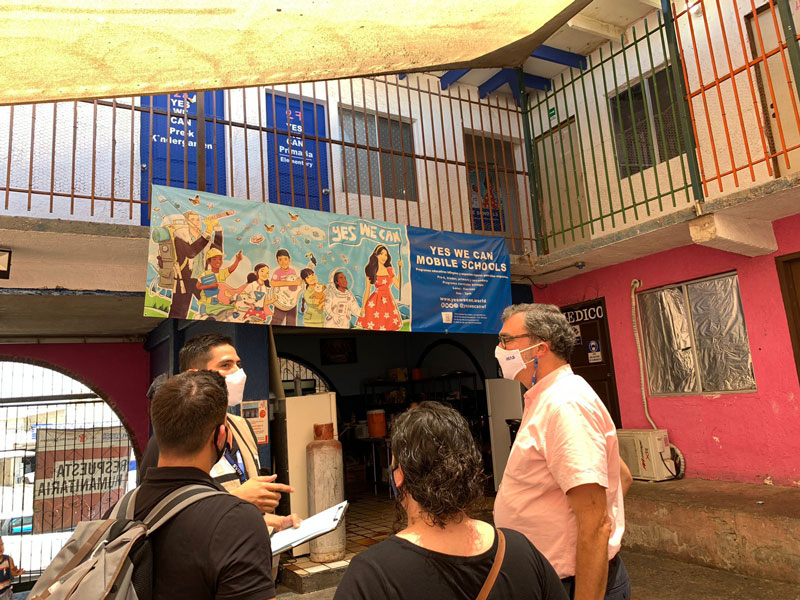 (HIAS Mexico)
The global pandemic and all of the resulting border restrictions have made things so much worse for people who are already in danger and forced to flee their homelands. UNHCR reported on World Refugee Day that the number of forcibly displaced persons in the world grew by 4% in 2020, to 82.4 million – the largest number of forcibly displaced persons in human history.
At the end of May, I visited HIAS teams in Monterrey, Ciudad Juárez, Tijuana, and Mexicali. Their work is inspiring and important to focus on, as the situation at the U.S.-Mexico border remains volatile and thousands of asylum seekers are still struggling to survive.
Throughout the pandemic, more than 60 HIAS staff, protected only by masks and hand sanitizer, have been working hard to help asylum seekers pushed back into Mexico by the United States government through ever-changing initiatives. In a shelter in Tijuana, I met one of these people who has been helped by HIAS, a nurse who told me she had to escape from her home in Michoacan state after she was unwilling to be forcibly recruited to treat drug cartel members.
A primary focus of our Mexico team has been to help people dealt with harshly under the "Migrant Protection Protocols" (MPP) by the Trump administration, as they awaited their U.S. asylum hearing, many living in de facto refugee camps. In spite of its middle name, MPP was bereft of any measures whatsoever to protect asylum seekers. That "responsibility to protect" instead fell on churches and organizations like HIAS working in partnership with UNHCR, as well as Mexican authorities.
The Biden Administration suspended MPP in February, and officially ended the program on June 1. The whole time the HIAS team has been working hard to facilitate legal humanitarian entry into the U.S. for MPP survivors, so they can finally get their day in court. Working closely with our partner UNHCR, HIAS provides legal advice so migrants better understand their asylum options in Mexico and the U.S.; cash-based assistance; "dignity kits'' for the health and hygiene needs of women at risk; and counseling to prevent and address sexual and gender-based violence.
Still, asylum seekers remain in dire straits, as the Trump administration instituted "Title 42," which forces asylum seekers back to Mexico without even setting an immigration court date. The U.S. also refuses to screen cases for vulnerability, in spite of longstanding U.S. statutory requirements that people at the border be screened for a credible fear. And Title 42 remains in effect, with the Biden administration making minor changes instead of rescinding the order.
The administration now allows a handful of NGOs, including HIAS, at select ports of entry to refer a limited number of particularly vulnerable persons to U.S. Customs and Border Protection to be allowed into the U.S. to apply for asylum. But this presents a bit of a moral quandary for HIAS and for the other NGOs involved. By referring cases to the U.S. government, is HIAS aiding and abetting the government's abdication of its responsibility for screening asylum seekers? Perhaps. But if NGOs like HIAS don't identify people who need protection, no one will. We must do it to save lives.
Just because the U.S. government won't do its job to protect asylum seekers doesn't mean we at HIAS shouldn't do ours. In fact, it means we have to do even more. HIAS' mission is to welcome the stranger and protect refugees. And the HIAS teams in Mexico, and around the world, personify the HIAS mission.