Busing Response: Supporting Migrants in Local Communities
Learn how to support asylum seekers and migrants arriving in your communities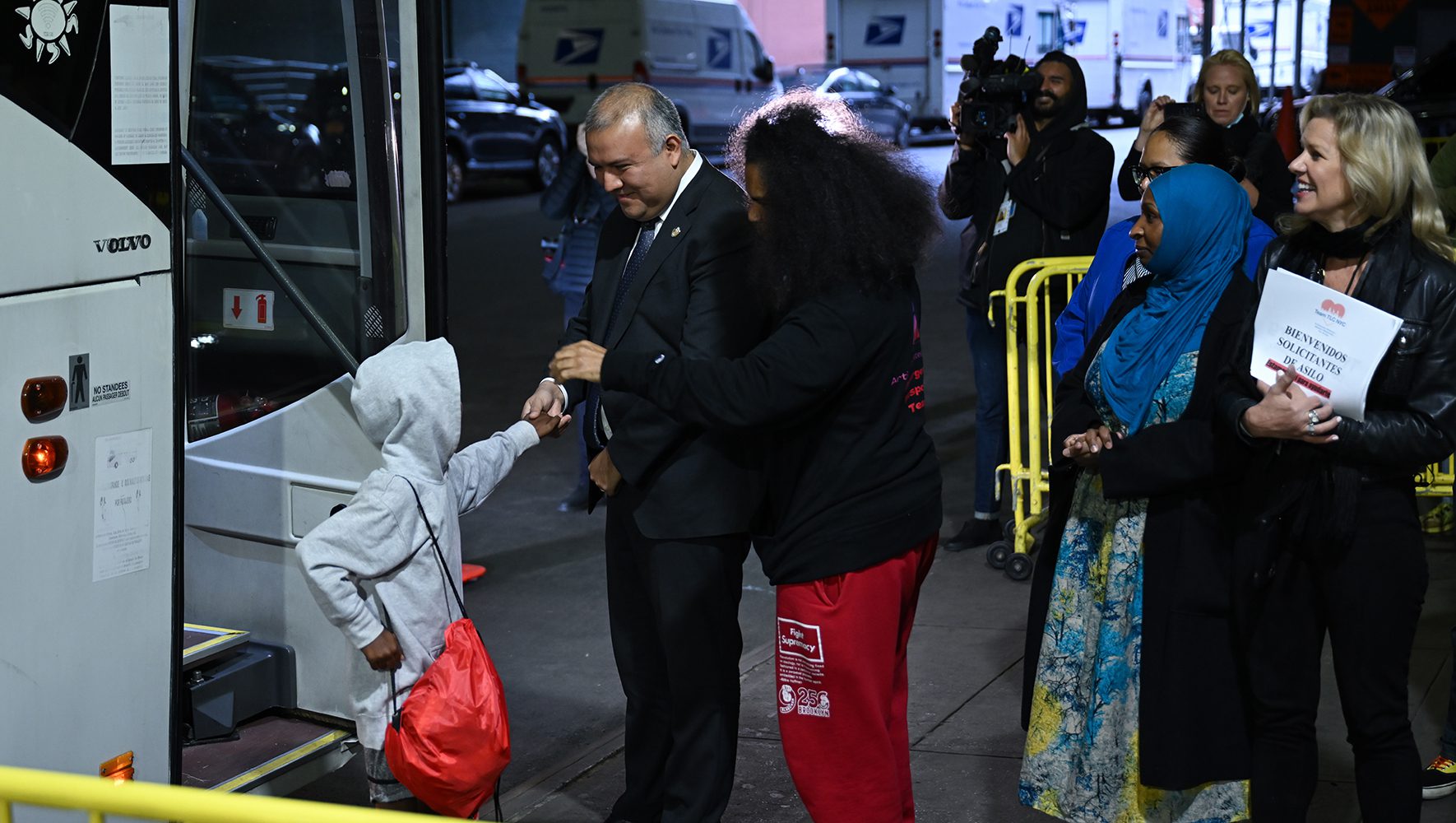 Overview
Over the last two years, many cities around the country have seen an increased number of migrants and asylum seekers arriving from the U.S.-Mexico border. They come from all around the world, often in search of a safe haven after fleeing extreme danger, persecution, and violence in their home countries. While some have chosen to move to cities around the country, many others have come on buses sponsored by the governors of Arizona, Florida, and Texas — often without a clear understanding of where they are going and what support and resources they can expect when they arrive.
The U.S. needs a fair, orderly asylum process at the border. Instead, successive administrations have slammed the door in the faces of asylum seekers through restrictive policies that deny people their legal right to seek asylum in the United States, creating chaos and desperation and putting lives at risk.
Like generations of immigrants before, recently arrived migrants and asylum seekers deserve dignity, respect, and compassion, regardless of their status. It is up to us, as individuals and as communities, to actively welcome these new arrivals and encourage our elected officials to do the same. We all have a role to play in welcoming newcomers, combatting anti-immigrant sentiment, and building a more just and compassionate country.
Join the Response
Over time, the volume and countries of origin of those arriving in different cities across the U.S. ebbs and flows. Some cities have set up centralized websites that outline their extensive responses to this influx of people in need of housing, food, health care, and other services. Others have struggled to set up a centralized response but have multiple mutual aid organizations working in parallel.
Below are some volunteer, advocacy, and educational resources to respond and help ensure that migrants and asylum seekers are welcomed across the country and in your own community.
Volunteer/Direct Response
Advocate
Our country must treat people fleeing danger with compassion, respect, and dignity. Each of us can play a role in advocating for the rights of asylum seekers and making it clear that they are welcome in our local communities.
There are many ways to support asylum seekers:
Encourage your local elected officials to have a plan in place to welcome asylum seekers with compassion and dignity. Advocate at the state and local level for additional resources for asylum seekers and for legislation that helps to ensure their rights and protection.
Join or develop a campaign to make it clear that you support welcoming asylum seekers to your community.
Be a strong advocate for the rights of asylum seekers, pushing back against harmful national policies such as the asylum ban. Learn about how asylum seekers are treated at the border and advocate against the cruel and callous treatment of people seeking safety.
Contact your Members of Congress to support legislation such as the Asylum Seeker Work Authorization Act, which would make it easier for asylum seekers to secure work papers.
Stay in touch with HIAS. The situation changes quickly, so we encourage you to be in touch with HIAS at info@hias.org with questions. We particularly encourage congregations and clergy to stay in touch with us for additional ways to help. Learn more about how to join HIAS' grassroots and advocacy efforts.
Learn
The Always Welcome Toolkit by National Partnership for New Americans provides examples of humanitarian response models, legal services orientation, advocacy strategies, and narrative/messaging resources to support the efforts led by organizations and localities to welcome new arrivals.
Learn more about HIAS, and how Jewish values, traditions, history, and lived experience play a role in our obligation to welcome the stranger. Visit hias.org/learn to explore our educational and action-focused resources.