Administration Calls for Historic Low Refugee Admissions
By Sharon Samber, HIAS.org
Sep 18, 2018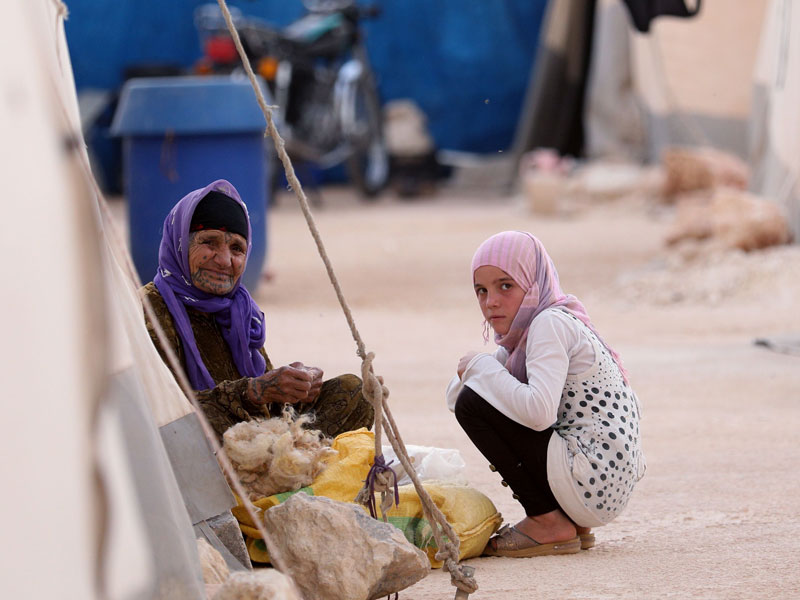 (Omar Haj Kadour/AFP/Getty Images)
The Trump Administration yesterday announced a proposed refugee resettlement ceiling of 30,000 for Fiscal Year 2019. Despite repeated pleas from refugee assistance organizations, faith leaders, policy experts, and hundreds of elected officials, this is the lowest number ever set by any president since the Refugee Act became law in 1980.
In a statement, Mark Hetfield, President and CEO of HIAS, said President Trump has "betrayed America's history and global leadership in providing safe haven for innocent human beings fleeing violence and persecution." Hetfield emphasized that HIAS will continue to help refugees but did not hold back his concern for the future. "During a period of unprecedented crisis, America has signaled it is a nation in retreat, and as a result the outlook for refugees looks even more bleak," he said.
Secretary of State Mike Pompeo announced the number, known as the Presidential Determination, or "PD," and cited security concerns as one of the reasons for the lower ceiling. The U.S., however, has continually made security improvements to the resettlement program under previous administrations while maintaining a steady level of admissions. Refugees are among the most thoroughly vetted individuals allowed into the country.
Under the Refugee Act of 1980, the maximum number of refugees resettled in the United States each year is decided by the President in consultation with Congress. The required consultation has not yet occurred, and Rep. Bill Pascrell Jr. (D-N.J.), a leading proponent of refugee resettlement, said Congress must demand the Administration reverse course.
"There are a host of agencies and communities ready to welcome refugees fleeing war, ethnic cleansing, and famine," he said in a statement. "By setting next year's refugee cap at another historic low, the Trump administration continues to show contempt for those most in need. It is unconscionable they would justify a lower cap by pitting refugees against asylum seekers."
HIAS is asking people to contact their member of Congress and to tell the Administration to do more to help refugees.
The PD does not dictate how many refugees will be admitted in a given year, though it usually is considered an aspirational goal. Last year, the Trump Administration set a then-historic low PD of 45,000, but with the current fiscal year ending in just a few weeks, it seems likely that less than half that number, around 21,000, will actually be resettled. There are more than 25 million refugees worldwide, according to the U.N. Refugee Agency.
Pompeo also said the U.S. would focus on helping refugees overseas, and "can house, feed, and provide medical care for hundreds of thousands more refugees closer to their homes," but humanitarian aid is not a substitute for refugee resettlement. Only a small percentage of the world's refugees are candidates for resettlement, typically those with specific safety, medical, or other concerns that cannot be addressed in the region, making resettlement to a third country their only option.
With their announcement, the Administration also conflated refugees and asylum seekers, saying it planned to process 30,000 refugees and 280,000 asylum seekers next year. Regardless of the need to improve the process for asylum seekers, the resettlement program is a separate system serving different populations.
Last month HIAS sent a letter signed by 36 national Jewish organizations to President Trump urging him to allow at least 75,000 refugees to be admitted to the United States in 2019. HIAS and other refugee advocacy organizations also asked elected officials from across the country to sign a letter to the President urging him to set refugee admissions for 2019 at 75,000. The resulting bipartisan letter was signed by 270 officials from 42 states.