HIAS Opens Five New International Offices, Now Assisting Refugees in 22 Countries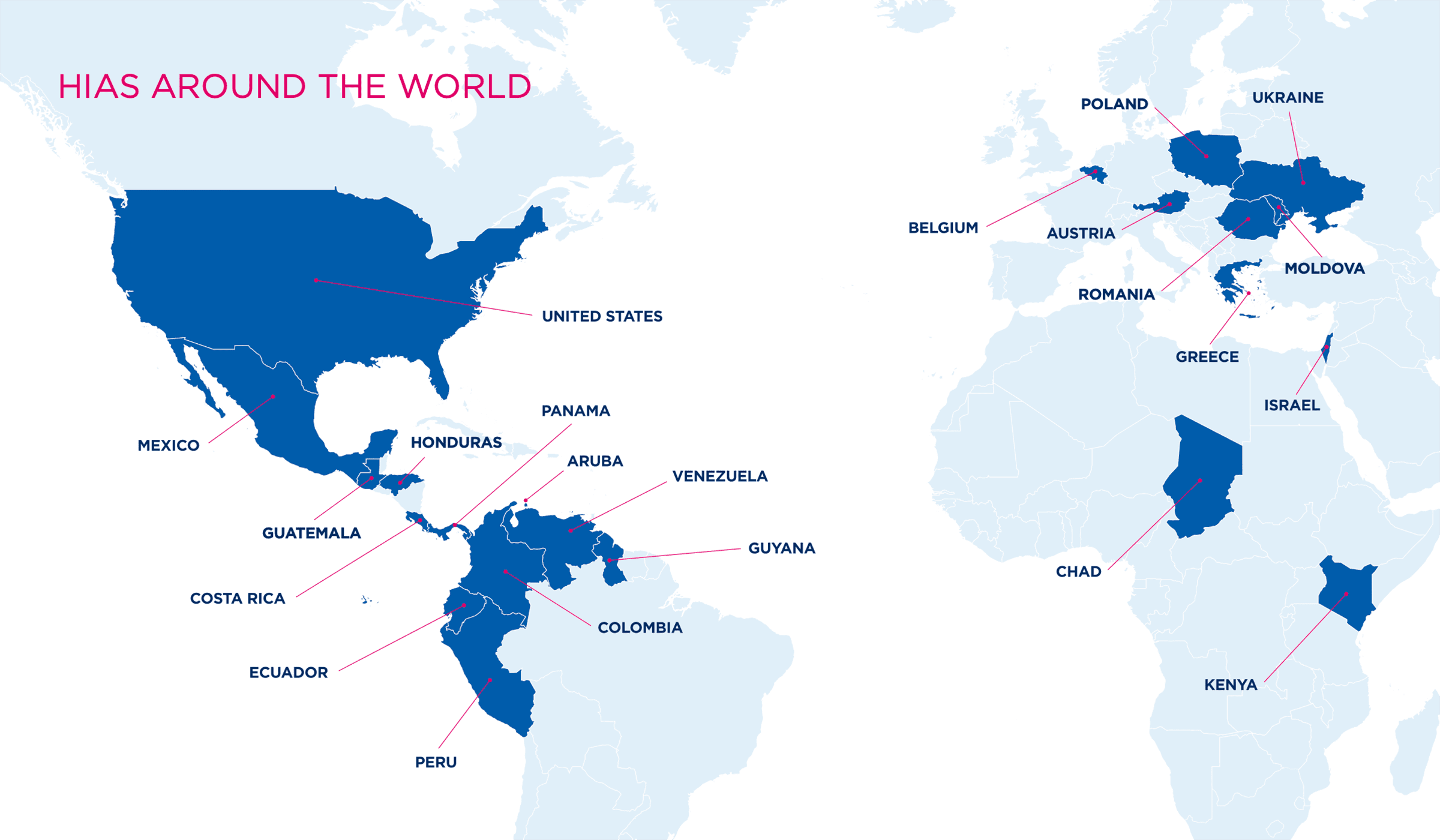 HIAS opens new offices in Moldova, Poland, and Romania in Europe, along with Honduras and Guatemala in the Latin America and Caribbean region, as the Jewish nonprofit expands to address the growing global refugee crisis. 
SILVER SPRING, Md. — HIAS, the global Jewish nonprofit that protects refugees, has opened new country offices in Moldova, Poland, and Romania to step up its assistance to people displaced by the war in Ukraine. In addition, new offices in Honduras and Guatemala will position the organization to provide services to a growing population of refugees and asylum seekers in Central America. With the expansion in 2022, HIAS' network now reaches 22 countries in Africa, Europe, the Latin America and Caribbean region, the Middle East, along with the United States.
"With more than 100 million people now displaced globally, HIAS is rising to meet this unprecedented challenge by bringing our expertise and experience helping refugees to more locations," said Mark Hetfield, HIAS President and CEO. "From its earliest days in the 1880s, HIAS has been driven by the Jewish imperative to welcome the stranger and protect the refugee. Today we continue to move beyond our roots of resettlement in the United States as a global NGO that serves refugees and asylum seekers around the world."
As HIAS continues its emergency response to the Ukrainian displacement crisis, the organization is returning to Eastern Europe for the first time in decades with new country offices in Moldova, Poland and Romania. The new offices will allow HIAS to develop a fully localized approach towards supporting and protecting refugees who have fled war, with a focus on economic inclusion, mental health and psychosocial support (MHPSS), and the prevention of and response to gender-based violence (GBV).
"We are proud to have forged relationships and partnerships with courageous and innovative local NGOs to help them support refugees, while also strengthening their existing efforts to help vulnerable members of their own populations," said Raphael Marcus, HIAS' Senior Vice President, Programs. "Our approach keeps local civil society actors front and center in decision making, and in particular we are working in close cooperation with women-led organizations to prioritize their ongoing struggle to ensure women's rights and economic independence."
HIAS is directly providing mental health and psychosocial services across four locations inside Ukraine, and working to respond to and prevent gender-based violence. At the same time, Right to Protection (R2P), the Ukrainian NGO established by HIAS in 2013, continues to provide critical services to refugees and internally displaced persons.
In addition, HIAS is now resettling displaced Ukrainians through its Welcome Circles initiative in nine countries in the European Union, as the number of Circles in the U.S. also continues to grow. Welcome Circles are comprised of five to eight volunteers who support newcomers over a six-month period, helping refugees with access to schools, language classes, work, social services, accommodation, and other needs.
In Latin America and the Caribbean, the addition of Guatemala and Honduras brings the number of HIAS country offices in the region to 11. The organization also has offices in Aruba, Colombia, Costa Rica, Ecuador, Guyana, Mexico, Panama, Peru, and Venezuela.
"More than 8 million people are in need of humanitarian assistance in the North of Central America, and more than a million people are refugees, asylum seekers and internally displaced people," said Cristina Garcia, HIAS' Regional Director for Latin America and the Caribbean. "HIAS has been working in the region since 2003 and is ramping up its response with these new country offices in two nations that have faced a longstanding and multifaceted crisis due to widespread violence, climate change, and poverty. Our new presence in this subregion, and in key border areas, will be a crucial part of the response to one of the world's most forgotten humanitarian crises."
HIAS is leading efforts to address increasing humanitarian needs like gender-based violence and mental health issues along main migratory routes through Central America and Mexico. Human trafficking and forced recruitment into organized crime groups are among the persistent protection risks that populations in the North of Central America must contend with.
In Honduras, the organization is supporting efforts to raise community and institutional awareness, capacity building, referrals and case management for survivors of gender-based violence, offering drop-in psychosocial support sessions for those most at risk. Additionally, through its partner FUNADEH, HIAS is providing resources and tools to build financial independence.
In Guatemala, HIAS will implement initiatives in partnership with UNHCR regarding community-based protection and economic inclusion in vulnerable locations, especially to internally displaced people. In this context, HIAS is beginning to work with communities that have been hit by natural disasters; the majority of them, or roughly 7 million people, were affected by Tropical Storms Eta and Iota in both countries last year.
###