Why Ending TPS for El Salvador is Wrong
By Meagan Hume, Guest Contributor
Jan 09, 2018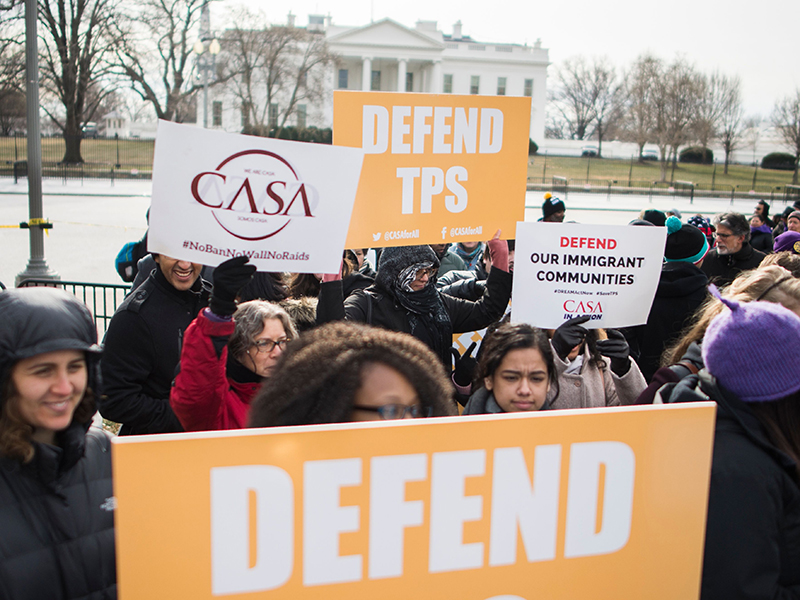 (Andrew Caballero-Reynolds/AFP/Getty Images)
In a disheartening move on Monday, January 8, the Trump Administration terminated Temporary Protected Status (TPS) for El Salvador, rendering nearly 200,000 long-term U.S resident foreign nationals vulnerable to deportation.
A humanitarian immigration status, TPS allows U.S. resident foreign nationals to remain and work in the United States if their home countries are affected by acute and temporary natural disasters or armed conflict. As a result of this decision, Salvadorans protected by TPS will lose the right to work and need to leave the U.S. by September 9, 2019 or risk forcible removal.
In response to the latest decision, Melanie Nezer, Senior Vice President of Public Affairs at HIAS, stated: "Forcing [Salvadorans] to make a decision between extreme poverty and violence in El Salvador or living a life of fear in the U.S. is evidence of this Administration's complete abandonment of America's legacy of fairness and humanity towards immigrants and refugees."
Deportation Dilemma
In January 2017, 10 countries and approximately 330,000 individuals were protected by TPS. With the loss of protection for Salvadorans, only 76,000 individuals and six countries remain under TPS, including 5,800 Syrians whose fate will be determined at the end of this month. Advocates expect terminations of nearly all of the remaining designations within the next year.
A small portion of TPS holders will be able to adjust to other immigration statuses; however, realistically, many former TPS holders will be left in the U.S. without documentation, rendering nearly 330,000 people who previously were legally present in the United States vulnerable to deportation.
The loss of status for Salvadorans is especially stark as they are parents to nearly 193,000 U.S. citizen children, by far the largest population of U.S. citizen children among TPS holders. This delivers a heart wrenching choice for the parents: bring their children to a foreign, dangerous country; remain in the United States without legal status and risk deportation; or separate indefinitely, by returning to El Salvador and leave their children with relatives or in the hands of the foster care system in the United States.
Why Salvadorans Need TPS
Salvadorans were originally granted TPS status in 2001, following multiple earthquakes. Between 2001 and 2017, subsequent administrations continued to extend protection for El Salvador due to dangerous, unstable country conditions.
Not much has improved in the past 16 years: four out of 10 households subsist below the poverty line; more than one quarter of Salvadorans are underemployed; six out of ten families lack adequate housing; and, there are only 1.6 physicians per 1,000 people. 92 percent of alleged human rights violation complaints submitted to the U.N. in 2015 involved the Salvadoran police or military and included extrajudicial killings and torture.
All of these challenges are acutely exacerbated by El Salvador's dubious distinction as the most violent country in the Western Hemisphere. El Salvador shares a spot on the U.S. Department of State's travel warning list with North Korea, Syria, and Venezuela. Gender based violence is rampant: nearly a quarter of all Salvadoran women have reported sexual or physical violence and a woman is killed every 16 hours.
As a result of widespread instability, El Salvador is a refugee-producing country. It now ranks as number two in the world in terms of displacement rate, with 220,000 newly displaced persons in 2016 alone and asylum applications from Salvadorans to the U.S. rose sharply between between 2015 (18,900 applications) and 2016 (33,600 applications).
In August 2017, the Salvadoran government asked the Trump Administration to extend TPS status, citing the loss of $4.58 billion in remittances (17% of GDP) from Salvadorans in the United States, which would further devastate the sluggish Salvadoran economy. Between poor economic growth, the lack of employment, housing, or medical care and extreme, unmitigated violence, there is clear evidence that El Salvador cannot reabsorb 200,000 plus individuals.
Costs of Deportation
The termination of TPS for El Salvador is projected to cost the U.S. economy heavily: an estimated total $1.9 billion for deportation; projected losses of $31.5 billion in gross domestic product (GDP) over the next decade; and approximately $4.8 billion in losses in contributions to Social Security and Medicare—programs Salvadoran TPS holders cannot even access.
88% of Salvadorans protected by TPS are employed in sectors such as the restaurant and food services, landscaping, childcare sectors, with nearly 37,000 Salvadorans working construction jobs.
The Administration's decision to end protection for this population ignores support for Salvadoran TPS holders on both humanitarian and economic grounds from diverse arenas, including mayors, The U.S. Chamber of Commerce, and The National Association of Home Builders.
Mark Drury, Vice President of Business Development, Shapiro & Duncan, Inc., a construction company that employs a number of Salvadoran TPS holders, recently said: "We can't begin to take on the workload that is currently on the market without adding additional capacity and by increasing the strength of our most important resource—human capital."
Based in Rockville, Maryland, Drury is especially affected as over 40,000 Salvadorans live in Washington, D.C., Maryland, or Virginia.
"These folks have, without a doubt, contributed to the success of the United States," Drury added.
"They have done all we have asked them to do. And they have become a part of the fabric of what makes America great. We certainly don't want to deport these people."
Congressional Action
In her statement announcing the decision, Kirstjen Nielsen, the Secretary of Homeland Security deferred to Congress to provide a safety net for Salvadorans. Several bills have been proposed, but none have made any progress.
Taking Action
Now more than ever, it is important for those committed to maintaining America as a place of refuge to call our Members of Congress in support Temporary Protected Status recipients. Click here to locate the phone number for your representatives, in order to ask them to ensure that all TPS holders be granted a legal pathway to remain in the United States.
For other ways to take action, please visit the Interfaith Immigration Coalition. For more information on what to do if TPS designation for your country has been terminated, check out some very useful resources provided by CLINIC Legal.
Meagan Hume is HIAS' Associate for Policy and Advocacy. To learn more about HIAS' work on TPS, click here.