Opinion: Local and Faithful — How a Global Refugee Agency Can Be Effective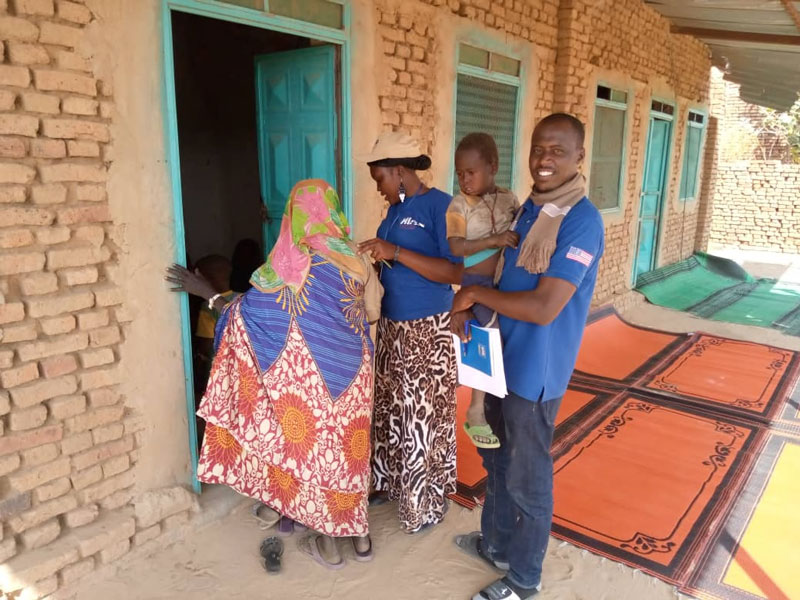 (HIAS Chad)
Originally published in Devex on June 18. Reproduced with permission.
Since the outbreak of COVID-19, many humanitarian agencies have found themselves dealing with an emergency within an emergency, having to come up with a response to the pandemic while already responding to other disasters.
We've already seen that those who are best able to pivot are local responders and people already deeply invested in localization — for example, by being connected to local communities of faith. Humanitarian organizations that champion local civil society and respect and incorporate the role played by faith leaders in local communities are not only doing the right thing for humanitarian practice but will also fare much better in delivering services and continuing their operations throughout the pandemic.
As a case study, COVID-19 has so far served as an excellent argument in support of localization in general and working with faith communities in impacted areas specifically. Facing the new and unexpected challenges of this pandemic, localized organizations — as opposed to international NGOs that normally deploy response teams to affected areas on an ad hoc basis — are using their existing presence to adapt to the crisis.
Their response benefits from preexisting relationships with churches, mosques, and civil and governmental organizations, as well as a sense of trust within the community and familiarity with the local context, stakeholders, and systems. Their significance is nothing new, as we know that local responders are the first to arrive and last to leave in a crisis.
The 
HIAS
 team in Chad has been 
delivering aid
 to Darfur refugees for more than 15 years, relying heavily on support from the local community to provide services such as mental health counseling, gender-based-violence prevention, and response and livelihood programs. This approach has inspired incredible trust between HIAS — the only global Jewish refugee agency — and the majority-Muslim refugee community and ensured that all the activities of our aid programs serve the priorities it cares about. This approach allows us to incorporate the response into their everyday lives and to address cultural barriers.
In facing COVID-19, we have used our embedded position and trust in faith communities to provide the tools to communicate about public health risks and extend protection, even in remote areas, while providing refugees and host communities with lifesaving information from sources they deem trustworthy, including their religious leaders. When governments have imposed restrictions on movement to reduce the risk of infection, community leaders, faith leader committees, and community mobilizers have continued to stay and deliver services.
HIAS Chad staffers discuss their emergency response intervention for 16,000 Sudanese refugees who crossed the border into Chad after violence forced them to flee in January 2020.
(HIAS Chad)
In Chad and elsewhere, our status as a faith-based organization has proved only to be an advantage.
More than ever, sharing this critical information and services such as food distribution are heavily reliant on community members trained by HIAS staff in these areas. As many humanitarian actors can attest, gaining the trust and cooperation of local communities is often a serious challenge that can delay or even hinder effective emergency response. Already having this trust and validation of faith leaders is beneficial in a crisis like a pandemic, where every member of society cooperates to stop the spread.
As one of the oldest continuously operating refugee organizations, we were uniquely positioned to help globally as the modern refugee crisis surpassed post-World War II levels. While the faith identities of today's refugees are different than those in the past, the values that drive our work are the same, and they are shared by people of all faiths. Simply put, HIAS used to help refugees because they were Jewish; today, we help refugees because we are Jewish.
Local faith-based organizations and networks are well embedded within the local structures and often reach distant communities. Across our operations in Latin America, we collaborate with various Christian organizations and churches, often already running shelters and providing food assistance or other services. Those existing relationships enable us to refer cases to each other and to absorb the rising needs caused by COVID-19. In Ecuador, we coordinate interventions to deliver food assistance with churches and other faith-based organizations, going house to house to reach families that HIAS identifies.
During a global emergency such as the COVID-19 pandemic, in which many countries that usually dispatch international assistance or donate funds are busy with their own domestic fight against the coronavirus, the importance and increased chances of success for a local response that includes faith-based organizations are more evident than ever.
In a number of countries, many local organizations are faith-based and are therefore crucial for aid to be — as the International Federation of Red Cross and Red Crescent Societies has put it — "as local as possible and as international as necessary." A rule of thumb for the humanitarian community should be that international agencies and relief organizations include local faith-based organizations and leaders in their response to emergencies. Coordinating with faith-based organizations will help efforts to bolster resilient and prepared local systems — less reliant on international responders and more efficient when provided the same resources.
Perhaps the global response to COVID-19 would have been far more efficient had localization efforts been given greater attention before the pandemic broke out. Hopefully, we can carry this lesson into a post-coronavirus era and use international resources to encourage and invest in localization.