One Year After the Fall of Kabul, a Look Back – and What's Next
By Ayelet Parness
HIAS.org
Aug 15, 2022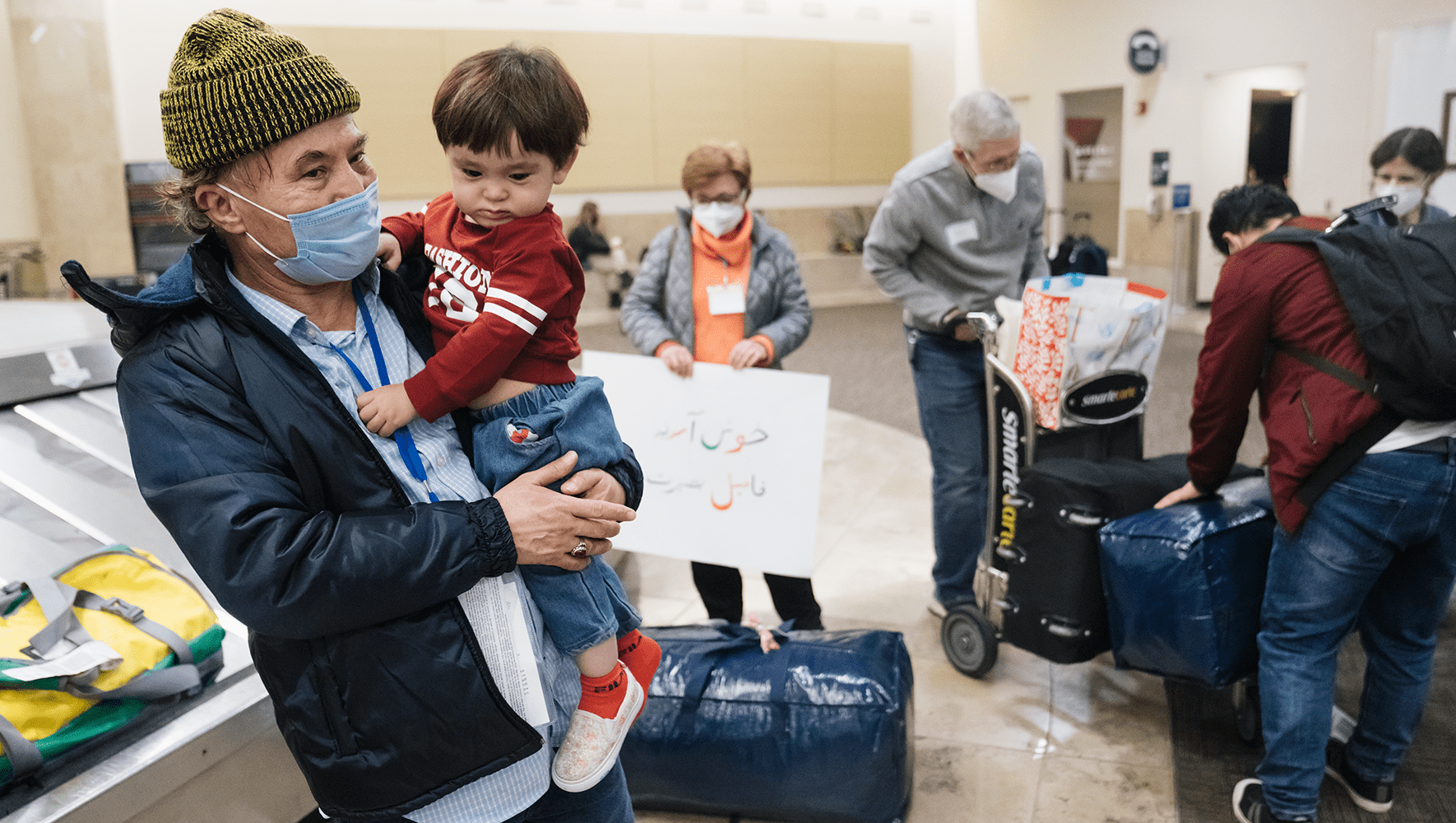 Last year, the world watched a humanitarian crisis unfold in real time as the Taliban quickly took control of Afghanistan after the withdrawal of U.S. troops. HIAS staff was already hard at work advocating and planning for the resettlement of Afghans forced to flee their country – work that continues to this day.
"HIAS got to work right away," said Melanie Nezer, HIAS' senior vice president for global public affairs. "We advocated for large-scale humanitarian evacuations – not only of Afghans associated with the U.S. mission but journalists, human rights activists, and religious minorities. At the same time, we were preparing our own resettlement network to meet the needs of those who were able to flee."
During the Kabul Airlift, which took place August 14 – 31 and constituted the largest ever military evacuation of refugees, 122,000 people were airlifted out of Afghanistan. Over 76,000 Afghans were then brought to the U.S., where most spent months living on eight military bases.
In August and September of 2021, HIAS deployed more than a dozen staff members to these safe havens, where they assisted with initial reception and processing of the thousands of newly arrived evacuees.
"Welcoming and processing so many people on U.S. soil in such a short period of time has never been attempted before," wrote Andrea Gagne, program manager for community engagement, in a reflection on her time at Ft. Bliss in Texas and Holloman Air Force Base in New Mexico. "It was not unusual for us to work nine or ten hours on base and then stay up late into the night back at our hotel figuring out operational logistics, filling out forms and paperwork in an effort to get everyone to their new homes and communities as quickly as possible."
Also working long hours to get new arrivals off the bases and into their new communities, staff at HIAS Headquarters in Silver Spring, Md. and resettlement partners across the country went into overdrive. Since October 2021, HIAS and its affiliates have resettled over 4,300 Afghan evacuees, a major uptick from the preceding 12 months, during which the HIAS network resettled 1,317 refugees from around the world.
Typically, refugee resettlement is a years-long process. Because of the hurried nature of the evacuation, United States resettlement agencies were suddenly, unexpectedly tasked with finding new homes and communities in the first six months after the evacuation for the majority of the over 76,000 people who were brought to U.S. military bases.
According to Ahmed Abdalla, HIAS' associate director for pre-arrival and initial resettlement, HIAS and its affiliates were working long nights and weekends at the height of the crisis to ensure that evacuees were placed in their new communities and getting the support that they needed.
"It was very difficult, but we did it. Working alongside other resettlement agencies, we were able to get everyone off the bases in a matter of months," said Abdalla. "Not only did we do it, but we saved a lot of lives. I am very proud to be a part of that."
This rapid influx of people in need of resettlement was only compounded by a weakened resettlement infrastructure, which was still being built back up after a period of reduced refugee resettlement under the Trump Administration.
In October 2021, HIAS announced new resettlement sites in seven cities across the U.S., including two new resettlement partners and two partners returning to resettlement with HIAS after many years. Though this growth was planned far in advance of the crisis in Afghanistan, new affiliates quickly found themselves thrown into the thick of resettlement.
"When we dreamed the dream of opening a resettlement agency, we did it with a lot of intention around steady growth, incremental learning," said Rabbi Daniel Kaiman, whose synagogue, Congregation B'nai Emunah, joined the HIAS resettlement network in October. "We identified the number of 50 arrivals in our first year… by the end of our third month, we had already received 59 arrivals. It is remarkable to see the way that our community has responded to the needs of our clients in both formal and informal capacities."
In addition to this planned expansion, 3 Jewish human services agencies – JFS of Greater Harrisburg, JFS of Greenwich, and JCS of South Florida – responded to this acute crisis by becoming APA Community Partners; these are agencies authorized temporarily to resettle evacuees who came to the U.S. under the Afghan Placement and Assistance program.
While the lion's share of evacuee resettlement was handled through the traditional resettlement model, HIAS also recognized that communities across the country had the capacity and desire to take a leading role in welcoming their new neighbors from Afghanistan. In response, HIAS piloted Welcome Circles, a private sponsorship program through which groups of citizens take on responsibilities for their new neighbors that are traditionally administered by resettlement professionals. These responsibilities include securing housing, enrolling children in school, and assisting new arrivals with legal processes – and for some circles, helping the families observe Ramadan.
"As most of the Welcome Circles come to the close of their formal six-month commitment, the newcomer families they have helped resettle are becoming deeply rooted in their new communities," said Isabel Burton, HIAS' senior director for community engagement initiatives. "Adults have found jobs and earned their driver's licenses. Children are finishing up summer camp and are now getting ready for the new school year. There have even been a number of babies born in the last few months."
Through this program, communities across 10 states have welcomed and resettled 32 families from Afghanistan. The Welcome Circle model is now being used in Europe and the U.S. to assist those fleeing another crisis – the war in Ukraine.
Communities across Europe heeded the call to welcome displaced Afghans, as well. The Union of the Italian Jewish Community (UCEI) supported 17 Afghan families in Italy by providing cell phones and other vital resources, with support from HIAS Europe. HIAS Europe also worked with the European Council for Jewish Communities (ECJC) to launch a joint campaign to support various projects throughout the EU that would welcome new Afghan arrivals and provide essentials such as housing, food, language support, job mentoring, and mental health counseling.
Communities weren't the only ones stepping in to meet the increased needs; with Afghan evacuees arriving in the midst of a national affordable housing shortage, corporate partners like Airbnb offered short-term housing solutions while affiliates located more permanent housing options. Other corporations reached out to HIAS to learn how they could assist new arrivals with locating work opportunities.
"There are so many milestones that our Afghan clients have reached," said Sylvia Acevedo, senior director of refugee & employment services at Gulf Coast JFCS, a HIAS resettlement partner. "Clients have entered our Refugee Career Pathways program, going to school to pursue various professions. We have women that are in a mental health and psychosocial support group; they go to a group member's house every week to cook and to talk about their mental health, as women. We have clients who've bought cars, who are getting more confident in speaking English. We are fortunate to see some of these little miracles right in front of us."
Though some evacuees arrived in the U.S. with Special Immigrant Visa (SIV) or refugee status, which provide pathways to permanent legal status, the vast majority arrived as humanitarian parolees, a temporary status which does not automatically confer such a pathway to permanent residency. Currently, parolees must secure specialized legal assistance to apply for either asylum or SIV status, both of which are complicated processes with immense case backlogs. Both HIAS and its affiliates are stepping in to provide evacuees with such legal representation.
However, good news may be on the way for thousands of parolees: a bipartisan Afghan Adjustment Act was introduced in the Senate on Sunday, August 7, and the House of Representatives on Tuesday, August 9 which would provide a clear pathway to permanent residency for Afghans who arrived as humanitarian parolees. The bill, for which HIAS has been strongly advocating since shortly after the fall of Kabul, would also expand eligibility for SIV status and establish a task force for assisting Afghans still abroad who are eligible for SIV status or referral to the U.S. Refugee Admissions program.
"We are incredibly proud of the work that the HIAS network has carried out in support of Afghan evacuees in the past year," said Alicia Wrenn, senior director of resettlement and integration. "Our staff, our affiliates' staff, and our volunteers have all worked tirelessly to ensure that our new Afghan neighbors find welcome, safety, and opportunity and will continue to work in partnership with the Afghan community until all new arrivals are resettled and have built strong foundations for their new lives here in the U.S."