Job Fair Makes Things More Fair for Refugees in Panama
By Sharon Samber, HIAS.org
Jan 31, 2019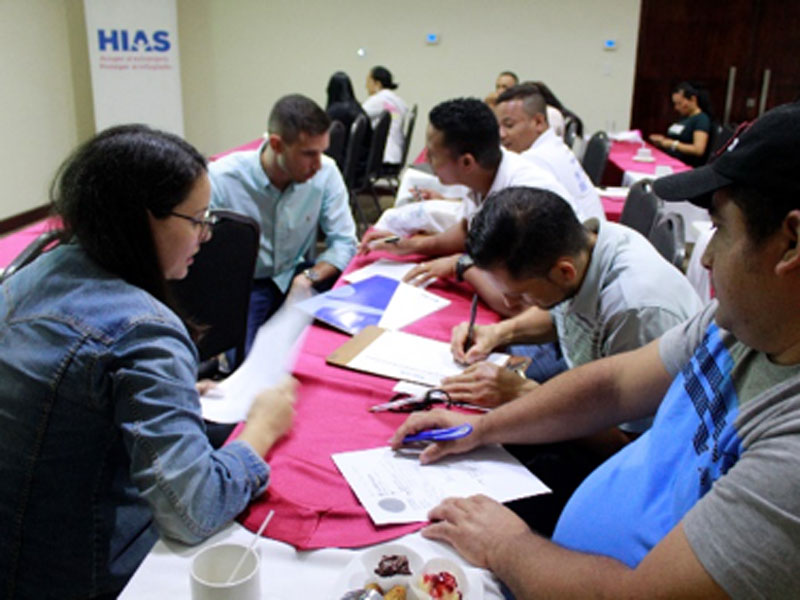 (HIAS Panama)
Sometimes three isn't a crowd--it's actually just the right number of organizations to help refugees get jobs.
In a tripartite partnership, UNHCR, HIAS, and Manpower Group (an international staffing/human resources firm), provided trainings and empowerment sessions to more than 80 refugees to help them find jobs.
The partnership, called Talento Sin Fronteras (Talent without Borders), is a milestone for Panama; it is the first agreement with a private sector institution for employment training of refugees, and it is the first time that refugees will be certified by a well-known recruitment institution. Refugees have to pass through a training that includes both three face-to-face sessions and online courses before they can receive the certification by Manpower Group.
In December the partnership hosted a job fair of five companies, among them restaurants and car rental services, where each company had one or two representatives from human resources and refugees visited company booths to discuss job vacancies. Some refugees were interviewed, and some were even encouraged to attend a second interview at the company headquarters.
"If I get a job that would be wonderful, but I am just grateful for the opportunity to be interviewed," said one man after passing through the booths.
In the presence of significant economic growth, Panama is home to 2,800 refugees and over 7,000 asylum applications pending a final decision. Finding employment for so many people has been a challenge, says Roberto Mera, HIAS Panama Country Director.
"Employers are not familiar with the work permit requirements for refugees, which leads to stigmatizing and some discrimination of refugees," Mera said.
Talento Sin Fronteras' face-to-face sessions include such topics as how to write a resume, how to interview well, and good habits for success. The eLearning complementary material is available online support from the HIAS employment support center, which is a part of the HIAS Panama office that allows refugees to use computers and also functions as a training room for refugees. Both approaches aim to bolster skills, identify weaknesses, and build self-confidence for a job interview.
Talento Sin Fronteras is a pathway to other private sector opportunities, Mera explained, as well as a way to raise awareness of the refugee situation and the importance of the private sector contribution.
In one of Manpower Group's brochures there was this endorsement: "Los personas refugiadas son un aporte para nuestra economia. ¡Aprovechalo! " Or, "Refugees are people who contribute to our economy. Take advantage!"
With the UNHCR local integration vision for Panama, HIAS-- in partnership with Manpower Group-- will resume the program this year. The training seemed to give hope to the participants, and they evaluated the program as a big success. Ninety-eight percent of participants said they felt confident after going through the training sessions and they are committed to put in practice all the lessons they learned.