How an Innovative Algorithm Helps Ukrainian Refugees Find New Homes
By Brian Zumhagen
HIAS.org
Dec 15, 2022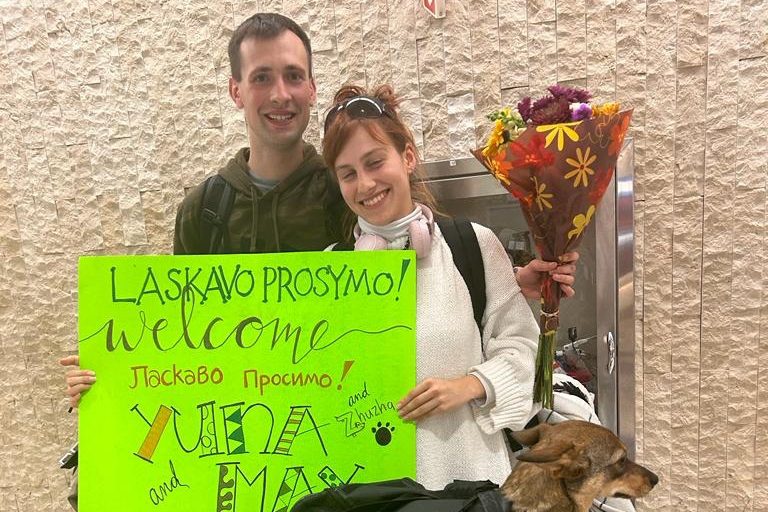 Odessa residents Max and Yuna* fled Ukraine on the day the Russian invasion began, February 24, 2022. It took them 7 days to reach the Polish border.
The couple, both in their early 20s, spent the next several months in Poland. In September, they started applying for relocation to the United States with the help of HIAS. But unlike most refugees, Max and Yuna were among the first to use a new system that allowed them to list their preferences about where to be resettled, and any special needs they might have — thanks to a matching algorithm known as RUTH, which stands for Refugees Uniting Through HIAS. (The name was also inspired by the biblical Book of Ruth, which tells the story of how Ruth is herself welcomed as a foreigner).
The couple completed the application online during a meeting with HIAS caseworkers, who filled out official paperwork and entered it into the RUTH system along with their preferences. "It was very fast," Max recalled.
When Max and Yuna arrived in the U.S. on November 4, they took advantage of a similarly innovative tool designed to supplement traditional forms of resettlement: HIAS' Welcome Circles initiative. Established in 2021 in response to the Afghan refugee crisis and adapted for Ukrainian refugees this year, Welcome Circles draw from groups of volunteers within a community as a means of increasing capacity.
HIAS Welcome Circles are typically made up of five to eight volunteers who help newcomers find work, enroll their kids in school, and access health care and other benefits during their first six months. This helps refugees integrate into their new communities — such as the village of Huntington, New York, where Yuna and Max now live in an apartment with their dog, Zhuzha. Getting out of Ukraine and waiting in Poland was "quite a stressful experience," Yuna said. "But I am grateful that we are here."
Back in Poland, HIAS Relocation Officer Denis Ruksha said some of the refugees from Ukraine he works with are relocated through European Welcome Circles, while others are resettled through circles in the United States. For those heading to the U.S., Ruksha has been using the RUTH platform for the last 3 months, entering beneficiaries' preferences about where they would like to be relocated, along with other information. "It allows people to mention almost everything they think is relevant," he said. In the U.S., volunteers in HIAS Welcome Circles can, in turn, enter their own preferences, such as the number of people they can host.
"Features in this system are meant to honor aspects of people's lives that are important, so for example, religion can be identified if people want to connect around religious practices," said HIAS Senior Director for Resettlement and Integration Alicia Wrenn. RUTH also allows refugees to make note of medical concerns and other vulnerabilities — factors she said refugees have traditionally been reluctant to emphasize "because they can make applicants more complicated to assess."
The algorithm has, likewise, made it easier for would-be-volunteers to find a good match. "We're really trying to attract a lot of people who would have been missed in a more broad catch-as-catch-can system that does not use a methodical algorithm for matching preferences and capacities," Wrenn said.
Because the Biden administration's Uniting for Ukraine program allows refugees to enter the U.S. under humanitarian parole if they have family and friends in the country who can sponsor them, HIAS has been focused on helping people who don't have those connections and who often try to find their own sponsors through social media. This can leave refugees vulnerable to exploitation. "When it comes to the beneficiaries we work with in the contiguous countries to Ukraine, we felt great responsibility to put something together with all the safe practices HIAS uses to protect displaced people," Wrenn said.
RUTH isn't the first computer system with a human name that HIAS has used to make its resettlement work easier and more effective. In 2018, the organization worked with partners to create matching software named after the first immigrant registered at Ellis Island in 1892. "Annie MOORE" (Matching and Outcome Optimization for Refugee Empowerment) used past employment data to direct refugees to locations where they would have the greatest chance of finding work.
But where Annie focused on optimizing estimated employment outcomes, RUTH makes the relocation process faster and more transparent, according to the new platform's developers. "This is the first time ever that preferences of refugees and priorities of hosts have been systematically used in the resettlement process," said Andrew Trapp, associate professor of operations and industrial engineering at Worcester Polytechnic Institute.
"This is the first time ever that preferences of refugees and priorities of hosts have been systematically used in the resettlement process."
Andrew Trapp, associate professor of operations and industrial engineering at Worcester Polytechnic Institute
His colleague Alexander Teytelboym, associate professor of economics at the University of Oxford, put it this way: "We think people are more likely to thrive in places where they prefer to live. Citizens are given a choice about almost anything of such consequence — so why shouldn't refugees?"
For their part, Max and Yuna knew from the beginning that they wanted to get to the New York City area, where Yuna had a friend in the city with whom she had something important in common. "She sings for the Metropolitan Opera," Yuna said. "And I'm an opera singer, too. So it's a little connection that I had, the only one in America."
While Max and Yuna were waiting in Poland, across the Atlantic Ocean on Long Island, Temple Beth El of Huntington congregant Florence Roffman and other members of her Welcome Circle were entering their own information into the system. She recalled that, on the day the Biden administration announced the Uniting for Ukraine program, she went right to her rabbi to ask about welcoming a refugee family. "He was like, 'This is a big mitzvah. You should see if the whole community wants to do it.' So now we have four churches, five temples, and a fellowship — the Unitarians asked me not to call them a church — all working to help Max and Yuna and welcome them to America."
Roffman said HIAS provided her Welcome Circle with essential assistance during the difficult first months of preparation, as the group drew up a welcome plan and got it approved, completed training, and underwent a background check. "We could not have done it without help and support from HIAS," she said. "We would have had no idea what to do." Roffman said the Welcome Circle is also happy with the outcome of the RUTH process. "I think it was a very good match, so if that is a reflection of the system, then the system is working."
Max and Yuna agree. "In my opinion, they're the best," Yuna said of the Huntington circle volunteers who welcomed them, got them enrolled in English classes and set them up in their new home. "I haven't even dreamed about all of the conditions we have here. We have an amazing apartment. We have everything that we need, and even more. I thought that it would be life on the edge, with no money and very hard times, but it's been one of the best times since the war began. Everyone is very helpful. They're talking with us every day."
The couple said their positive introduction to life in the U.S. has helped them cope with their sadness about leaving Ukraine, the difficulties communicating with relatives back home amid constant power outages, and the fear that they will never again see Max's elderly relatives who are trapped in his Russian-occupied hometown in southeastern Ukraine.
"We're very grateful for HIAS that they invited us here in the first place," Yuna said. "We will be grateful as long as we will be alive because it's a very big decision for us to move so far from our home."
* First names only used for beneficiaries' safety