From Royals to Girl Scouts, Supporters Pitch in on Ukraine Crisis
By Ayelet Parness, HIAS.org
Mar 24, 2022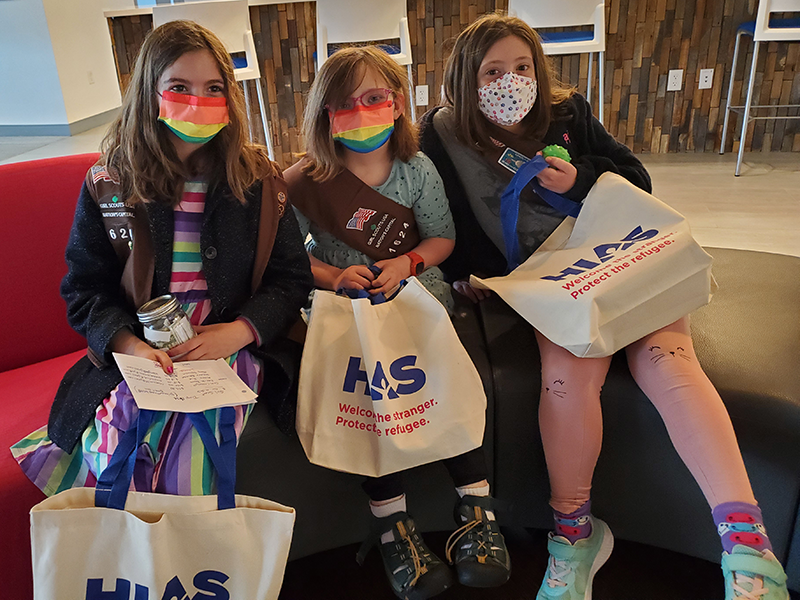 (Hilary Bierman)
In the first month following Russia's February 24 invasion of Ukraine, HIAS has seen a groundswell of gifts of all sizes in support of its emergency humanitarian efforts for refugees and displaced persons who have fled the war.
One such donation arrived at HIAS' office on March 24, hand-delivered in a mason jar by a troop of dedicated Girl Scouts. According to an accompanying parent, her daughter was inspired by the news to collect donations first from her own tzedakah box, friends, and family, and later enlisted her troop to raise funds at their Girl Scout cookie booth. Altogether, the scouts collected just over $300 to support HIAS' work in Ukraine.
Over the past month, HIAS has received nearly 30 times the number of individual online donations compared to the same period last year. Unsurprisingly, those HIAS helped from Ukraine and elsewhere in the Former Soviet Union decades ago have given in droves, many seeing their own history in horrific news images from the region.
"We've also heard from members of other communities that HIAS has resettled in the US, whether from Vietnam, Afghanistan, or Cuba," said Miriam Feffer, HIAS' vice president of development. "They recognize their stories in current events and want to rally their communities in support of Ukrainians in need now."
On Wednesday, March 23, HIAS announced that the organization had received a $10 million grant from philanthropists MacKenzie Scott and Dan Jewett to help respond to the crisis in Ukraine. This is the second grant that HIAS has received from the philanthropists, who gave to HIAS in June 2021 as part of their efforts to support and advance a more just, equitable, and welcoming world.
The grant will help HIAS toward its goal of raising $40 million for emergency response in Ukraine, including support for programs in Ukraine and surrounding countries such as Poland, Moldova, Slovakia, and Romania. HIAS is partnering with local organizations, providing technical assistance, capacity strengthening, and general support to prepare for the short-, medium-, and long-term needs of those displaced by the current crisis.
"We are honored once again that MacKenzie Scott and Dan Jewett recognize that HIAS is in a position to help refugees and displaced people on the ground in ways that are life-changing," said Mark Hetfield, president and CEO of HIAS. "HIAS has been working in independent Ukraine for over 20 years, working with Ukrainians and launching a Ukrainian-led organization (Right to Protection - R2P) to protect and welcome asylum seekers from other countries as well as displaced Ukrainians themselves."
HIAS' response to the crisis in Ukraine has led to many new gifts and partnerships as well. The Archewell Foundation, a non-profit established by Prince Harry and Meghan, The Duke and Duchess of Sussex, announced March 18 that they had donated to a number of organizations responding to the Ukraine Crisis and encouraged others to do the same. HIAS' work was at the top of their list.
"The impact of a donation from such influential supporters transcends the immediate financial benefit of their generous gift," Miriam Feffer told the Forward. "We are confident that their investment in our response to the emergency in Ukraine will inspire entirely new audiences to learn about HIAS and follow their example as supporters."
In addition to these crucial financial contributions, long-term HIAS Corporate Partner Airbnb will be providing additional emergency housing toward HIAS' efforts to connect people fleeing Ukraine to free short-term accommodation in Poland. Airbnb has partnered with HIAS since 2018, most recently providing short-term housing to Afghan evacuees in the U.S. after the Kabul airlift in 2021.
"Together, we will ensure that the most vulnerable – including women, children, and the elderly – have access to immediate shelter and critical protection services," said Jessica Reese, HIAS vice president for institutional development. "This emergency partnership leverages five years of lessons learned and best practices established from the HIAS-Airbnb partnership serving refugees, asylum seekers, and those forcibly displaced by conflict."
The partnership will support HIAS' work with Polish NGO Our Choice, which operates the crisis response center Ukrainian House in Warsaw. Together, HIAS and Ukrainian House are providing those fleeing Ukraine with immediate access to safe short-term housing through funds for rent and bookings on the Airbnb platform.
New corporate partner Pair Eyewear has taken a more creative approach to supporting HIAS; the eyeglass company has developed a "United with Ukraine" line themed around the blue and yellow of Ukraine's flag with 100% of proceeds going to HIAS. Pair is no stranger to charitable initiatives, as their model includes donating a pair of glasses to children in the developing world for every pair sold.
"One of the founding principles of Pair Eyewear is to foster positive, enduring change in our communities and the world," said Sophia Edelstein, co-founder and co-CEO of Pair Eyewear. "We chose to partner with HIAS, an organization that is continuously at the forefront of developing crises, in order to stand up for Ukrainians and all refugees displaced around the world."
As the military operation continues and Ukrainian refugees flee the war zone, HIAS' community of supporters and partners is integral to meeting the increased need.
"Good planning so far has kept us ahead of the crisis," wrote Ilan Cohn, director of HIAS Europe, in a recent op-ed for Haaretz. "The time to build capacity for relocation, resettlement, and, ultimately, integration is now."