White House Honors Refugee "Champions of Change"
By Rachel Nusbaum, HIAS.org
Jun 26, 2015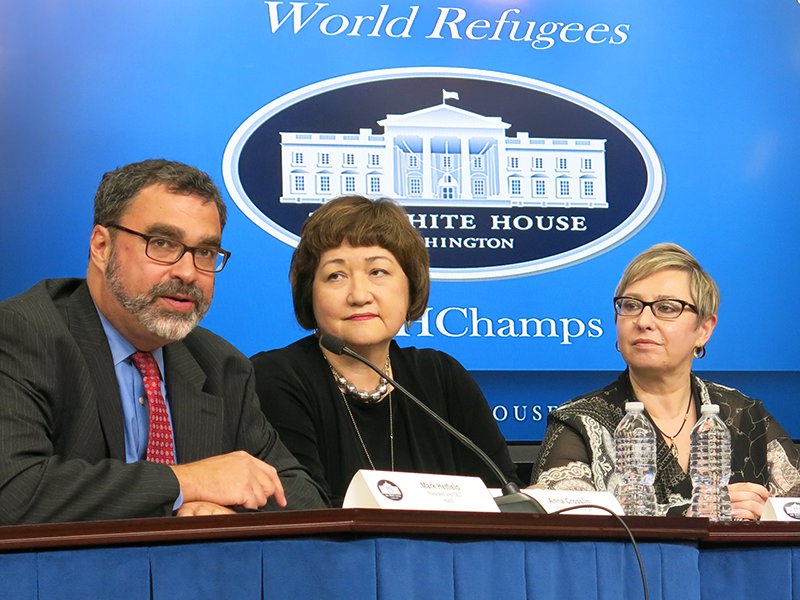 (Rachel Nusbaum/HIAS)
Protecting refugees is part of who we are as Americans. And the refugees who find welcome and protection in the United States contribute immensely to their new home.
Such was the sentiment at the White House on Thursday, where a crowd of NGOs, refugee advocates and top Obama Administration officials gathered to honor ten "champions of change" who made a difference in the lives of refugees.
One of those champions was Nadia Kasvin. A true HIAS success story, Nadia is the kind of person you might expect to meet at a White House event honoring change makers—deeply committed, incredibly accomplished and extraordinarily kind.
In between remarks from U.S. National Security Advisor Susan Rice and Cecilia Muñoz, the President's Domestic Policy Advisor, awardees were invited to the stage to discuss their work, as well as the challenges facing refugees across the globe. Mark Hetfield, HIAS's president and CEO, led a panel discussion about creating welcoming communities for refugees who are resettled domestically.
As the event drew to a close and the crowd dispersed, Nadia was asked to share a bit more about her life and her remarkable achievements.
"I think I got into the actual refugee work by accident," she said. "You never know what you'll end up doing in this country because there are so many opportunities, so many doors are open to you."
Nadia is a refugee herself, having fled persecution in the former Soviet Union. In the early 90's, HIAS helped Nadia, her husband and their young son come to the United States to reunite with family who had already found asylum here. Nadia went on to pay that help forward many times over, co-founding a refugee support organization in Ohio called US Together.
According to Nadia, US Together was born when she and her friend, Tatyana Mindlina, were sitting at the kitchen table talking about what needs in the refugee community were still going unmet.
Her husband Dmitriy got on the computer to check what names were available for this newly invented organization. Her one request? "We wanted the word 'together' there," Nadia says. "That idea of coming together, of building the bridges, of engaging the greater community, that's what drove our work from the very, very beginning."
Though they began by organizing within the Russian-speaking community, they soon expanded. "Probably within the year, we opened our doors to refugees from all over the world," she recalls. In May 2005 they resettled their first refugees: a Jewish family from Russia and another family from Somalia.
These days, US Together has offices in three Ohio cities and in 2014 resettled nearly 700 people, including refugees from Ethiopia, Somalia, Iraq, Syria and Ukraine. Nadia attributes much of US Together's success to their staff, who she praises effusively. "The majority of our staff are refugees and immigrants themselves, and so we have that extra something to share…that compassion and empathy and understanding of the refugee journey."
The White House event comes on the heels of World Refugee Day, a call for awareness of the plight of refugees across the globe, as well as the release of a new report from the United Nations on just how staggering that plight has become. People have been forced to flee their homes in record numbers, and drawn out conflicts mean that fewer and fewer have the option to return.
To meet this new challenge, both governments and NGOs will have to redouble their efforts. Ambassador Susan Rice made clear that the United States intends to do just that when she announced an additional $360 million in humanitarian aid for those displaced by the conflict in Syria.
Ultimately, though, the United States and other countries are going to have to open their doors wider if more of these vulnerable asylum seekers are ever to know safety and stability. Its comforting to know that, if and when that happens, Nadia and her team will be there to welcome them.