Teens Win Status With Legal Help From HIAS: "It Feels Good to Live Without Fear"
By Yvonne Winer - Immigration Specialist, HIAS
Nov 29, 2016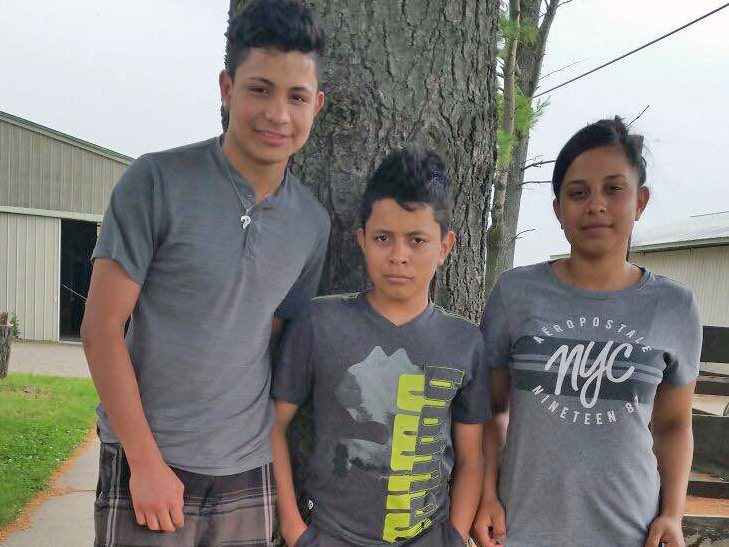 "Crossing the border… I was nervous and afraid at every turn. But I can't go back," Nerea Medilla* said. Nerea was just 17 years old when she was forced to flee her home in Santa Rita, Honduras, along with her two cousins, Oliver and Eduardo Castaneda*. Oliver was 14 and Eduardo only 12 when they made the dangerous journey north together from in 2014.
Nerea, Oliver, and Eduardo have experienced more violence than any child should. In Honduras, they were stalked by MS13, a notorious street gang, and moved into their aunt and uncle's home in a neighboring city in an effort to escape. But that was just the start.
"I was so afraid of being deported back to Honduras," Nerea remembers. She has since been diagnosed with post-traumatic stress disorder. HIAS represented the children in court and, after a tumultuous process, won asylum for Nerea in December 2015, and Oliver and Eduardo in February 2016. Now, assured of their continuing safety in the United States, the family recalled the circumstances that forced them to flee.
In 2007, the gang harassment got so bad that Eduardo and Oliver's mother Luz* fled to New Jersey, where she had family. Forced to leave her sons behind, Luz lamented, "I was suffering so much in Honduras—psychologically, mentally."
MS13 continued to follow and threaten her husband in Honduras. Eduardo and Oliver described him as a "good, moral person." He worked as a taxi driver. On January 9, 2011, MS13 murdered him.
After Luz fled to New Jersey, Eduardo, Oliver and Nerea were left at the mercy of Nerea's tyrannical father, Daniel.
Oliver describes Daniel as a short, fat man who sometimes wore a beard and who worked in construction. Daniel frequently verbally and physically abused everyone in the house—from whipping them with a belt, to forcing them to hold stress positions, to cutting them with kitchen knives. Daniel subjected his family to immeasurable suffering, and justified his cruelty by saying the children did their chores inadequately or came home from school too late.
In one incident, Daniel actually stabbed Eduardo in the leg with a hot poker. When taken in for treatment, Eduardo was too afraid to tell the doctor how it happened.
To escape Daniel's brutality, the children fled. Together, they travelled across Latin America to reunite with Luz in New York. They are very happy to be living together once more.
"I felt bad living in Honduras because we were always being threatened. It feels good to live in the U.S., without fear," Oliver said.
"I am very happy to be here legally. There are more opportunities here in the U.S. and HIAS helped us with everything we needed," Nerea said. "It's strange for me. I never imagined gaining asylum would happen—and in such a short amount of time."
"Everyone should go to HIAS!" Oliver added.
Each of the children are now navigating school and learning English. They are hopeful now, too, for a more promising future. Oliver and Eduardo enjoy studying mechanics, and Nerea aspires to become a doctor or nurse.
"Don't be afraid to tell your story, and fight for what you want," Luz advises.
*Names have been changed to protect the clients' privacy
Do you reside in New York City or the Washington, D.C. metro area? If you or someone you know needs help with an asylum case, email legalhelp@hias.org for more information.