A Small Sum Leads to Long-Term Empowerment for Women in Cali
By Beverly Goldberg
HIAS.org
Jun 27, 2023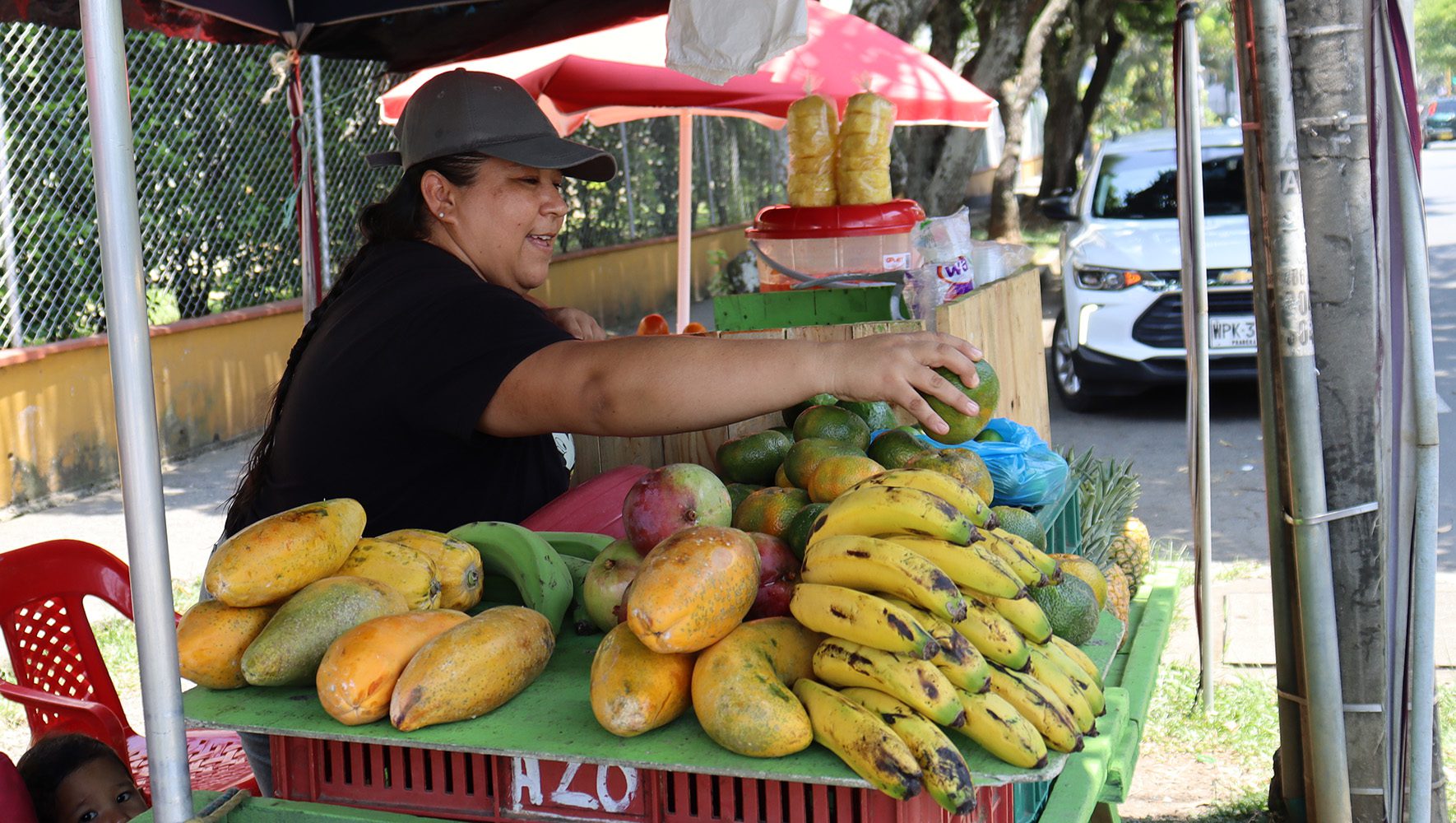 To prepare a delicious salpicón, a traditional Colombian and Venezuelan fruit salad, you need plenty of mangoes, pineapples, strawberries, bananas, grapes, peaches, and some papaya juice to bring all the flavors together. Some people will add grenadine syrup, others will add watermelon pureé — but each salpicón comes with its own unique flavor and identity, just like the person who made it.
This process is something that Yaneth del Carmen Ovalles understands well. Originally from Venezuela, she now serves her salpicón from her fruit stall in Cali, Colombia.
Ovalles participated in HIAS' regional entrepreneurship school, which currently supports migrants, refugees, and members of the local community through a gender lens in Colombia, Peru, and Ecuador. Course participants receive financial literacy training, skills courses, and seed capital opportunities to get their business ideas off the ground. The program, supported by the United States government, has attracted 1,539 women and LGBTQ participants so far.
Ovalles arrived in Colombia in 2021 unsure what her future might look like. She decided to leave her native Venezuela with her husband in order to support family members who are struggling to make ends meet. Upon arrival, Ovalles' husband opened a small business selling fresh fruit from a stall, and soon after, Ovalles decided to open a stall of her own. She then stumbled upon HIAS Colombia's entrepreneurship course through a local organization that supports female migrants and refugees in Cali.
Ovalles has seen a noticeable improvement in the success of her small business since participating in the program, allowing her to gain financial independence and send money back home. "Before HIAS, I was selling around 15 portions of salpicón each day. Now I'm selling around 30," she said. "I learned how to save money, how to make an inventory of my products, and also how to organize my spending."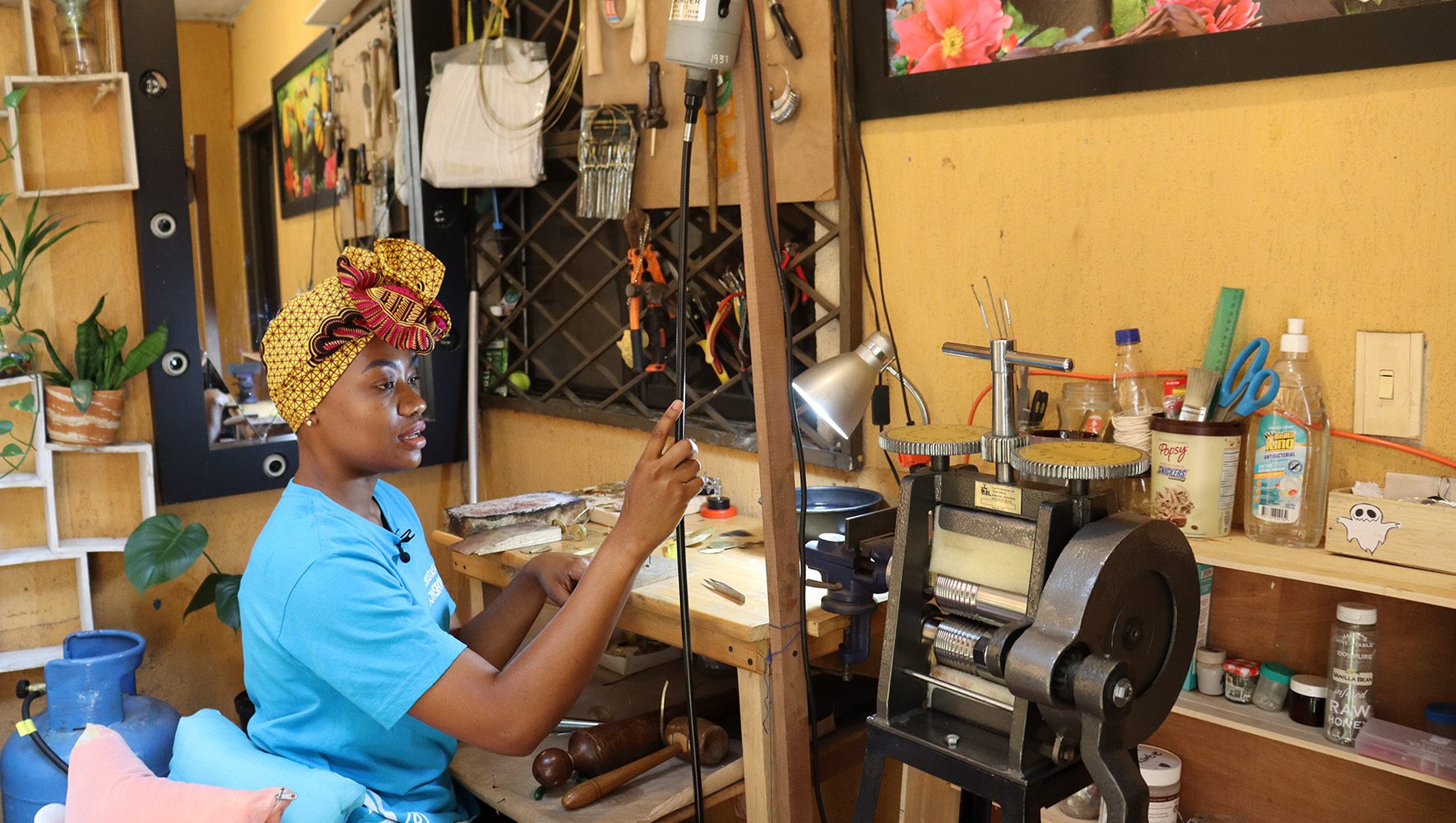 Ovalles wasn't the only participant in HIAS Colombia's entrepreneurship school in Cali to experience profound benefits. Nanny Palacios traveled from the Colombian province of Chocó on the Pacific coast to Cali with big dreams for her future. She originally set out with her sights on Medellín, but she eventually decided to pull up stakes in Cali and set up her business there.
Her small business, Queen Alika, sells hair wraps made from African prints and ecologically produced fabrics, products that celebrate her Afro-Colombian heritage. With the assistance of HIAS, Palacios purchased a rolling mill — a machine that helps her to shape metals — and expanded her business to create handmade jewelry that explores the relationship between her community and the concept of territory.
"HIAS has helped me a lot with the financial side of my business, but they've also helped me to improve my branding and my social media presence," Palacios explains. On a personal level, she's also seen important changes. "After participating in the course, I believe in myself so much more."
"I now understand that I'm capable of fulfilling my dreams by myself, without depending on anyone else."
Nanny Palacios
HIAS regional's economic inclusion program in Colombia, Peru, and Ecuador is unique for enrolling participants in courses that offer a gendered perspective. The courses ensure that women feel empowered and that they develop tools to overcome the barriers that many female entrepreneurs have to face, such as pressure from family members to either stay at home or follow a more traditional career path. They also work with the male participants to create a wider understanding of the importance of female self-reliance and empowerment for society. "I now understand that I'm capable of fulfilling my dreams by myself, without depending on anyone else," Palacios said.
Palacios sells her products at craft fairs throughout the city, but she's also found success by leveraging social media platforms such as WhatsApp and Instagram, and also through her website, where she keeps customers up to date with new products and collections she launches.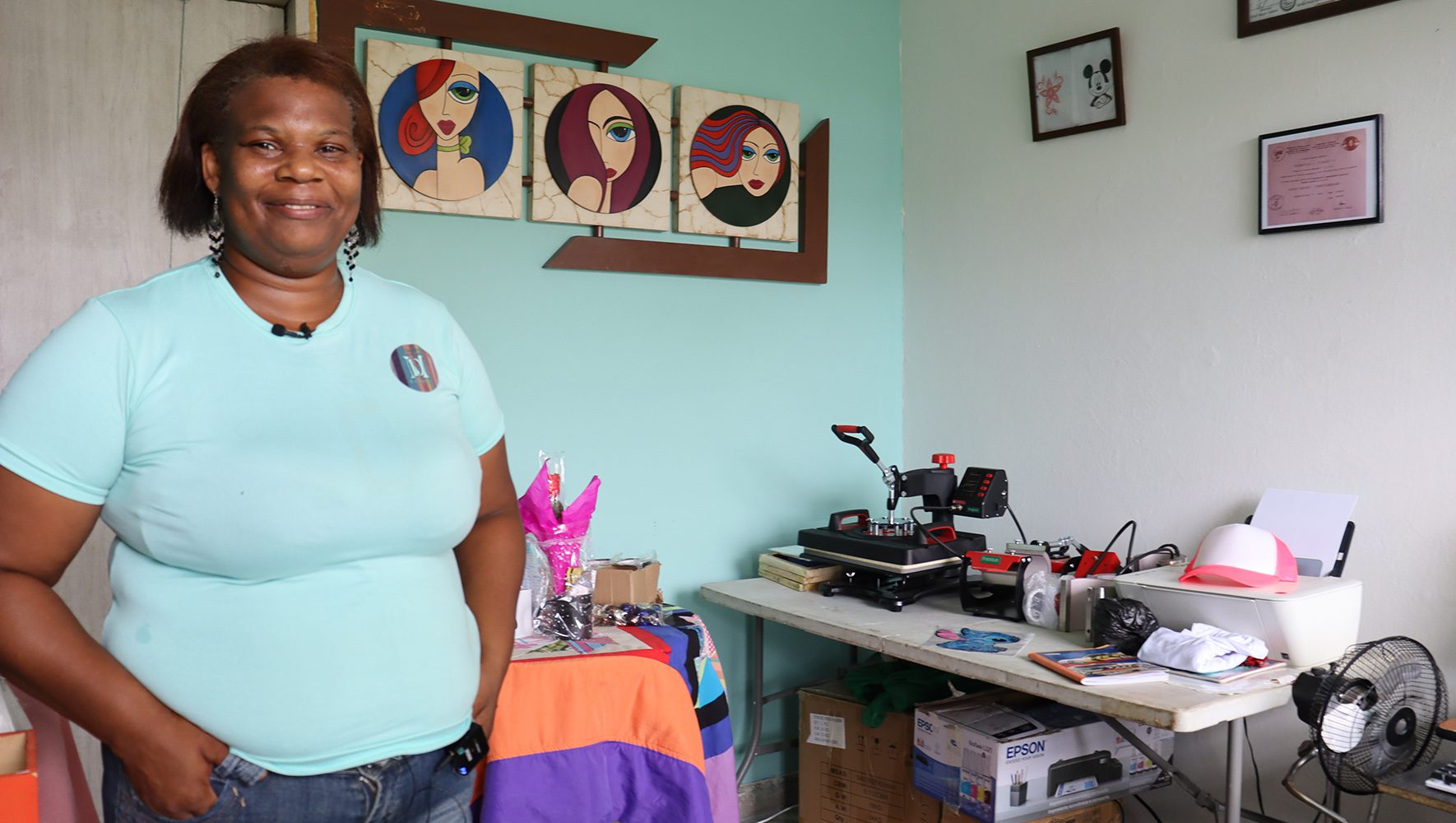 Yurany Rodriguez wears the logo of her printing business proudly on her chest. The emblem symbolizes a new beginning for her and her family, who arrived in Cali from Naguanagua, Venezuela, four years ago. Having moved with her children, her husband, and her elderly father, Rodriguez knew that her husband's income alone wasn't enough to sustain their family abroad, so she worked long hours as a cleaner to help make ends meet.
Rodriguez never imagined she'd open her own business. But one day, her son picked up a flyer for a printing course, and after discussing the matter, Rodriguez decided that they would both enroll. Shortly after, she also received a referral to HIAS Colombia's economic inclusion program through a local foundation. The program helped her to start applying what she'd learned in her printing course and turn it into a small family business. "At HIAS I learned so much. Before the course, I had no idea how to manage my money or how to save," Rodriguez said. "Now, after each order I complete in my business, I separate money to reinvest."
With seed capital she received after completing the course, Rodriguez was able to buy machines that allow her to print on different textiles, such as mugs, hats, and t-shirts, with the design that her clients prefer. "The seed capital was really useful for me as it allowed me to open up my business and to be my own boss," she said. "It's also allowed me to look after my children as I can work from home and decide my working hours."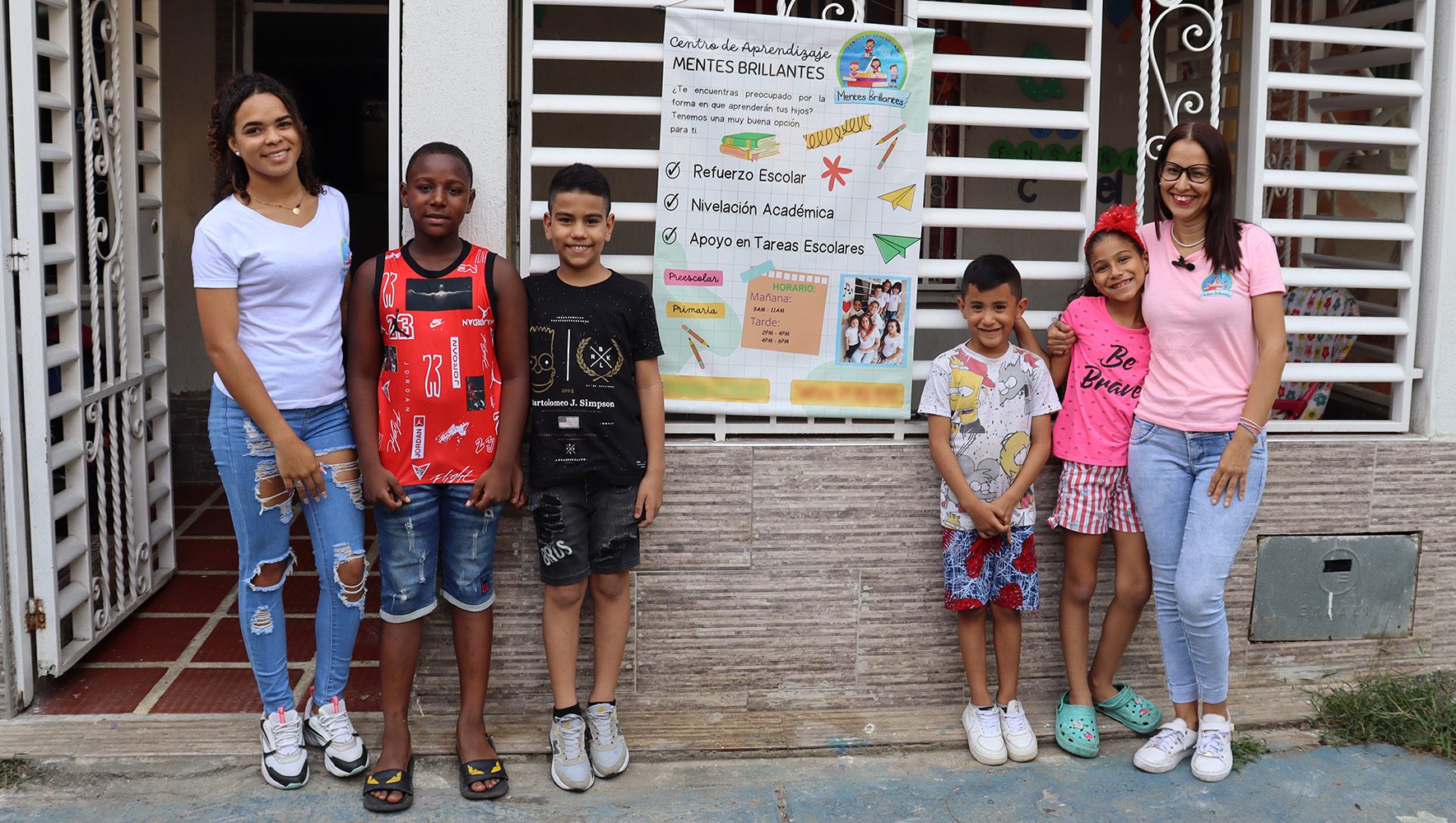 When Jeanette Tello shut the door of her classroom behind her for the last time, she wasn't sure if she would ever return. Tello and her family left Venezuela for Peru four years ago, where she hoped to share her love of language, books, and literature with the world. However, things didn't go as planned. After a few years of facing discrimination and struggling to earn a stable income, the family decided to move to Cali.
Tello is passionate about supporting young people to fulfill their dreams and she missed teaching children. She never thought that she could turn her passion into a full-time job while away from her native Venezuela. University professionals from Venezuela who migrate abroad experience difficulty validating their university degrees and finding jobs similar to what they were doing in their home country. For teachers, it can be particularly challenging as they often need to take additional exams and are restricted from working in public schools in many countries of the region, as is the case in Colombia.
"Thanks to HIAS, I feel confident and capable. I'm economically independent and I also have enough money to support my family back home in Venezuela."
Jeanette Tello
Tello began teaching again after her boss in Cali asked if she could tutor her daughter so that the girl could improve her confidence and her grades. When Tello then participated in HIAS Colombia's entrepreneurship course, she created a business plan to open up a private tutoring school that could support more children in Cali to improve their reading, writing, and math. "Before I started with HIAS, I was tutoring just a few children in an uncomfortable space at home," she said. "Now, with the seed capital they provided me, I've set up a dedicated room with tables and chairs for the children, and I also bought other teaching materials such as books and a whiteboard."
Today Tello tutors a total of 14 children from her local neighborhood and is making enough money to pay her bills. "Thanks to HIAS, I feel confident and capable. I'm economically independent and I also have enough money to support my family back home in Venezuela," she said.
Tello also received a positive response from her husband when she explained to him what she'd learned about gender equality at HIAS. "I told my husband about the importance of gender equality, and supporting each other with household chores and bills as I'd learned. He told me that it was great to feel like he wasn't alone when we were having economic difficulties," she said.