Showing Love and Support on Social Media
By Sharon Samber, HIAS.org
Oct 31, 2018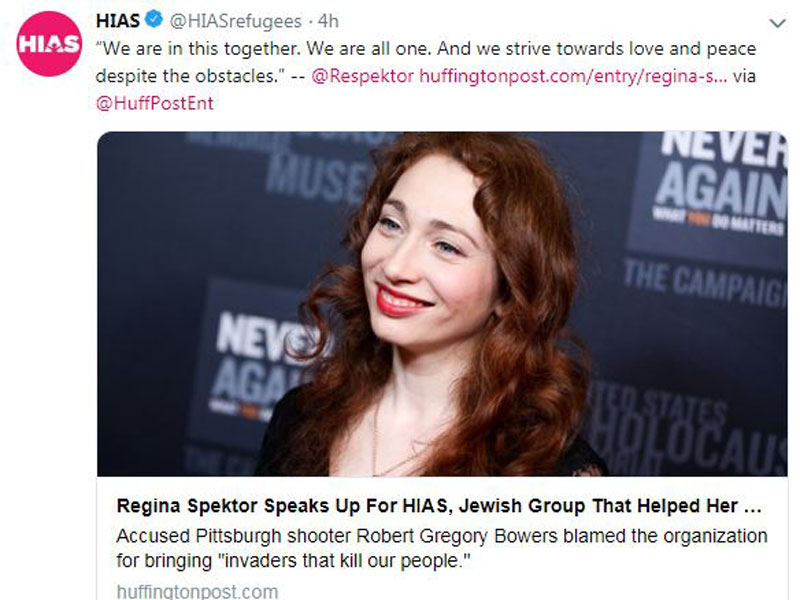 (Twitter)
Maybe you know Regina Spektor's music. Maybe you read Nicholas Kristof in the New York Times, or Masha Gessen in the New Yorker, or James Fallows in the Atlantic. If you follow any of them on social media, you know these are among the many well-known entertainers, media personalities and others who have expressed their support for HIAS in recent days.
After the mass shooting at a Pittsburgh synagogue that killed 11 people on October 27, HIAS was unexpectedly thrust into the national spotlight. As news of the tragic attack spread, and as it became known that the shooter had mentioned HIAS in his own social media posts, countless people took to the internet to share their feelings, and in many cases, their personal connections to HIAS and their solidarity with the victims and the people of Pittsburgh.
Regina Spektor was born into a Jewish family in Moscow, and credits HIAS with helping her and her husband's families settle in America after fleeing religious persecution in the Soviet Union. In her post she described HIAS as "a very good organization and full of caring people."
Masha Gessen, a staff writer for the New Yorker, was helped by HIAS as a 14-year-old when her family was trying to leave the Soviet Union. Gessen, who spoke to HIAS President and CEO Mark Hetfield for a more recent piece, tried to explain in her first reaction why the shooter was fixated on HIAS. She said in her Facebook post, "I will always be grateful to HIAS."
Gary Shteyngart, a novelist and former HIAS client, has a powerful sense of satire and cynicism. But he was serious and straightforward in his tweet with his designation of HIAS as "one of the greatest organizations that has ever existed." His tweet has over 4,000 likes.
My family was resettled by @HIASrefugees, one of the greatest organizations that has ever existed. Today more than ever, they deserve your support.

— Gary Shteyngart (@Shteyngart) October 28, 2018
New York Times columnist Nicholas Kristof, writes about issues such as gun control. After the shooting he, like many, sounded helpless but defiant. A day after he tweeted his support for HIAS, he said: "In the aftermath of the Pittsburgh shooting, the Parkland shooting, the Las Vegas shooting, let's start a blunt national conversation about the N.R.A. and extremism."
The murderer in Pittsburgh was motivated in part by hatred for @HIASrefugees and the love it shows for refugees. Anything I do seems feeble in the face of a massacre, but as my tiny way of pushing back against hate, anti-Semitism and xenophobia, I just donated to @HIASrefugees https://t.co/VKGIkkQ8Fp

— Nicholas Kristof (@NickKristof) October 28, 2018
Last January, Scott Rogowsky, comedian and host of HQ Trivia, helped HIAS tell the story of the first year of the U.S. Refugee Admissions Program under the Trump Administration by lending his voice to a video, A Year Later, the Fight Goes On. Right after the shooting, he spoke out for HIAS again.
Hateful rhetoric leads to hateful action, and @HIASrefugees continues to fight the xenophobia that led to yesterday's attack in Pittsburgh. Consider pledging your support: https://t.co/k32FiPCze8

— Ghost Malone (@ScottRogowsky) October 28, 2018
Bianna Golodryga, co-host for CBS This Morning, went to Pittsburgh to report on the massacre. She tweeted right away about her personal connection to HIAS, and garnered over 6,000 likes.
HIAS is a refugee resettlement organization that helped my parents and me when we immigrated to the US from the Soviet Union in 1980. https://t.co/MihVuz9eFl

— Bianna Golodryga (@biannagolodryga) October 27, 2018
Then in a follow-up, CBS This Morning tweeted images of Golodryga's records. Golodryga posted in response: "If you wonder what @HIASrefugees does, here's my own HIAS immigration footprint from 1980 (which I'm seeing for the first time)."
reached out to HIAS's archivist and got a copy of her family's travel records. She was just 18 months old when her family left the Soviet Union as political refugees and they needed help resettling in the U.S.

HIAS bought their airline tickets. pic.twitter.com/Y8p1ql5qmY

— CBS This Morning (@CBSThisMorning) October 29, 2018
You can follow HIAS on Twitter and Facebook and Instagram.