Nuria's Story: A Girl in Kenya Survives Abuse with HIAS' Help
By Jessica Masibo, HIAS Kenya Communications Officer
Apr 28, 2022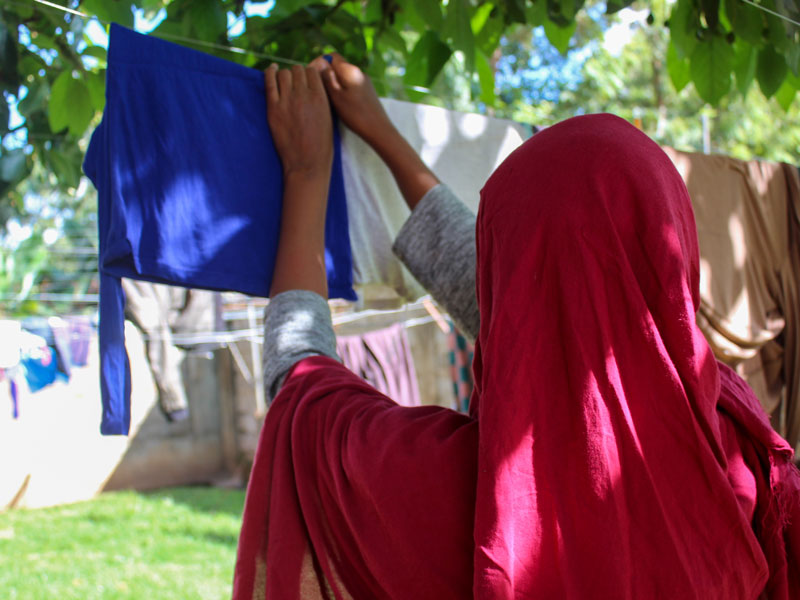 (HIAS Kenya)
Nuria* is a 14-year old Ethiopian refugee, an eighth grader — but also a survivor of violence.
Nuria's family fled civil war in Ethiopia and came to Kenya more than 15 years ago and shortly thereafter Nuria and her younger brother were born. While living in Nairobi, Nuria's mother developed a mental illness and, although she received some treatment, she died in 2018. Hakim*, Nuria's father, remarried but the start of a new life meant the start of violent mistreatment for Nuria and her siblings.
"My stepmother hated us with passion, she was violent, and her key weapon was psychological abuse," Nuria told HIAS Kenya staff, remembering the difficult times.
Life soon became unbearable for Nuria as her stepmother Halima* degraded and humiliated her every day.
"She would give me a huge bundle of clothes to wash, which was beyond my ability at my age, and constantly reminded me how lazy and slow I was," Nuria recalled. "Sometimes she would grab me by my hair and slap my face. She regularly yelled at me and my brother, calling us names like 'stupid' or 'good-for-nothing,' and she hit us with any type of object she came across," Nuria said.
Even as the mistreatment continued, Nuria's father did not try to stop it, which also made the neighbors hesitant to intervene.
In 2019, through a religious leader, Nuria and her siblings got a referral to HIAS' Kawangware office which runs child protection programs that often provide multi-layered psychosocial support. Staff In Kawangware, a low-income residential area in Nairobi, determined that it was not safe for the three children to go back to their stepmother's house. Instead, HIAS managed to get a foster family for the children where a HIAS community worker and child protection monitor closely supervised the children. The case was also approved for a financial assistance program implemented by HIAS and supported by UNHCR.
With the help of HIAS outreach workers, Nuria's whole family — siblings, father, and stepmother — were enrolled in counseling at HIAS. The situation started to improve and it seemed Hakim began accepting his responsibility as the head of the family and understood the need to protect his children against any form of abuse.
On average, HIAS Kenya offers counseling to about 1000 refugees per year. HIAS' team of psychologists, social workers, and community outreach workers collaborate with refugees to implement interventions, activities, and community-based support systems.
In September 2020, the family was reunited and, since then, has been living together in harmony. Hakim said things are under control and he sees his wife making an effort to bond with the children with a focus on open communication and mutual respect.
"Family unity is the greatest and most important influence in a child's general life," said Rebecca Okech, a HIAS Kenya caseworker. "At the same time, feeling safe and secure is also central to a child's health and wellbeing." Okech will continue to work closely with the child protection monitor and HIAS community outreach worker in following up on the case.
Halima said HIAS made all the difference.
"The process of forming a new and bonded family was challenging for me and it was heightened by my pregnancy and the general challenging life in the country of asylum," she said. "HIAS is the refugee organization which changed my mindset and I will ever be thankful for that."
When Nuria reunited with her father and stepmother the family agreed on consistent guidelines about rules, discipline, and chores to undertake. Nuria said she can now focus on her forthcoming Kenya Certificate of Primary Education exam.
"I am at peace," she said. "My tears have dried and I aspire to be a lawyer."
*Pseudonyms used to protect clients' safety.