Refugee Advocates Will Press Biden, Congress For Major Changes
By Max J. Rosenthal, HIAS.org
Jan 29, 2021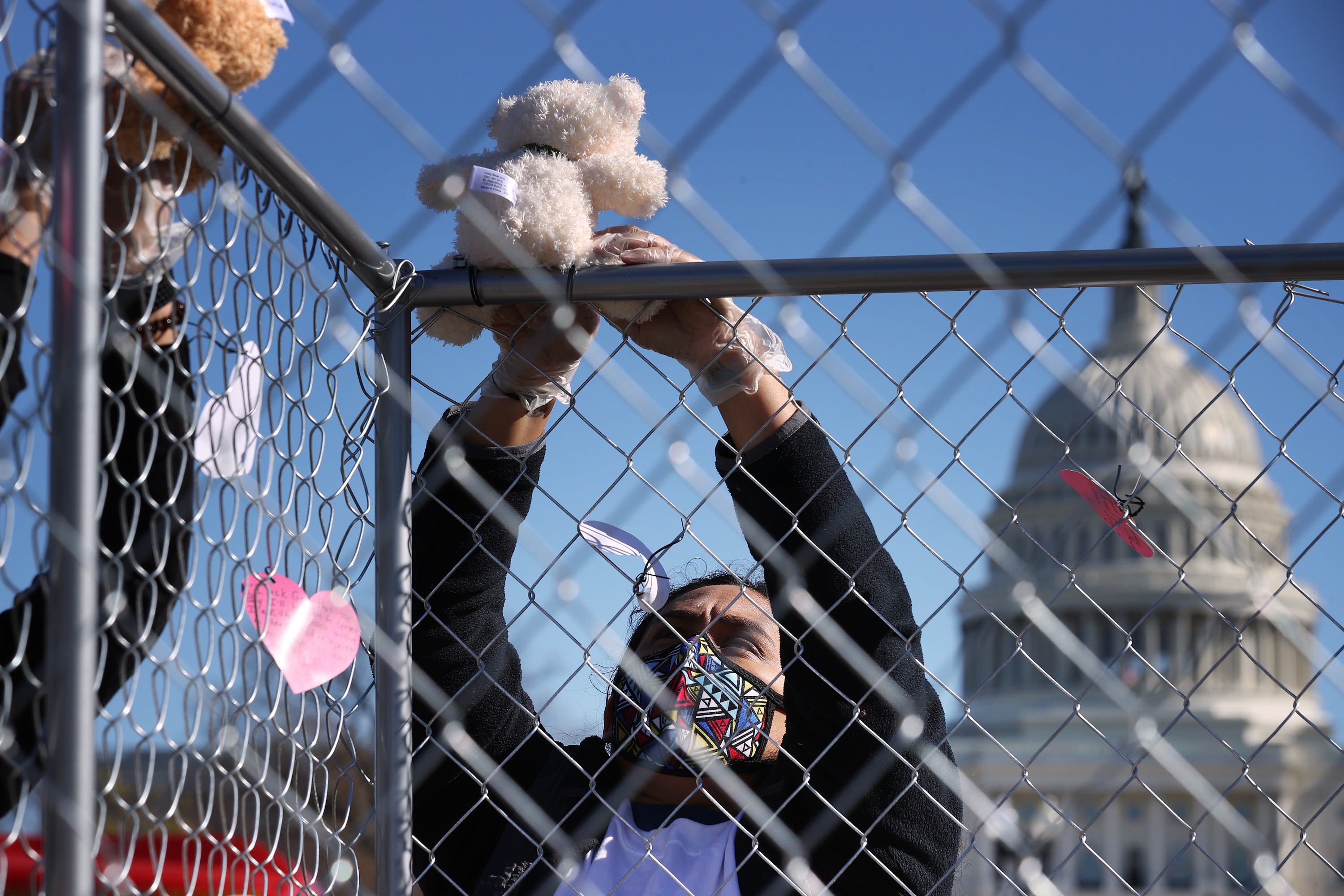 (Chip Somodevilla/Getty Images)
The Biden administration is barely more than a week old, but it has already produced progress on immigration. The White House swiftly ended the Trump administration's Muslim Ban, sent a sweeping immigration bill to Congress, and took other actions to make the immigration system more humane. Further changes are expected as soon as next week.
But having a new president in office does not mean refugee advocates can relax. "We cannot be complacent just because Joe Biden is in the White House," said Naomi Steinberg, HIAS' vice president of policy and advocacy. "They're going to be grappling with stopping a pandemic and rebuilding our economy. The onus is on us, the advocacy community, to make sure that our issues aren't forgotten."
One key issue is restarting and repairing the U.S. Refugee Admissions Program. The Trump administration repeatedly slashed the nation's annual cap on refugee admissions, setting a new record low each time. The number of refugees resettled by HIAS fell from more than 4,200 in 2016, the last year of the Obama administration, to just 576 in 2020.
President Biden has pledged major changes. During the campaign, he promised to raise the refugee admissions cap to 125,000 per year, a level not seen in more than two decades. His proposed immigration bill includes funding to repair the country's refugee-resettlement infrastructure. Steinberg said it is important to make sure Biden makes good on those commitments and that refugee advocates must keep the public "as fired up about [refugees] as they were the last four years."
Another critical issue is ending the Migrant Protection Protocols, or MPP. Also known as the "Remain in Mexico" policy, the MPP is a Trump administration policy that forces asylum seekers at the U.S.-Mexico border to wait in Mexico rather than the United States while their cases move through the U.S. immigration system. MPP, which HIAS has called a "humanitarian disaster," has left tens of thousands of people trapped in precarious and often-dangerous situations in Mexico.
The Biden administration has already suspended MPP, meaning that new arrivals at the border will not be forced into the program. But fully reversing the policy — and providing redress for the huge number of people affected by it — will take months of hard work.
This week, HIAS released a report explaining exactly how that work should unfold. "Ending a massive program like Remain in Mexico requires a detailed plan to address the needs of multiple populations affected by MPP," said Andrew Geibel, HIAS' policy counsel and the report's author. "This report is a way for us at HIAS to bring our expertise to the incoming administration to help quickly end this program."
The executive summary of the report has been shared with Biden administration officials, with whom HIAS has been in regular contact since Biden's election victory.
While a Democratic administration has made these changes possible, Steinberg stressed that HIAS must focus on building support in both parties for refugee resettlement. "Bipartisan support built these programs, and it needs to be continued," she said. HIAS helped keep the Bipartisan Congressional Refugee Caucus active during the Trump administration, and Steinberg hopes to expand the consensus on refugees under Biden.
"These issues have become so toxic over the last four years that we need to return to a place where we can talk about them in calm, cool, collected ways and really find our common values around all of this," she said.
Achieving lasting change will require immigration advocates, the Jewish community, and the general public to keep the pressure on the Biden administration and Congress, as they did under Trump. "People power is even more important than before," Steinberg said, "because if we push hard enough, somebody might actually do something."
This week, HIAS released a letter signed by more than 1,100 Jewish clergy members, who called on the administration and lawmakers "to act with urgency to ensure the rights and safety of refugees and asylum seekers." These and other HIAS actions, like the annual Refugee Shabbat, are designed to keep refugee issues and immigration highly visible to the public.
With the possibility of change now real, Steinberg said she is looking forward to this "new advocacy era," no matter how much time and effort those changes might take. "They are taking it seriously," she said of the new administration and Congress. "I think they are primed for action."