Rabbi David Mason on Serving Britain's Refugees
By Brian Zumhagen
Mar 23, 2023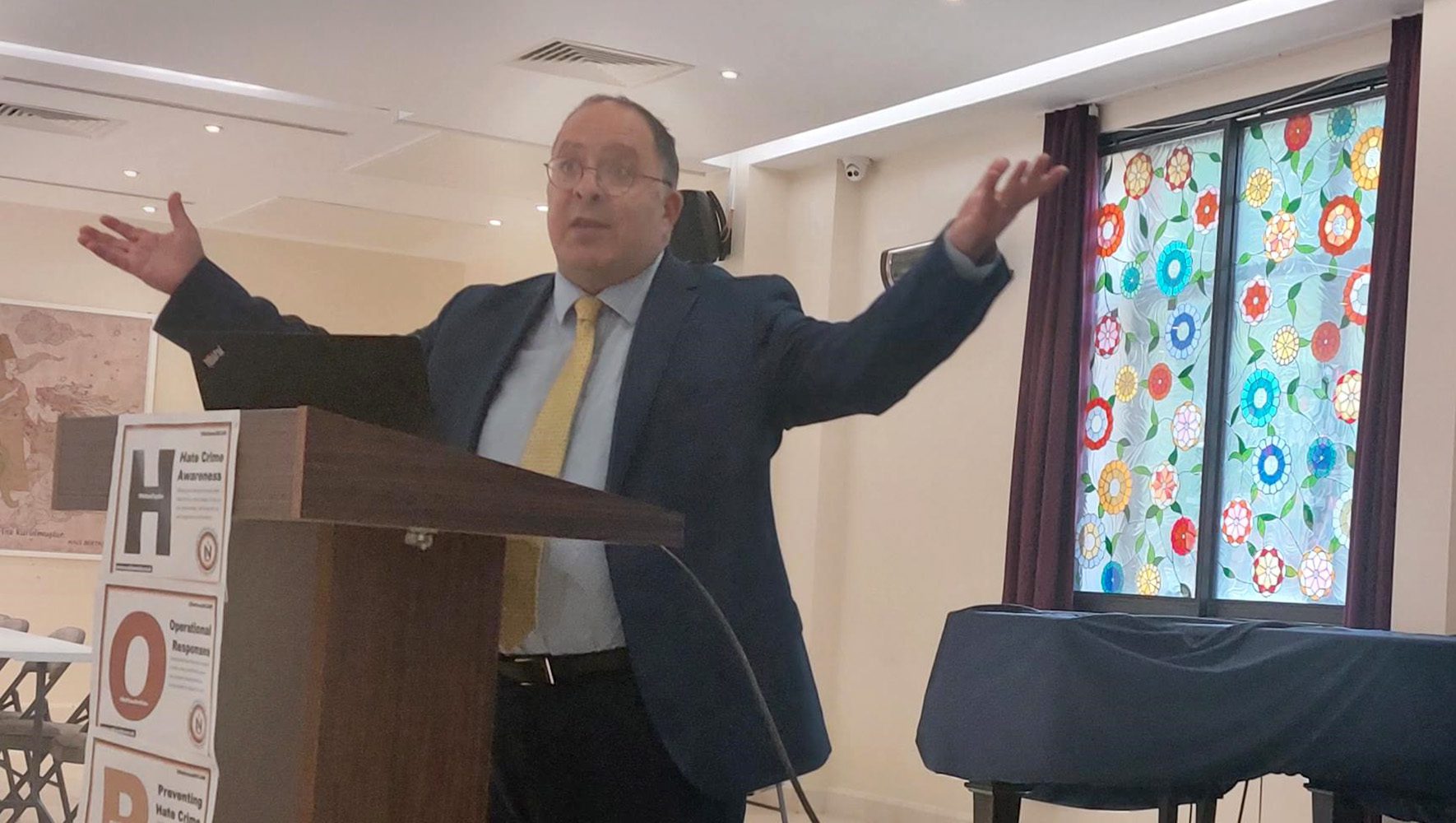 On March 28th, HIAS and JCORE, the Jewish Council for Racial Equality, will come together at an event in London to celebrate the launch of HIAS+JCORE in the United Kingdom. The event marks the conjoining of two organizations with long histories of supporting refugees and asylum seekers, and expands HIAS' international reach amid the worst displacement crisis in Europe since World War II. Tuesday's celebration will also formally introduce Rabbi David Mason as the first executive director of the new organization that was formed in 2022 to combine operations in the U.K.
We sat down with Mason, an orthodox rabbi who is stepping down from his post at London's Muswell Hill Synagogue to lead HIAS+JCORE, to talk about JCORE's historic and ongoing work, and its future objectives now that it has joined HIAS.
Though you are a well known figure in U.K Jewish circles, many HIAS followers are being introduced to you for the first time. Can you talk about how your career as a rabbi and your engagement with Jewish tradition led you to this new position?
I've been a rabbi in communities for 20 years now. I've increasingly gotten involved in civic work, so I very much believe in a Jewish community that is engaged with what happens in society as a whole. My great-grandfather was a rabbi in Germany before the war. He used to walk into the hills with the local parish ministers, and even, remarkably, maintained relationships with local German leaders. Following his example, I've been involved in things like representing U.K. Chief Rabbi Sir Ephraim Mirvis in matters relating to international debt, social issues, and social action.
Refugee issues were very much a part of that, and supporting those in need comes from very deep Jewish values. We read in the Torah about how one should "love the stranger, because you were strangers in Egypt" — our DNA as a people is that we migrated, we left, and we had to move. And so our work is about the vulnerability of those who move, and how we can support them.
The values we're talking about — rachamim (compassion) and arevut (responsibility) as well as being a guarantor for others outside your community — we share with HIAS. I'm very passionate about thinking of our lives as being completed by the "other." There's a lack of completion until you realize your relationship with communities that have migrated here, that seek asylum, or who are here already from different communities. Those are the sort of Jewish values that can be employed in the projects that we'll build here.
What are some differences you've observed between the Jewish community in the U.K. and in the U.S., in general, and when it comes to philanthropy and social action?
Obviously, you're talking size difference. That's a big issue. I think that here (in the U.K.) we often look at America as much more developed philanthropically. We have some serious high-end donors here, but probably a smaller number relative to the number of Jewish people in the U.S.
Jewish communities across America have also developed the concept of tikkun olam, or a sense of social responsibility. That's something I want to develop here in the U.K. There are now asylum centers in a small but growing number of synagogues here. I think it probably was something that grew out of the Syrian refugee crisis in 2015, and it has continued on from that. It spurred on a lot of people to think about their relationship to the issue.
An additional challenge has to do with the role of the Orthodox community. Here, there's more of a balance between orthodoxy and the progressive world than there is in America, where this kind of work is usually led by the latter. I've developed very good relations with the progressive community here, but am reminded that in the textual roots of orthodox Judaism there is encouragement to be part of this movement.
"Supporting those in need comes from very deep Jewish values."
Rabbi David Mason
Just as you are better known in the U.K. than outside it, JCORE as an organization is also quite prominent in Britain but less well known internationally. What would you like our audience to understand about how JCORE came to be, and about the organization's work over the years?
JCORE, the Jewish Council for Racial Equality, was founded by Dr. Edie Friedman, who has done amazing work ever since bringing these issues to Anglo Jewry. I have always felt that, as a rabbi, I wanted to work with JCORE and support what it stood for: standing up against hate, standing for those who are vulnerable, and standing up for the other. In the 1970s and 1980s, when there was more open, out-there, in-your-face racism in this country, JCORE's work was really needed.
There was a point at which JCORE began working with refugees because they were also vulnerable. We've had experience in this country of far-right groups demonstrating outside hotels where there were people seeking asylum. You can see a link between racial hate and sentiment against asylum seekers, which is something I'm going to be looking into in my work. Now is the time to take these issues out to communities, and to empower more Jewish people to get involved in this work.
This has been complicated by the growth of anti-semitism. The further away we get from World War II — Elie Wiesel used to talk about this — the more distance there is from the Holocaust. I'm very interested in anti-racism work that brings groups together and looks at creating partnerships, and the solidarity of supporting each other in our vulnerability against hate.
On that note, what are your aspirations for how best to bring together JCORE's work with HIAS' role as an increasingly global NGO?
I'm really excited by the relationship with HIAS. It's been great getting to know the team and the leadership so far. I've had a number of really positive meetings with [HIAS President and CEO] Mark Hetfield, in Israel actually, where I was really inspired by meeting the HIAS team there as well.
I think that our relationship with HIAS will enable us to mobilize the Jewish community in this country and grow a number of projects supporting refugees and people seeking asylum. It just opens up a horizon for JCORE here, to bring more Jewish people into our work as volunteers. We can do more education, improve our advocacy work, and strengthen our messaging. With HIAS' support and know-how, we can do that.