One Green Card, One Diploma, One Happy Graduate
By Sharon Samber, HIAS.org
Jul 02, 2021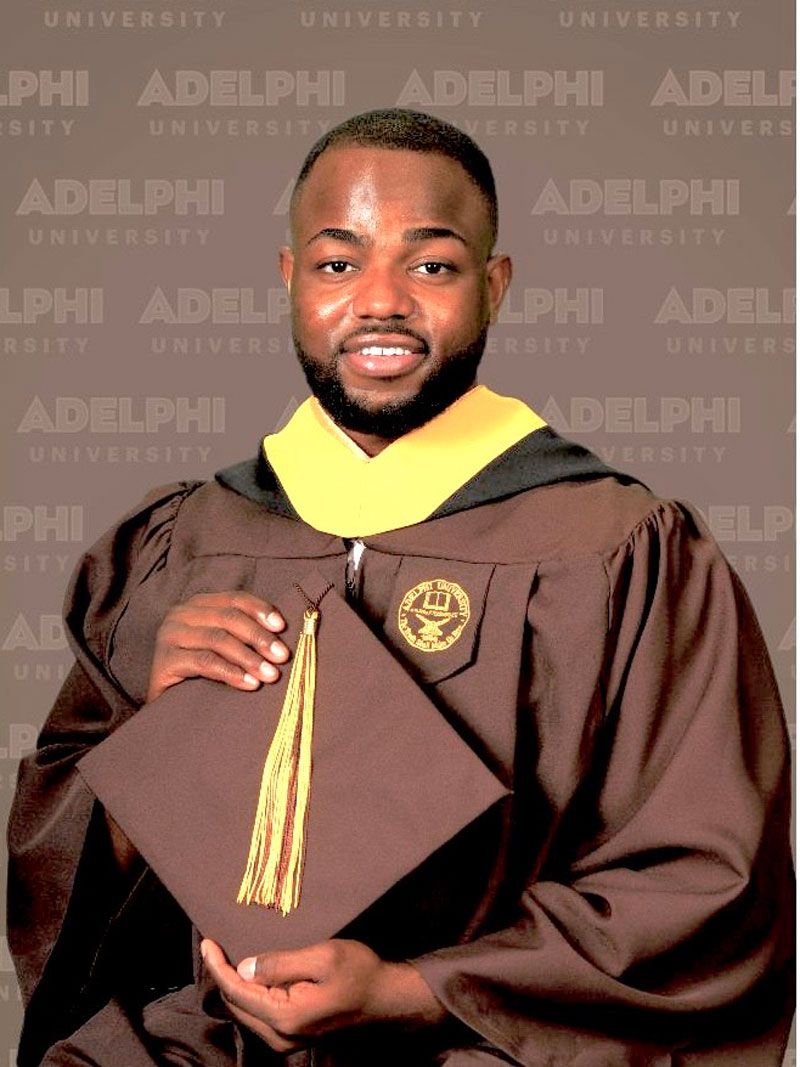 (courtesy Mikes Joseph)
Mikes Joseph made the mistake of getting older.
Turning 18 was hardly his fault, but when Joseph celebrated his birthday in New York in 2016 he lost his eligibility for a special immigrant juvenile visa from Haiti. His legal status was in limbo and HIAS stepped in to help.
Joseph, who came to the United States from Haiti when he was 15, has been in a protracted struggle with the U.S. Customs and Immigration Service, or USCIS, to recognize his status and issue his green card, the identity document which shows that a person has permanent residency in the United States.
With HIAS' assistance Joseph successfully appealed his case in 2019 and USCIS approved his green card application at the end of 2020. But they wouldn't issue the card itself and that was both perplexing and a significant problem. Because he didn't have the card, Joseph was being denied the federal loans he needed to graduate nursing school this spring.
The long battle with USCIS was filled with miscommunication and incompetence, according to Nathan Gargan, his HIAS attorney.
"This is not something that should have been very complicated," Gargan said. "We had to argue that USCIS is required to comply with its own rules."
It took months for things to work out with the card. In the meantime — and in the middle of a global pandemic — Joseph had to get a private loan, watch his credit score drop, and still not be sure if he could cover the costs he needed to graduate from Adelphi University in New York.
"It was really bad," Joseph said on a phone call from Haiti, where he recently traveled to for his mother's funeral. Joseph said it felt like the U.S., which he considers his country, was working against him.
One of the more frustrating aspects of the situation for both Joseph and Gargan was that USCIS declined to give a proper explanation about why they refused to issue the green card, even after Joseph was approved. Some of the confusion could have been attributable to the systemic problems that resulted from the Trump administration's shutting down of card-producing facilities, as well as general struggles with the backlog, Gargan theorized.
Nevertheless, Gargan found the case's delays "absurd."
Eventually Joseph did get his card, and once he did he was able to graduate from nursing school. Joseph is now studying for his nursing licensing exam and has plans to go back to school for his master's in nursing informatics. Someday he would like to start his own health care agency to take care of the elderly.
Joseph thought USCIS' side of the story never made any sense, but HIAS' help was not surprising to him.
"I never thought it would take so long," he said, reflecting on how HIAS has been involved in his case for more than four years. "But HIAS stuck with me."