International Community Meets to Help Refugees
By Sharon Samber, HIAS.org
Dec 12, 2019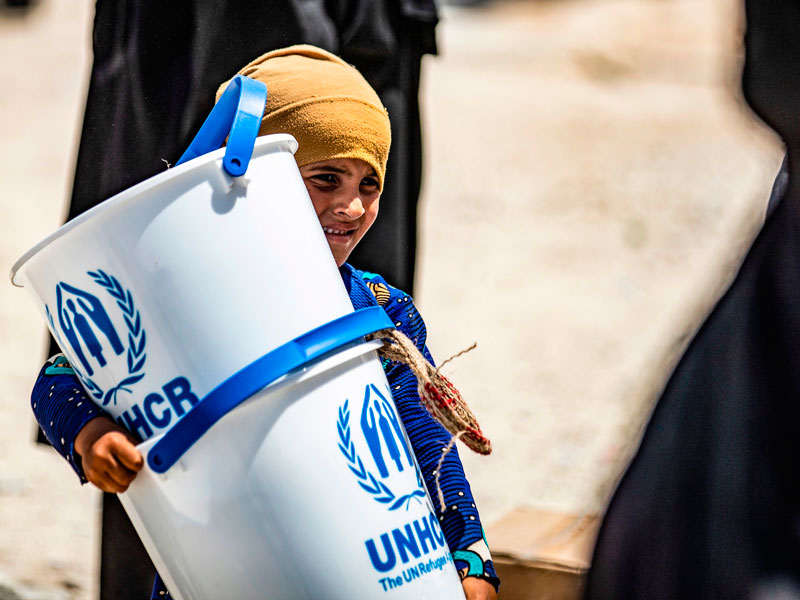 (Delil Souleiman/AFP via Getty Images)
Next week, the international refugee assistance community, state leaders, refugee leaders, and business leaders will gather in Geneva for the inaugural Global Refugee Forum.
UNHCR, which is organizing the event, wants the forum to improve refugees' lives, help host countries, and boost refugee self-reliance. Countries will showcase and exchange good practices, and a number of organizations, including HIAS, submitted pledges for the work they do and plan to do on behalf of refugees. The forum will alow HIAS to showcase its work and build relationships with different partners worldwide.
According to UNHCR, 84 percent of the world's 25 million refugees are hosted in low- or middle-income countries, and taking in so many people strains the host countries' infrastructure and resources. At the forum, governments, private sector companies, humanitarian groups, and refugees will discuss innovative and sustainable ideas for both refugee and host communities.
"There are more and more forcibly displaced persons than ever because the international community is doing less and less," said Mark Hetfield, HIAS President and CEO, who will speak on a panel about resettlement at the forum. "We hope that the Global Refugee Forum will reverse that disturbing trend by giving each government, each NGO, an opportunity to step forward and show what extra steps it plans to take to make the world a more welcoming place."
The forum is a follow up on the implementation of the 2018 Global Compact on Refugees, a framework for more predictable and equitable responsibility-sharing for refugee issues in the international community. The compact was endorsed with overwhelming support by members of the United Nations General Assembly, aside from the United States and Hungary. The forum is seen as an opportunity to translate the principle of international responsibility-sharing into concrete action.
HIAS' pledges reflect that intent with clear actions and plans that include improving the quality and coordination of mental health and psychosocial support services; expanding legal protection programming; expanding gender-based violence case management services; and implementing poverty alleviation programming.