Ukrainian Refugees Find Community in Romania — Through Hockey
By Rodica Ajder
for HIAS.org
May 22, 2023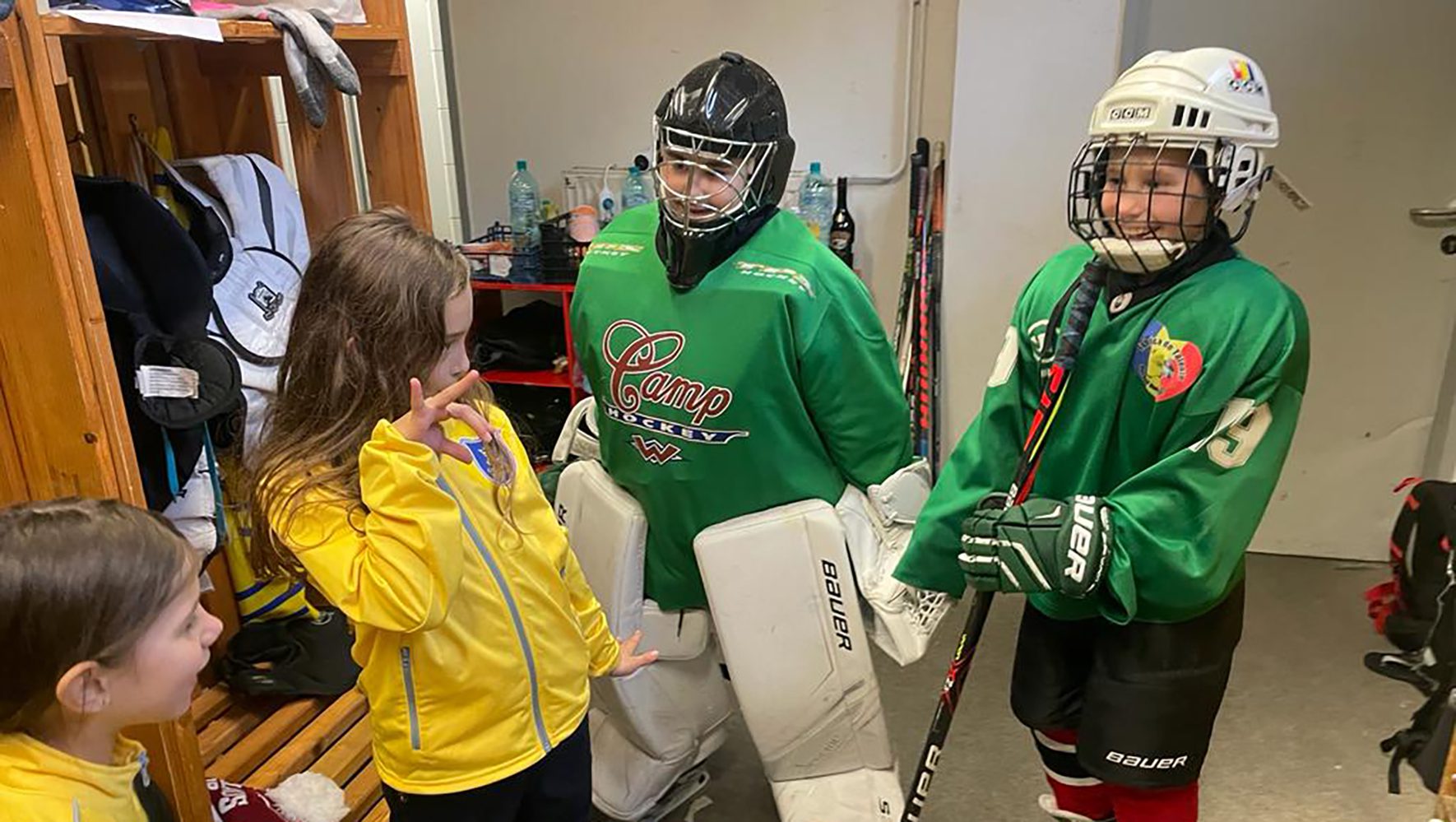 Two weeks after the war in Ukraine began, Marina Yaraliieva left Kharkiv with her nine-year-old son, Varlaam, to seek refuge. 
They chose Galați, a city in eastern Romania near the border with Moldova and Ukraine, because it was not too far from home. There was one other thing in Galați's favor: It had a strong hockey team. 
"When the war started, there were rumors that it was not going to last longer than two weeks," Yaraliieva said. "I made the decision to leave, and the main reason was to save Varlaam's psychological health. Also, we were looking for a country that was offering hockey activities because Varlaam had already been playing hockey for four years with the team Dynamo Kharkiv, and for him it was important to continue."  
Fortunately, Yaraliieva was able to get the precise help she needed. Help Ukrainians, an association that has provided relief for Ukrainian refugees in eastern Romania since the early days of the war, recently partnered with HIAS to help Ukrainian children integrate into the local community through sports. Sports are often a natural way for newcomers to feel like they're a part of their community. 
"I remember I was looking at Ukrainian children in the dormitories in Mangalia (a port of entry on the Black Sea shore) and I realized that they were isolated," said Mykolay Latushkin, the association's president. "They were communicating with their Ukrainian friends and studying in their online Ukrainian schools. I said to myself that I need to do something."  
Others had the same idea. When the local community mobilized to help the refugees, so did the established ice hockey club CSM Dunărea Galați. "Our entire staff, together with the player's parents, offered shelter, food, dishes, clothes — whatever we could — to the Ukrainians arriving in Galați," said Cristi Munteanu, CSM Dunărea Galați's hockey coach and director. "Some of the Ukrainian children were junior hockey players. They came to the club after arriving in Galați and started practicing along with the Romanian children. We kept them busy, and hockey helped them overcome both separation trauma and war trauma." 
Latushkin reached out to Munteanu and created a pilot program designed to bring Romanian and Ukrainian children together. The pilot immediately gained support from HIAS, which funds the program, and from the Romanian Sports Minister and local authorities, who offer the ice rink for free to the Ukrainian children practicing there.  
"Hockey helped them overcome both separation trauma and war trauma."
Hockey coach Cristi Munteanu
Varlaam is one of several who got an early start with the club in Galați. But even though the director of the hockey club kept careful watch over them, the adjustment process wasn't easy. 
"For Varlaam, the first three to six months were very difficult," Yaraliieva said. "But hockey saved us. Basically, the activities throughout the day distracted Varlaam from reality and trauma. Playing hockey provides him with a sense of purpose, stability, and the feeling that life goes on." 
Latushkin explained that while the hockey practices are free, the program helps with financing if the players go to competitions or if they need equipment.  
In the beginning, it was hard for the children, mainly because of the language barrier, but they managed to overcome it. 
Yaraliieva vividly remembers when she first saw her son talking to a Romanian teammate. "Varlaam and a Romanian boy were standing on the ice rink talking and I was wondering how they understood each other since Varlaam doesn't speak Romanian and the Romanian boy doesn't speak Ukrainian," Yaraliieva said. 
Thanks to the program, Varlaam, like other Ukrainian hockey players in Galați, is now fully integrated into the team and has made friends.  
"I have two training sessions in a day, one in the morning and one in the evening," Varlaam said. "During the day I am in school. During the weekends, I go to hockey competitions in different cities. We recently came back from Slovakia. We also went to Poland, Hungary, and of course all over Romania," he added. 
"We only had two matches at home so far," Varlaam said. His reference to Galați as "home" brought tears to his mother's eyes. 
The children's passion for hockey also gave their parents an opportunity to bond with each other. 
"We went to a tournament and the parents took turns cooking dinner," Munteanu said. "One day we would eat traditional Romanian food, and the next we would eat traditional Ukrainian food. We discovered that the two cuisines are somewhat similar."  
The program's founders are convinced that their program could be a template for other Romanian cities that shelter Ukrainians. Since the hockey pilot program has proved to be a success, Help Ukrainians and CSM Dunărea Galați are in the process of starting new sports and activities, with taekwondo, swimming, and chess on the list. 
"How do you take a kid who survived the trauma of being evacuated from the war and make him or her study a foreign language when they don't even know if they'll stay here or not?" Latushkin asked. "Instead of doing that, we put children to train and play together, and things evolve naturally. In the end, we don't just want them to practice one sport or another. We want them to integrate."  
Latushkin thinks back to the days when the Ukrainian children were staying in the dorms and keeping to themselves. "I now watch the kids, Romanians and Ukrainians, running on the ice rink and hugging their coaches," Latushkin said. "We are on the right track."