HIAS v. Trump - Why We're Suing
By Rachel Nusbaum, HIAS.org
Feb 07, 2017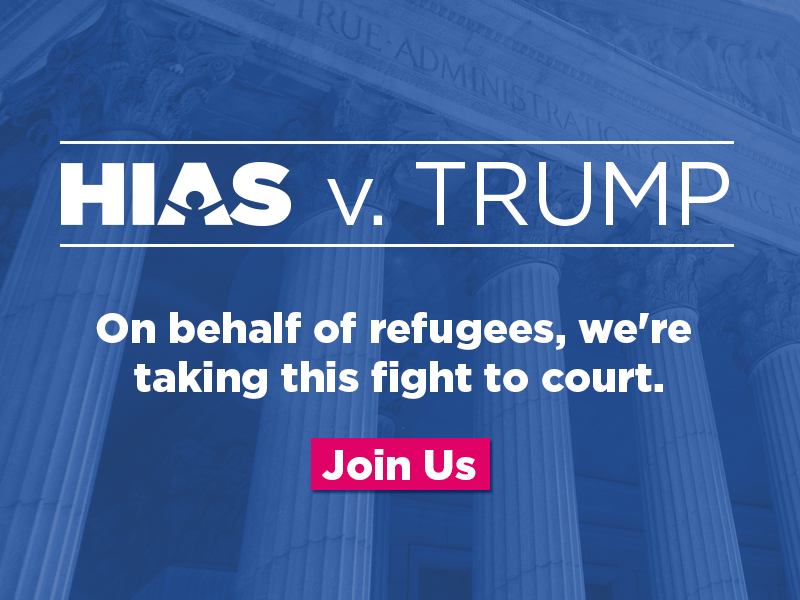 In more than 135 years serving refugees, HIAS has routinely represented asylum seekers in court against the U.S. government. Never before, however, has HIAS itself sued the U.S. government, let alone the President of the United States. Until today.
Today, in U.S. District Court in Maryland's Southern Division, we initiated a legal challenge against President Trump's executive order halting refugee resettlement.
"We cannot remain silent as Muslim refugees are turned away just for being Muslim, just as we could not stand idly by when the U.S. turned away Jewish refugees fleeing Germany during the 1930s and 40s," HIAS President and CEO Mark Hetfield said in a statement announcing the suit.
"Our history and our values, as Jews and as Americans, require us to fight this illegal and immoral new policy with every tool at our disposal—including litigation," Hetfield said.
HIAS is suing, alongside the legal assistance group IRAP and several individuals, to ask the courts to strike down this harmful, discriminatory and unconstitutional law.
In addition to halting all refugee resettlement, the order, signed on January 27, bans people from seven majority Muslim countries with an exception for non-Muslim religious minorities.
National security experts have described it as "unnecessary and counterproductive." A federal judge ruled that it posed "imminent danger" of "substantial and irreparable injury to refugees, visa-holders, and other individuals."
As a religious organization that specializes in rescuing people from religious and political persecution, HIAS is concerned about two aspects of the order. One is the way that the administration is explicitly favoring one religion over another. Our other major concern is the impact of this order, and the chaos that has stemmed from its initial implementation, on vulnerable refugees who were about to be resettled to the U.S. and on those who are already here who were expecting to be reunited with family, prior to the order.
HIAS, as one of the plaintiffs in this suit, is challenging the constitutionality of this order on the grounds that it discriminates against one religion while favoring others. We are represented by the ACLU, an organization with extensive expertise in both religious freedom cases and immigration law.
"This order violates the constitution's explicit prohibition on establishing a preferred religion," said HIAS Managing Attorney Liz Sweet. "Our government cannot select one religion over another and the order carves out an exception to the ban for religious minorities while barring those refugees from countries where Muslims are a majority."
The case also includes several other legal claims, including the concern that the order is at odds with the statute passed by Congress that guides the refugee program.
"Many of our refugee clients have been specifically impacted by this order," Sweet added. "HIAS' refugee clients sold their possessions, left their jobs and did not renew their visas after being notified of their approval as refugees, leaving them in precarious situations today."
"If the order remains, families who have already endured years of separation will remain apart. Many HIAS clients could face months of waiting and uncertainty, if not an indefinite ban on entry to the United States, if the executive order remains the law," warned Sweet.
UPDATE: On March 10, HIAS filed a motion to block President Trump's revised refugee ban. Read more.