HIAS & Islamic Relief USA Partner to Protect Refugees in Greece
By Gabe Cahn, HIAS.org
Jan 16, 2018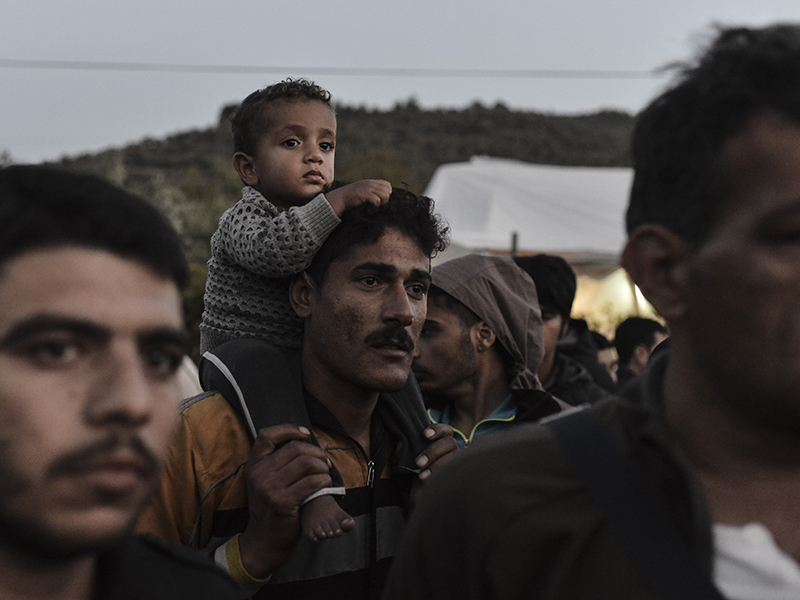 In 2015, heartbreaking images of refugees' journeys across the Mediterranean seared themselves onto the global consciousness. Virtually overnight, Greece emerged as the most visible focal point of the largest refugee crisis since World War II.
In total, more than a million refugees from Syria, Iraq and other countries in crisis passed through Greece between 2015 and 2016.
And while the endless stacks of life vests, groups of dedicated volunteers and humanitarian workers, and tense standoffs in camps and border crossings may be out of sight, Greece remains a flashpoint.
In 2017, nearly 3,000 refugees arrived in the European nation each month, and the current refugee population is estimated at 60,000.
The Washington Post recently described the tough conditions facing refugees in Greece.
"For years, the turquoise-ringed vacationer's paradise known as Lesvos has been on the front lines of Europe's struggle to contain its part of a global refugee crisis," wrote Berlin Bureau Chief Griff Witte.
"But conditions at the Greek island's vastly overcapacity, razor-wired main camp have rarely if ever been as bad as they are this winter."
As the situation becomes increasingly dire, two faith-based organizations—one Jewish and one Muslim—are taking action.
Responding to the growing humanitarian and legal challenges for refugees, HIAS and Islamic Relief USA (IRUSA), the U.S. arm of the humanitarian assistance and advocacy organization, announced a joint initiative to provide improved legal services to refugees in Greece in 2018.
This new and timely collaboration made possible by IRUSA, with the generous support of HIAS donors, will expand the capacity and impact of the legal team in Greece led by Vassilis Kerasiotis.
"Our shared values have always been to help some of the most vulnerable populations around the world," said IRUSA President Anwar Khan.
"With recent incidents of people not gaining access to essential services, and many having their rights violated, we will work to put a stop to these disturbing trends and promote the legal rights of all refugees."
HIAS first launched a program for refugees in Lesvos in 2016 to offer direct, individual legal representation to refugees in Greece.
In 2017, the team achieved a precedent-setting ruling recognizing the right of a Syrian refugee and a Syrian asylum seeker to legally marry.
Now working together with IRUSA, this interfaith partnership will help ensure that the most vulnerable refugees in Greece benefit from legal assistance, strategic litigation, and advocacy to advance refugee rights.
"Acting on the tenets of our faiths and historical experiences, HIAS and IRUSA are uniquely positioned to address together the mounting risks faced by refugees in Greece," said Mark Hetfield, president and CEO of HIAS.
He added that the initiative could "potentially offer a valuable model for similar joint efforts."
In Athens and on the island of Lesvos, HIAS and IRUSA will empower refugees to navigate the constantly changing asylum procedures; overcome the increasing limitations on movement and employment opportunities; and better address the lack of police protection and inadequate medical and mental health services.
Through this more holistic approach to legal protection, the hope is that the organizations can create broader sets of protections for refugees in Greece while working to improve humanitarian conditions.
"The people are here, and we must help them here. We must work to try to enforce their rights," HIAS Greece Director Vassilis Kerasiotis told HIAS.org in July 2017.
To stay up to date on HIAS and IRUSA's work in Greece, follow us on Facebook and Twitter, and Instagram.