HIAS Ecuador Wins UN Awards
By Sharon Samber, HIAS.org
Oct 30, 2020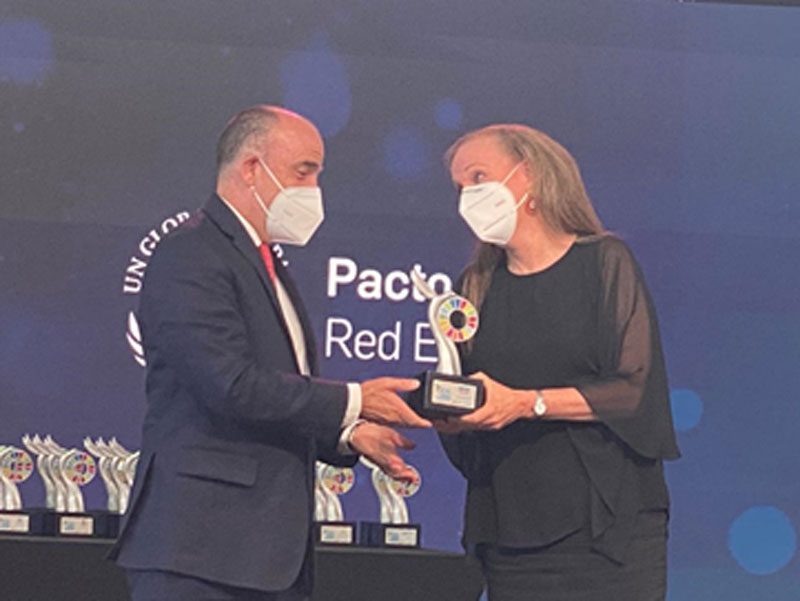 HIAS Ecuador
HIAS Ecuador was awarded for its work in gender equality programming and an agribusiness project. Sabrina Lustgarten, HIAS Ecuador's country director, accepted the Sustainable Development Goals Awards from Global Compact and the United Nations system in Ecuador.
HIAS' Entrepreneurship School, which supports refugee and migrant women, and survivors of or those at risk of gender-based violence, was recognized for its success. The school helps the women develop safe, sustainable livelihoods while strengthening their self-esteem, autonomy, and empowerment. Since this project began, HIAS has supported more than 185 refugee and migrant women and their families in developing their business ideas. The comprehensive program includes economic inclusion, guidance, and mental health support, so the women have been able to work on their self-reliance and their emotional wellbeing. The program, also in use in Peru, is being expanded to HIAS operations in Panama and Costa Rica, and will soon be starting in Colombia, Aruba, and Guyana.
The agribusinesses project, implemented by HIAS and UNHCR, promotes social cohesion among refugee and host community families through the development of income-generating agriculture activities. These efficient and environmentally sustainable activities give local and refugee families the opportunity to generate group businesses that improve their communities' wellbeing. This program aims to promote income-generating activities that encourage responsible consumption of resources and add value to the market systems. So far, the project has supported 123 Ecuadorian and refugee families in nine rural communities in the Ecuadorian Northern border, benefiting more than 500 people.
"This recognition is the result of a huge effort and innovation in our economic inclusion programs that aim to promote self-reliance, resilience, and empowerment," said Galo Quizanga, HIAS' global director for economic inclusion. "It is also a huge motivation for HIAS staff to strengthen our commitment to keep looking for the best solutions for forcibly displaced people around the globe."