#BreadofFreedom for African Asylum Seekers in Israel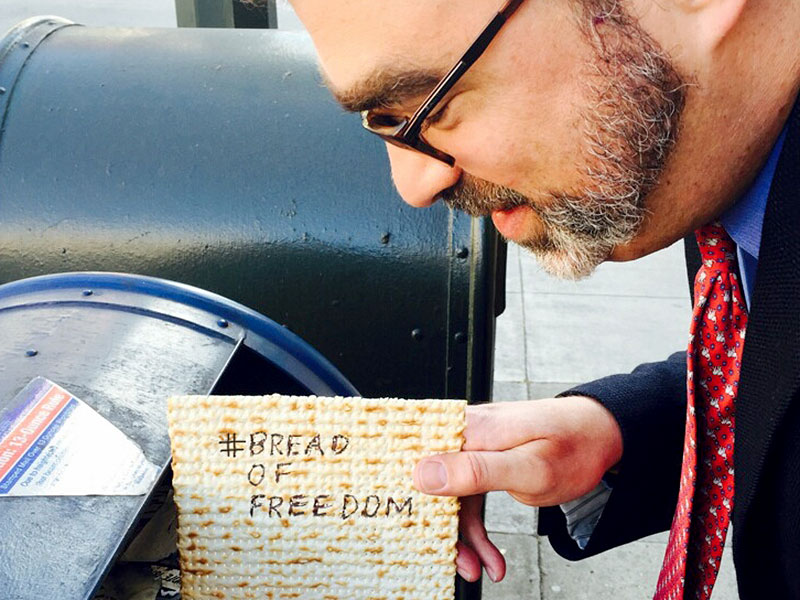 (HIAS)
Just before we sat down for our Passover seders, the Israeli government announced a new policy that will force African asylum seekers to choose either deportation or indefinite detention in the Saharonim prison.
It's especially chutzpadik to announce this policy as we ourselves celebrate freedom.
Join HIAS and T'ruah in sending a piece of matzah to the Israeli Embassy in Washington, DC to let them know that American Jews want Israel to do the right thing for these survivors of violence and terror.
Here's how:
Choose a piece of matzah (c'mon--we know you have extra). Write #BreadofFreedom on it.
Take a selfie with your matzah and post the photo on Facebook, Twitter, and Instagram, tagging

@IsraelinUSA,

the Israeli Embassy in the US. Suggested text:
"Don't deport African asylum seekers from Israel on the holiday of freedom #BreadofFreedom @IsraelinUSA"
Put your matzah and a note in an envelope and mail to: Embassy of Israel, 3514 International Drive N.W. Washington D.C. 20008
Here's more info about what's going on:
There are currently nearly fifty thousand African asylum seekers in Israel, most from Eritrea and Sudan. These asylum seekers have fled war, torture, forced lifetime military conscription, sexual assault and more. Per the Refugee Convention, which Israel signed and ratified in 1954, these asylum seekers have the right to apply for asylum in their host country, and to receive the temporary protections and rights that come with refugee status. However, the government of Israel has designed a system with many obstacles that prevent asylum seekers from applying for or receiving asylum; that leaves these asylum seekers in a legal limbo, unable to work and subject to detention, but officially protected from deportation.
Now, Israel proposes deporting these asylum seekers to unnamed third countries in Africa where asylum seekers have no ties or protections. Their fear of persecution in their own country is now compounded by a fear of being deported by Israel to countries where they have never been, and have no reason to feel safe.
Instead of spending millions to deport these survivors of violence and terror to countries where they have no connections, no support, and even more chances of being imprisoned or killed, Israel could assess their claims for asylum and let them contribute to the Israeli economy and society.
Matzah is both the bread of affliction and the bread of freedom. Today, we make our matzah the #BreadofFreedom by demanding protection for asylum seekers on our holiday of liberation.
Next year, may we all be free.

Read more: Israel Asylum Seekers Wonder: Next Year in Jerusalem?