The Biden Administration's "Asylum Ban," Explained 
By Ayelet Parness
HIAS.org
Mar 2, 2023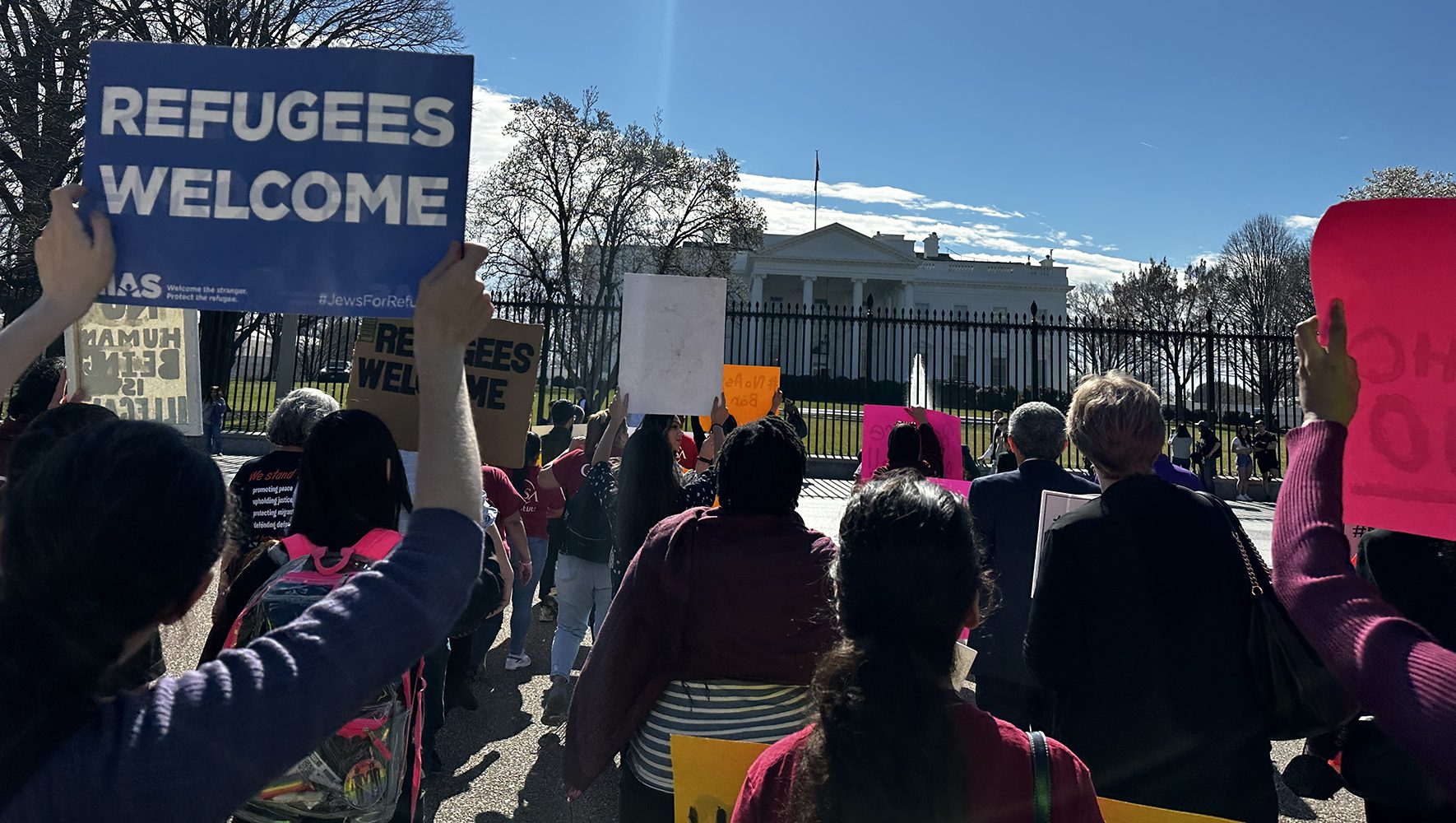 For nearly three years, a public health law known as Title 42 has been invoked to block people from seeking asylum at the U.S.-Mexico border, ostensibly to prevent the spread of COVID-19. With the COVID-19 public health emergency formally ending on May 11, the enforcement of Title 42 is set to end with it.
But as Title 42 ends, another highly restrictive policy is poised to take its place. On February 21, the Biden Administration proposed a series of policies which together, advocates claim, would result in a virtual asylum ban. HIAS and hundreds of peer organizations have spoken out against the proposed rule, asking the administration to withdraw it immediately.
To understand more about what the "asylum ban" means, we spoke with HIAS Vice President for U.S. Policy and Advocacy Naomi Steinberg.
What makes the "asylum ban" so egregious? If implemented, what would be its humanitarian impact?
Saying that this proposed rule is an "asylum ban" can sound hyperbolic, but it's hard to look at it in any other way. Under the proposed rule, someone would be ineligible for asylum unless they present themselves at a port of entry at a time and place they pre-scheduled via the Department of Homeland Security's mobile application, CBP One, or they can prove that they have sought and been denied asylum in a country through which they traveled on their way to the United States. This essentially amounts to a combination of a third-country transit ban and an entry ban — two policies that have long elicited outrage.
This rule would make access to the asylum system almost entirely contingent on CBP One, a deeply flawed new app that is meant to be used to make appointments at ports of entry. There are numerous reports about how unreliable the app is, making the fact that it plays such a key role in this new rule deeply problematic. Technological errors are abundant and appointments slots fill up minutes after they are released. Additionally, limiting asylum access in this way makes the process inaccessible to asylum seekers who do not have access to a smart phone, Wi-Fi, or reliable sources of electricity. It is a very flimsy hook upon which to hang an entire asylum policy.
The core of the issue is this: We are concerned that this ban will result in people being denied their legal right to seek asylum, regardless of the manner of their entry, sending many people back to extremely dangerous situations.
"It is a very flimsy hook upon which to hang an entire asylum policy."
Naomi Steinberg, HIAS vice president for U.S. policy and advocacy
We are concerned that this rule will violate U.S. law, because there is no basis in U.S. immigration law to support the rule's basic premise. U.S. asylum law protects a noncitizen's right to request asylum — again, regardless of their manner of entry. There are exceptions to this law through which someone might not be eligible for asylum here, including if the U.S. has a formal safe third country agreement with a country where asylum seekers would be safe and have access to robust asylum procedures. However, none of that is in place now. The countries through which people travel in the region simply do not meet these requirements.
It is important to note that there are exemptions built into this proposed rule. The administration is very intent on differentiating it from the previous administration's asylum ban (which was ultimately struck down in the courts). We cannot yet tell how these exemptions will work in the real world, and we are concerned that the exceptions might prove to be impossible for asylum seekers to prove.
How has U.S. asylum policy evolved in the last decade?
There are always going to be, and always have been, ebbs and flows to any U.S. immigration policy. That is certainly true for U.S. asylum policy. What is important to note, though, is that U.S. asylum policy over the last six or so years has become draconian in the extreme. While U.S. asylum policy, particularly as it relates to border policies, has never been perfect, HIAS has always advocated for fair, humane, and legal policies that are equitable regardless of where an asylum seeker is from.
There have been multiple administrative efforts to limit asylum opportunities from people from particular countries in the past. What is new and abhorrent are efforts to institute asylum bans for most people from most countries. Asylum bans like this one, the previous administration's asylum ban, and Title 42 are sweeping measures that serve to prevent people from entering the "normal" asylum process. Even when asylum policies were at their worst, the elevation of massive bans like we have been seeing was unheard of.
What would a decent, humane asylum policy look like?
HIAS works for a future in which the United States can welcome those seeking safety with fair, humane, and efficient processes. Asylum applicants should have equitable access to a system that decides their requests for asylum efficiently.
In order to make meaningful and positive changes at the U.S.-Mexico border and with U.S. asylum policy writ large, we support the passage of comprehensive immigration reform legislation that respects U.S. and international law; ensures that people seeking safety can access a well-functioning, fair, and humane asylum system; and ensures that the U.S. is able to maintain border security.
Specifically, we envision an asylum system that, among other improvements:
Only detains asylum seekers who pose a serious public safety threat.
Expands use of asylum case management-case management run by community-based organizations that provide wraparound services to asylum seekers.
Centers the importance of keeping families together.
Dramatically increases access to legal counsel at all stages of the asylum process. Expedited processing of asylum applications can only be successful and fair if asylum applicants also have easy access to legal counsel.
Increases funding for reducing the massive asylum backlog.
Increases refugee resettlement out of the Latin America and the Caribbean.
What happens next?
We are now in the midst of a 30-day comment period set to end on March 27. During this time, the public can submit comments to the Biden administration with their thoughts about the proposed asylum policy. The administration is required by law to read every comment. Ideally, the administration would repeal the rule in its entirety, but we don't expect that to happen.
On May 11, the Biden administration is expected to declare a formal termination of the COVID-19 public health emergency, which will also end the implementation of Title 42 along the U.S.-Mexico Border. If the administration does not withdraw or modify the proposed rule, we anticipate that the asylum ban will go into effect on that day. At that time, it will remain to be seen how it will actually be implemented in terms of the actual use of exemptions.
We also anticipate that organizations such as the ACLU will initiate lawsuits to end the rule should it be implemented. It remains to be seen what impact that will have on the implementation of the rule moving forward.
What is HIAS doing to oppose the "asylum ban?"
HIAS will be advocating against this proposed rule through a variety of methods and mobilizing our supporters to do the same.
We will submit a comment to the Federal Record outlining our reasons for opposing this asylum ban and help our constituents submit their own comments through a simplified template and submission method. We'll also be participating in public actions and reaching out to congressional offices to encourage them to pressure the administration to repeal the rule. Finally, we will be organizing a national Jewish clergy letter and an open letter from clergy that participated in our last border delegation.