A Reflection on Refugees for Rosh Hashanah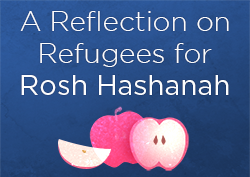 On Rosh Hashanah, we pause to reflect on our hopes for the year ahead. Because the Torah teaches over and over again that we should love the stranger in our midst, we hope for a good year to come not only for ourselves and our families but also for all those fleeing persecution in search of safety and freedom.
HIAS is pleased to offer this reading, authored by Rabbi Rachel Grant Meyer, our Educator for Community Engagement, which you are welcome to download, print and share with your family and friends as you celebrate Rosh Hashanah.
---
On Rosh Hashanah, as we gather with family and friends to celebrate the possibilities of the New Year, we dip apples in honey as a sign of hope for a sweet year to come.
With this crisp round fruit in our hands, we meditate on the potential for renewal in the year that lies ahead.
When we taste the honey on our tongues, let us be reminded of those who struggle to cling to the promise that a new year holds, of those for whom life is not always so sweet.
The 4 million Syrian refugees who have escaped war and dire living conditions and the additional 7 million Syrian citizens currently displaced within their country's borders.

Rohingya migrants at sea being turned away from refuge again and again.
The 60 million refugees and displaced persons around the world whose lives are in danger and who long to live free of fear.
The apple, symbolic of the Jewish people's deliverance from bondage in Egypt, calls us to remember what it was to be strangers in a strange land. Inspired by our history, will we heed the call to come to the aid of those now persecuted simply for being who they are?
As we dip our apples in honey this Rosh Hashanah, may we commit to doing one act in the new year in support of the world's refugees. Through our actions, may we grow closer to a time of deliverance and renewal for all.