Yom Kippur Wisdom from…the Pope?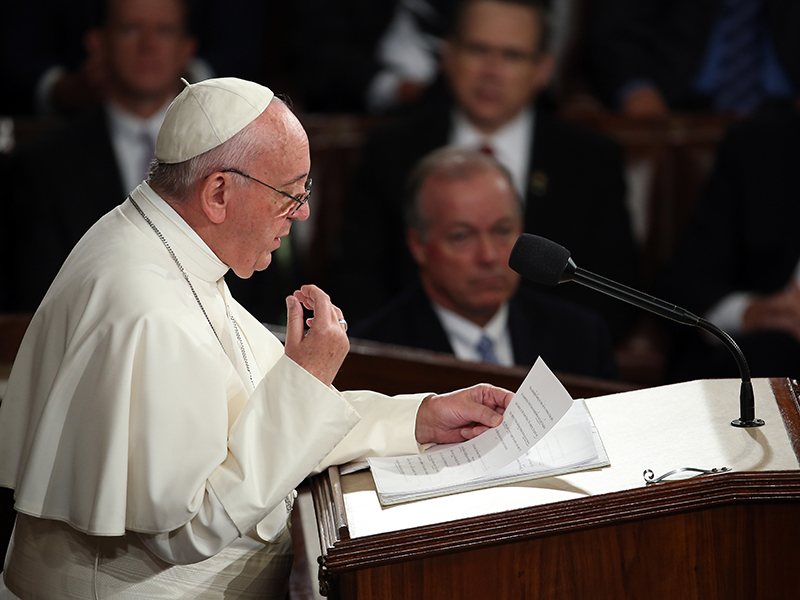 (Photo by Win McNamee/Getty Images)
Central to Jewish tradition is the idea of b'tzelem Elohim – the idea that every person is made in the image of God and when we encounter another, no matter how other, we are reminded that this person is a reflection of God. They have the divine within them and must be treated as we would treat God. To diminish them in any way, is to diminish God.
Yesterday, the Pope spoke of the global refugee crisis when he addressed a joint session of Congress. This sentiment was beautifully reflected in his words when he said:
We must not be taken aback by their numbers, but rather view them as persons, seeing their faces and listening to their stories, trying to respond as best we can to their situation. To respond in a way which is always humane, just and fraternal. We need to avoid a common temptation nowadays: to discard whatever proves troublesome. Let us remember the Golden Rule: "Do unto others as you would have them do unto you" (Mt 7:12).
Just the other day, on Yom Kippur afternoon, we chanted from the Torah some of our most foundational verses, including a close cousin of the Golden Rule: "You shall love your neighbor as yourself…When strangers live with you in your land, you must not oppress them. The strangers who live with you shall be to you like citizens, and you shall love them as yourself, for you were strangers in the land of Egypt," (Leviticus 19:18; 19:33-34).
Remembering that we were strangers in the land of Egypt was easy for most generations because, more often than not, Jews experienced themselves as strangers or outliers in the communities in which they lived. In America today, it is much easier to forget that we were strangers.
We were the ones on the boats needing to be let in, not sent back into the mouth of danger.
We were the immigrants in America who came in such numbers that we were surely viewed by some as a teeming mass rather than a community of individuals each with her own face, her own story, her own reflection of the Divine.
The powerful interface of the Pope's words and the Yom Kippur Torah reading could not be more timely. With the global refugee crisis reaching historic proportions, I hope both Congress and our nation truly heard, and took to heart, the Pope's message of compassion and are reminded of their individual and collective responsibility to respond humanely and justly to the stranger – and the refugee.