UN Secretary General Stands with HIAS
By Sharon Samber, HIAS.org
Nov 01, 2018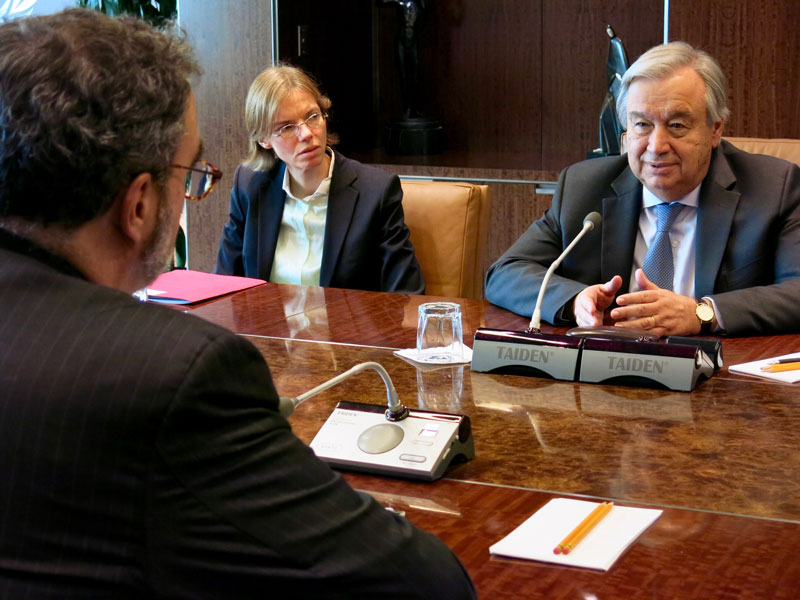 (Bill Swersey/HIAS)
United Nations Secretary General António Guterres yesterday expressed solidarity with HIAS.
In a meeting at UN headquarters in New York with HIAS President and CEO Mark Hetfield, HIAS Board Chair Dianne F. Lob, spiritual leader Rabbi Joseph Telushkin, and other HIAS staff and board members, Secretary Guterres condemned anti-Semitism and thanked HIAS for working to protect refugees.
"HIAS represents the best of humanity — decency, compassion and solidarity with the most vulnerable," he said.
Gutteres called for the meeting with Hetfield personally express his solidarity with HIAS after the October 27 mass-shooting at a Pittsburgh synagugue by a gunman who expressed anger at HIAS' work protecting refugees.
Earlier in the day the Secretary General attended an interfaith service at Manhattan's Park East Synagogue to honor the 11 victims of the attack, the Secretary General noted the rise in anti-Semitism in many societies, as well as acts of xenophobia and racism. He said there is a need "to address the root causes that are undermining the cohesion of our societies" as they are creating conditions for hatred. Gutteres urged leaders to speak out against hate and violence.
"We have to condemn. We have to speak up. We have to be very firm in denouncing horrendous acts like the one in Pittsburgh, but we need to assume our responsibilities as leaders to prevent these things from happening and to address the root causes that help them to develop," he said.
— António Guterres (@antonioguterres) October 31, 2018
Hetfield discussed with the Secretary General how society has allowed fear and hate to manifest as real-world violence. "I want to thank you for speaking out against xenophobia and hate speech so consistently," Hetfield told Gutteres.
Guterres, who served as the UN High Commissioner for Refugees from 2005 to 2015, said that he had worked with HIAS for many years. "It is the most fantastic humanitarian organization I have ever met."