Ukraine Displacement Crisis Worsens as Local Attitudes Harden
By Kateryna Moroz and Olena Vynogradova, HIAS Ukraine/Right to Protection
Jul 29, 2015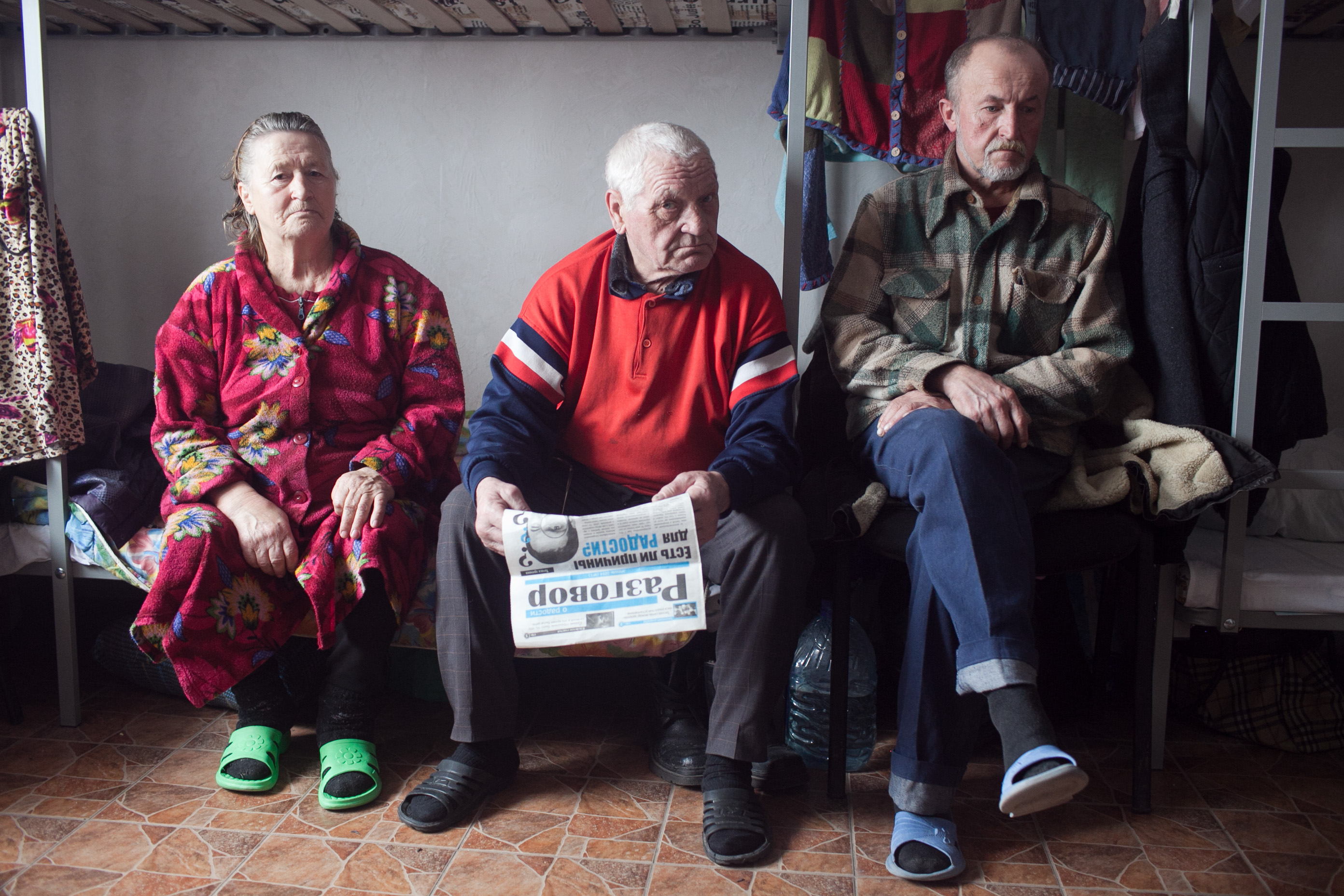 [Amnon Gutman/HIAS]
This article was originally published by the Atlantic Council and appears here with their permission. It can also be found here.
Ukraine officially has 1,381,953 internally displaced persons, the country's Ministry of Social Policy reported July 10. Overall, more than 2.3 million Ukrainians—including IDPs and those seeking refuge abroad—have been uprooted by conflict since March 2014.
Yet the actual number of IDPs remains unknown and is likely to be higher, since the official figure includes neither displaced people living in the non-government controlled area of Donetsk and Luhansk, nor IDPs whose registrations have been cancelled.
In fact, internal displacement is a relatively new phenomenon for Ukraine. Until fighting broke out in eastern Ukraine more than a year ago, the country's experience with forced migration had been limited to relatively small numbers. Any government faced with such a rapid and large-scale displacement would be hard-pressed to respond quickly and effectively. Unfortunately, experience suggests that displacement is likely to become a long-term problem.
According to the All-Ukrainian Charitable Foundation's Right to Protection monitoring teams, people are in no rush to register as IDPs. In some cases, IDPs fear sharing their personal data to government officials. Others are young men who worry about being drafted into the military, while still others are being refused registration because their IDs have been lost, forgotten at home or destroyed at checkpoints.
The number of IDPs increases as hostilities intensify. However, a new Ukrainian security policy makes fleeing war zones difficult. In February 2015, the Anti-Terrorist Centre of Ukraine's State Security Service introduced special passes to cross the border into the Donbas. Obtaining such a pass can take up to three months, and the complicated procedure to get one creates fertile opportunities for corrupt officials. But the government says security risks justify the severe restrictions on freedom of movement. Meanwhile, people try to bypass the checkpoints either through fields and forests where they risk being injured by landmines, or by illegally crossing through Russian territory, which could result in fines.
On May 31, a local TV station reported that a 55-year-old man and his 14-year-old son were blown up by a land mine while attempting to evade a checkpoint at the entrance to Stanitsa Luganska in Luhansk oblast. An older son escaped unharmed. Data on how many people are killed or injured by landmines is not available.
So far, overseas donors have pledged or disbursed $111 million to help Ukraine tackle IDPs' most urgent needs. Yet that money has gone mainly for individual financial assistance, rent payments, the purchase of food, shoes and clothing and other immediate needs. Long-term solutions—shelter, employment, education and psychological counseling—are lacking.
Demobilized men require special state assistance. Officially, post-traumatic stress disorder afflicts only 35 percent of troops returning from anti-terrorist operations, but military psychologists say privately that PTSD may affect up to 90 percent of these men. Without treatment, former soldiers struggle to reintegrate into society and re-establish relationships with family members. And PTSD sufferers who have been kidnapped or tortured while serving in NGCAs can become ticking time bombs if neglected. This often leads to aggressive behavior, gender-based violence, child abuse, and other unhappy consequences.
Many IDPs who fled Crimea or the conflict zones of eastern Ukraine cannot register for unemployment benefits because they did not properly terminate work relationships with previous employers. Some, seeing no other option, go back and bring their labor books from NGCAs to government-controlled areas, but most prefer to live on the social payments they receive as IDPs rather than return to that hell again.
According to ACF's Right to Protection monitoring teams, most working-age IDPs who have settled in the Zaporizhzhya region are ex-miners whose former salaries were considerably higher than the average salary local employers can generally offer. Thus, registered as unemployed such IDPs receive compensation almost equal to the amount they would be offered if employed.
The clear majority of IDPs rent apartments, while others live with host families and 10 percent remain in community centers. Despite the initial sympathy shown toward IDPs by Ukrainians not living in conflict zones, relations between the two groups remain uneasy. The Ukrainian media's habit of highlighting bad news about people displaced by the war has promoted a negative image of IDPs in general. Yet civil society remains crucial in helping people flee the conflict area, and it should be a government priority to raise awareness in the official media about IDPs and Ukraine's evolving humanitarian crisis.
The problem may only worsen with local elections this fall. On July 14, Ukraine's Parliament approved a law that excludes IDPs from participating in local elections – effectively barring them from forming local councils and electing village and city mayors. This indirectly leaves Ukraine's displaced population without a voice in the process of enacting policies related to IDPs. The law also hampers their interaction with host communities, angering NGOs, lawmakers and others who work with IDPs—and may only lead to further social tension.
Given these factors, the Kyiv government must establish a long-term policy on all key issues related to IDPs: registration, social assistance, documentation, employment, education, and integration into host communities. It should also launch an aggressive media campaign to reverse the negative image of IDPs now prevalent in Ukrainian society. One suggestion is to cover positive experiences of IDPs integrating into host communities and highlight the human side of displacement rather than political issues. Finally, as civil society gains influence, it can also help the government find durable solutions for Ukraine's growing population of IDPs.
Kateryna Moroz is Program Coordinator at HIAS Ukraine ("Right to Protection"). Olena Vynogradova is the organization's Legal Analyst.