Tracking The Refugee Ban
By Gabe Cahn, HIAS.org
Jul 18, 2017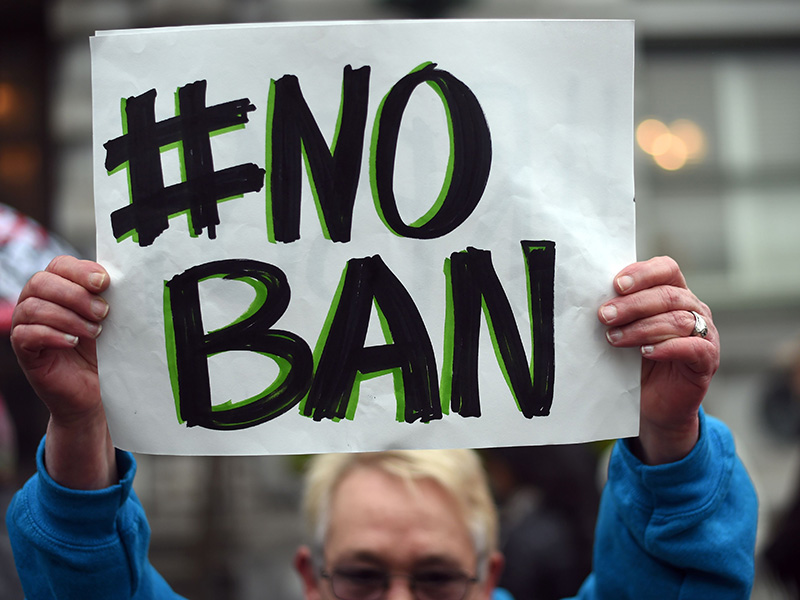 (Josh Edelson/AFP/Getty Images)
UPDATED DECEMBER 23, 2017
After dozens of lawsuits and countless protests, the fight to ensure that the United States remains a welcoming country is just as critical as the moment the first refugee and Muslim ban was signed.
Every day, HIAS and its partners in local communities across the country continue to mobilize in support of refugees and to urge the U.S. government to do more—not less—to respond to the largest displacement crisis in human history.
Still, the whirlwind of refugee-related executive orders, legal actions and court rulings up to this point can seem like a blur. So, how did we get here? Below is a timeline recapping the lifespan of the refugee ban from the day it was signed through the Trump administration's most recent appeal to the Supreme Court.
Refugee Ban 1.0
Refugee Ban 2.0
The Supreme Court Weighs In
June 26

—The United States Supreme Court responds to the government's emergency motion to overrule the lower courts' injunctions against the March 6 revised executive order, as well as their appeal to hear the case during the fall term.

The Court announces that it will hear arguments for the case in the fall, and also issues an order keeping in place much of the lower court rulings which prevent the administration from implementing the ban in full. As part of the order, however, the Supreme Court specifies that refugees and foreign nationals who have a "bona fide relationship with a person or entity in the United States" are exempt from the ban.


June 29

—The Trump administration issues guidance on how it plans to implement the Supreme Court's parameters.

The administration's restrictive guidance includes narrow definitions of "bona fide relationships," excluding grandparents, grandchildren, aunts, uncles, nieces, nephews, cousins, brothers-in-law and sisters-in-law. Importantly, the administration also announces that ties to resettlement agencies are not expected to be considered as a "bona fide" relationship, leaving thousands of already vetted and cleared refugees in limbo.
Challenging the Administration's Interpretation of Supreme Court Ruling
Travel Ban 3.0
Refugee Ban 3.0
To stay up to date on all the latest refugee ban news, follow HIAS on Facebook and Twitter, and sign up for email updates.