Too Poor for a Social Life
By Marloucha Louina
May 28, 2014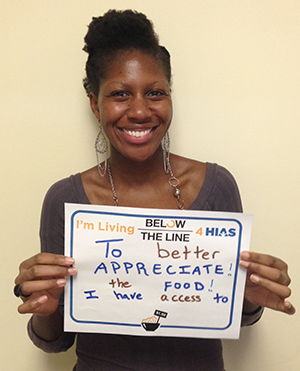 1.2 billion people in the world live in extreme poverty.
Those of us who live relatively privileged lives often catch ourselves saying something like, "I'm too poor to go out this weekend." When we say that, we don't mean what one-sixth of the world's population means. Many of them are actually too poor to go out.
In the summer of 2012, I befriended Eritrean and Sudanese refugees while working with the African Refugee Development Center in Israel. Living in a developed country on little money (they did not have the right to work) meant they couldn't invite me over because they couldn't afford to host in their home. They couldn't go out or socialize because they couldn't afford to. Weddings, church events, birth celebrations were all nearly off limits because they couldn't contribute as they would have liked.
So while many of my fellow Live Below the Line participants might focus on the challenge of staying focused on work while hungry, or an inability to keep up with their normal gym activity, I think of my friends cut off from their social and cultural activities because persecution turned them into refugees, which made them poor.
Upon embarking on this challenge, I assumed I could simply go to the local market and choose the cheapest items. Once I scanned the shelves, I realized I had to be incredibly selective about the items I bought and the quantity in which I bought them. I am unwittingly living on a vegan diet. My shopping bag ultimately consisted of: a small bag of rice, a small bag of beans, 5 tomatoes, 3 cucumbers, and a head of lettuce.
And like my refugee friends I find that I cannot invite my family and friends over for a meal. I would not have enough food and drinks to serve them as hostess. I cannot fully engage in social gatherings with my friends. Were it not for the fact that I know this will end in a few days, I would feel very cut off from the world around me.
I know I am not fully living below the poverty line. But campaigns such as Live Below the Line allow us to internalize, personalize, and reflect upon the experience of extreme poverty. It is only fitting that those of us privileged enough to afford basic necessities do our part in bringing awareness to this cause. Each life deserves a dignified existence. I hope you can all join me this week in taking up this teaching opportunity.