"There is No Normal" at the U.S.-Mexico Border
By Sharon Samber, HIAS.org
Oct 11, 2019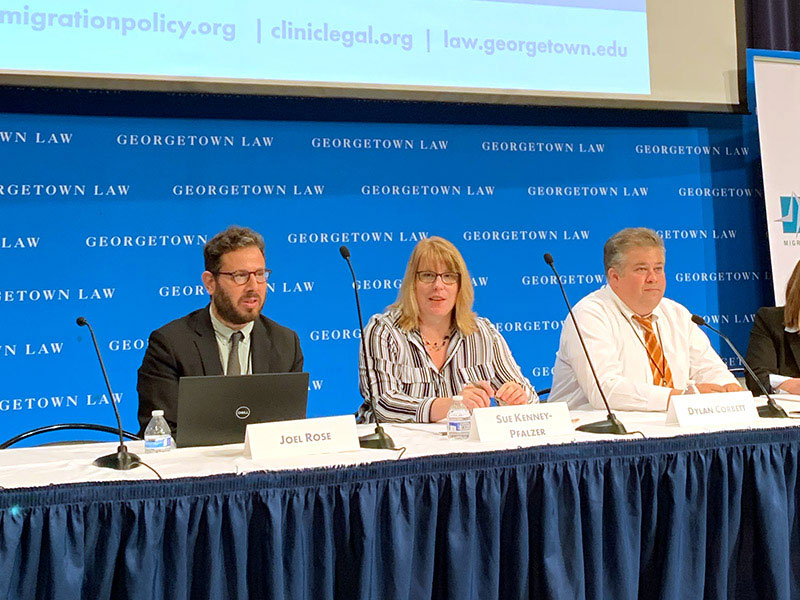 (Meggie Weiler, HIAS)
It is Sue Kenney-Pfalzer's job to tell it like it is.
As the Director of Border and Asylum Network for HIAS, Kenney-Pfalzer is deeply knowledgeable of what's going on at the U.S. southern border and often has the task of telling the hard truth about the ongoing legal morass and humanitarian crisis there.
This week her audience was made up of many experts in the immigration field, and Kenney-Pfalzer was ready with the facts. But even at the 16th Annual Immigration Law and Policy Conference at Georgetown University Law Center in Washington, D.C., not everyone is up on the latest.
"I think about half the room was surprised at what I was telling them," Kenney-Pfalzer said.
Right now, HIAS is one of the most experienced organizations helping asylum seekers at the border. HIAS became more heavily involved in this area of work in the summer of 2018 when Trump administration policies, including family separation, brought an urgent focus to responding to the border crisis.
In August 2019, HIAS opened an office in Mexico, in Juarez, funded by ACNUR (UNHCR Mexico). In collaboration with Catholic Legal Immigration Network (CLINIC), it is providing "Know Your Rights" legal presentations and conducting individual interviews in order to flag cases to refer to HIAS Border Fellows in El Paso. HIAS lawyers also represent individuals who choose to seek asylum in Mexico rather than pursuing their claims in the U.S. HIAS recently hired a Field Coordinator based in El Paso to organize groups of non-attorney volunteers to cross into Juarez and conduct individual screenings.
At the conference, sponsored by the nonprofit immigration think tank Migration Policy Institute, CLINIC, and Georgetown Law, Kenney-Pfalzer explained the overwhelming demand for legal services on both sides of the border. The need for reliable information on the legal process and assistance with their cases is so great that many people consider other issues secondary.
Kenney-Pfalzer noted that since April 2018, all migrants, even Mexicans, coming to the southern border are subject to metering (the term that Customs and Border Protection uses for a process by which it limits the number of people who can request asylum at a port of entry at a U.S.-Mexico border crossing each day), so many are made to wait in the country in which they are being persecuted.
Under the Migrant Protection Protocols, the regulations that implement the "Remain in Mexico" policy, family separation is still taking place. Sometimes one parent is allowed into the U.S. and put into detention while the other parent and children are sent back to Mexico, and there are also a number of cases of separation of non-nuclear families as well.
"The situation is worse than you think," Kenney-Pfalzer said. "The system is designed to be cruel."
Kenney-Pfalzer noted HIAS' ability to implement programs at the border because of the support of the Jewish community, not only in funding, but also in activism and volunteering.
"HIAS has been able to put the passion of the American Jewish community into action," she said.
In addition to Kenney- Pfalzer, other presenters on the panel Drawing a New Line: Recent Changes in U.S.-Mexico Border Policy included: Dylan Corbett, Founding Director, Hope Border Institute and NPR Correspondent Joel Rose. Anna Gallagher, Executive Director, Catholic Legal Immigration Network moderated. The panel was broadcast live on C-SPAN and can be watched on-demand here.
Acting Secretary of the U.S. Department of Homeland Security Kevin McAleenan was scheduled to deliver a keynote address but left the conference without speaking after protesters shouted him down. Activists shouted out that children were under attack and called the names of children who had died after they were in immigration custody.