The End of Temporary Protected Status?
By Meagan Hume, Guest Contributor
Oct 31, 2017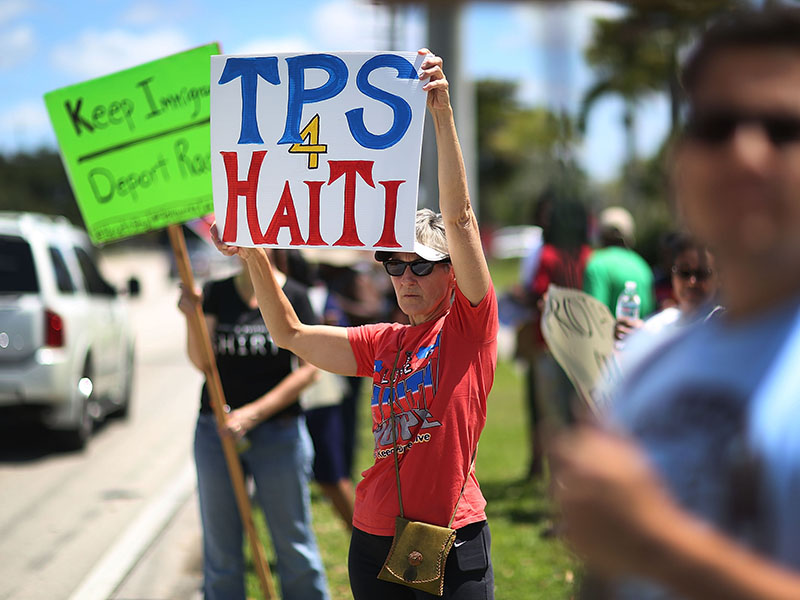 (Joe Raedle/Getty Images)
The Trump administration recently hinted that it is planning to phase out Temporary Protected Status, potentially affecting 330,000 individuals who have lived in the U.S. for years, and who would otherwise face disease, violence, or other life-threatening conditions in their home countries.
What is TPS?
The Temporary Protected Status (TPS) visa program began in 1990 to provide humanitarian protection for U.S. resident foreign nationals whose countries of origin were affected by disaster. TPS grants temporary work authorizations for foreign nationals who cannot go home.
How does someone qualify for TPS?
In order to qualify for TPS, recipients must have been continuously present in the U.S. since the effective date their country is designated or redesignated for TPS. Recipients initially come to the United States through a few different routes. Some are in the U.S. on student, employment, or spousal visas when a conflict or natural disaster in their home country causes the Secretary of Homeland Security to allow a TPS designation. In some cases, immigrants are here without proper documentation when the TPS designation becomes available for their home countries. Regardless of immigration status at the time of TPS designation for their home countries, an applicant must meet certain deadlines in order to apply for a TPS visa. Applicants must reapply and pay associated application fees when the Department of Homeland security reauthorizes TPS for their home country.
Applicants will be denied TPS if they are found to have serious criminal violations, immigration violations, and certain health issues.
While TPS does not allow recipients to apply for a green card, it does allow holders who entered the United States with documentation to simultaneously adjust to other immigration statuses that they qualify for, including student visas, spousal visas, asylum status,or the diversity visa lottery. TPS holders who entered the country without documentation are only able to adjust adjust status if they are in five states and are the immediate relative of a U.S. citizen.
Who are TPS holders?
More than 90 percent of TPS holders are from Haiti, El Salvador, or Honduras and 50%have been in the United States for more than 20 years. In many cases, they have laid down roots: 50% are homeowners, 87% speak English, and they are parents to more than 275,000 U.S. citizen children.
Sudan TPS Terminated
In September, TPS for Sudan was the first program to be terminated under the new administration. Effective November 2, 2018, the decision affects the 450 Sudanese TPS holders in the United States.
Haitians in Dire Straits
In May, the administration granted a shortened extension of TPS for the 50,000 Haitians in the United States as a result of a 2010 earthquake that ravaged the country's infrastructure, displaced 1.5 million, and killed at least 220,000. A cholera epidemic swiftly followed the earthquake and, exacerbated by Hurricane Matthew in 2016, remains endemic. Recent hurricanes Irma, Jose, and Maria have downed power, severely damaged infrastructure, and caused massive flooding on parts of the island.
The extension ends on January 22, 2018, meaning that unless the administration chooses to extend the program, Haitian TPS holders will be expected to return to Haiti of their own accord. This has prompted several thousand Haitians to cross the Canadian border, where their immigration status is equally precarious. Humanitarian and human rights advocates have denounced the shortened timeline, given the extensive damage still in Haiti. In 2015, five years after the earthquake, only 37,000 houses had been repaired or rebuilt, and only 20% of those were viable long-term. In the wake of recent hurricanes, the Haitian government renewed requests of an 18-month TPS extension from the administration.
Senator Marco Rubio recently commented that it would be difficult for Haiti to absorb the TPS recipients. "But if that's the decision, the administration makes, - which I hope they do not - if they did, my view is that the embassy will have a lot of work on its hands and the government of Haiti will require a lot of assistance."
Central American TPS Holders
TPS was originally granted for three Central American countries - El Salvador, Honduras, and Nicaragua - due to natural disasters. Hurricane Mitch devastated Central America in 1998, killing more than 5,000 people in Honduras and costing more than $1.5 billion in damage to Nicaragua, leading to TPS designation for both countries. El Salvador suffered three major earthquakes in 2001, affecting more than 1.3 million residents and leading to TPS designation.
All three Central American countries have since suffered subsequent natural disasters, each of which further reduced basic infrastructure, like housing, health care, and road conditions. Exacerbated by persistent poverty, conditions in El Salvador, Honduras, and Nicaragua are dire.
El Salvador and Honduras also have to contend with high levels of gang and cartel related violence and extortion. Along with Guatemala, they belong to a region known as the Northern Triangle which has some of the world's highest homicide rates.
Nationals from Central American countries comprise approximately 77% of the 330,000 TPS recipients in the United States. Salvadoran nationals are the largest group of TPS recipients, with 195,000 recipients, Hondurans are second with 57,000, and Nicaraguans hold 2,250 TPS visas.
Despite U.S. government efforts to deter unauthorized migration to the United States from Central America, there is evidence that migration continues due to the high levels of violence in the region. Between 2011-2016, there were 179,000 unaccompanied children under 18 years of age apprehended crossing the southern border to find refuge in the United States from gang violence in their native Honduras, Guatemala, and El Salvador.
The potential termination of TPS status for El Salvador and Honduras has particular impact on the children eligible for the Central American Minors (CAM) Refugee program, which provides children of nationals lawfully in the U.S. from El Salvador, Guatemala, and Honduras to apply for refugee status in the United States. Many of the CAM children are sponsored by parents from El Salvador and Honduras who are lawfully present in the United States only because of TPS. To strip away TPS would mean that their children would also be expected to return to very high levels of violence.
Economic Impact to the United States
TPS holders are legally allowed to work in the United States, but their employment conditions are limited and require an extra application process. Regardless, their economic contributions to our communities are widespread. For example, Haitians are the backbone of the hotel industry in Miami, causing local unions to speak out against the ending of TPS. Many industries have come out in support of TPS - most recently the Essential Worker Immigration Coalition, which represents a diverse group of associations, from the American Health Care Association to The Tree Care Industry Association to the Associated Builders and Contractors.
The cost of deporting Salvadoran, Honduran, and Haitian TPS holders is estimated at $3.1 billion, would deprive Social Security and Medicaid of $6.9 billion over a decade, and lead to an estimated $164 billion reduction of GDP over a decade. These TPS recipients have been in the U.S. for 19 years on average and they are employed at high rates, ranging from 69.2% to 83.5%. They are employed in a variety of sectors, but contribute to construction, restaurant and food services, landscaping services, child care, and grocery stores. Mostly concentrated in six states: California, Texas, Florida, New York, Virginia, and Maryland, nearly one third of households of TPS holders from El Salvador, Honduras, and Haiti have mortgages, indicating pursuit of homeownership. This group also has a combined 273,200 U.S.-born children.
The Future of TPS
Many advocates and activists are asking the administration not only to keep TPS for current recipients, but expand it. With the barrage of natural disasters faced by Mexico in recent months, including multiple hurricanes and two major earthquakes in September, one of which 'flattened entire towns,' HIAS CEO and President, Mark Hetfield told Voice of America that TPS should be considered for Mexico. "People who cannot go back because of the earthquake, [giving them TPS] certainly makes sense."
TPS has also been named as a status option for undocumented Central Americans in the United States, particularly those whose unaccompanied children are fleeing gang violence in El Salvador, Honduras, Guatemala, and Nicaragua.
TPS status determination is upcoming for Honduras, Nicaragua, El Salvador, and Syria in the early part of 2018, with determinations for Nepal, Yemen, and Somalia expected later in 2018. Regardless of the administration's decision, many lives hang in the balance.
To learn more about TPS holders in your state, check out the state and national fact sheets from the Center for American Progress.
Related HIAS Content:
​Meagan Hume is HIAS' Associate for Policy and Advocacy. To learn more about HIAS' work on TPS, click here.