Strategic Litigation Brings Results for HIAS Israel, and Hope to Asylum Seekers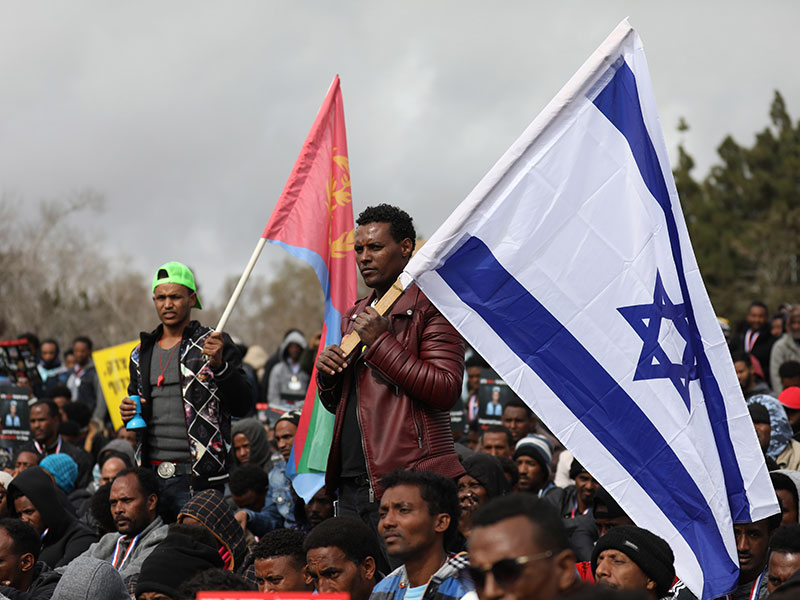 (GALI TIBBON/AFP/Getty Images)
"It's a trickle, if anything," said HIAS Israel Director Sivan Carmel.
The number of African asylum seekers in Israel once reached 64,000. Estimates today put the total population at 40,000, with virtually no new asylum seekers entering since 2012.
Those who remain do so because they cannot safely return home. In a nearly 8.5 million person democracy, the question has now become: what is the long-term solution for this marginalized community?
Government policies to date have been aimed more at disincentivizing individuals from seeking asylum, and less at finding sustainable, fair solutions for them.
"Back in 2007 and 2008, when asylum seekers first started coming to Israel, they were not even allowed to apply for asylum," Carmel explained. "It was only in 2012 that they began accepting asylum claims from people inside detention centers. And it wasn't until late 2013 that they began allowing people outside of detention to file for asylum."
"Even then, many Eritreans and Sudanese didn't think they would be recognized as refugees even if they applied, because they saw that no one else was having their claims recognized. So they didn't see any reason to apply for asylum, and no one explained to them that they need to do it or how to do it."
But things are gradually beginning to change for the better, thanks to the tireless work of advocates and a string of strategic legal actions that have produced significant results.
Last month, the Israeli government announced that it will grant temporary protected status to 200 asylum seekers from the Darfur region of Sudan. While this decision will only impact a relatively small group of asylum seekers, it marks the first time in over a decade that Israel has granted such status. Critically, it will allow individuals who had been previously living in limbo to receive social benefits including health insurance and ensure their right to work.
The government's policy change came, at least in part, in response to a number of petitions and lawsuits filed by attorneys representing asylum seekers, including several petitions filed by lawyers from the HIAS Israel legal aid program.
Responding to this new policy, HIAS Israel organized a "know-your-rights" session for 150 Sudanese asylum seekers. Now, they are gearing up for their next major challenge: representing those who are not on the list and whose asylum applications have been pending for many years.
There have been other recent successes with significant impact on the lives of asylum seekers in Israel, too. After the Interior Ministry began implementing a one-year limit to for filing asylum claims in late 2016, and rejected more than 2,000 claims that had been submitted since 2016, HIAS Israel filed several appeals. Upon review, a judge found the rejections to be unreasonable and illegal.
"The decision meant that all of the Eritreans and the Sudanese who had not yet applied for asylum can now do so without being rejected out of hand," said Nimrod Avigal, Deputy Director of HIAS Israel. "That applies to about 26,000 people."
In addition, HIAS Israel quickly asked the court to reopen the cases of the more than 2,000 asylum seekers whose claims were initially rejected.
In the wake of these developments, HIAS Israel and its network of attorneys are perennially working toward positive decisions in individual cases that could be used to help others with similar cases. It's part of a broader strategy as they seek to make meaningful change in how the country treats the refugees within its borders, making asylum more accessible to those in need of protection.
"It often seems like the state is erecting barrier after barrier for people seeking protection in Israel. Whether it's the Holot detention facility or the fence or 'voluntary' departure to a third country in Africa, it's all another obstacle. Another gate. Another wall. And here, we're penetrating one of these walls which are just so impenetrable," Carmel said of their recent legal victory.
"Right now it may still be a small hole, but we are knocking away these bricks and I think our program can knock out more bricks. Because we have the size, we have the lawyers on it. We have a small army of lawyers, really. And I think we have the potential to make it more accessible."
Stay tuned for more updates from the HIAS Israel team. Follow us on Facebook and Twitter, and sign up for email updates for all the latest.