Some Other Winners in the Midterm Elections: Refugees
By Meggie Weiler, Policy Officer, Policy and Advocacy
Nov 07, 2018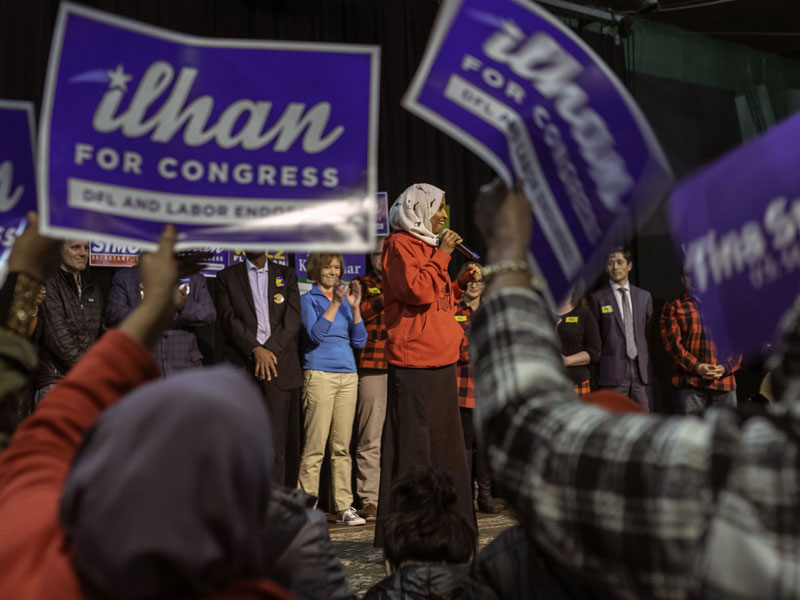 (KEREM YUCEL/AFP/Getty Images)
Last night's election proved to be historic for many groups, with more women elected to serve in Congress than ever before and diverse candidates winning elections across the country.
In Minnesota, New Hampshire, and Colorado, it was also an historic night for candidates whose families came to the U.S. as refugees.
CNN's Eli Watkins compiled a list of all the notable candidates who won elections last night, including Ilhan Omar who will be headed to Washington in January to represent Minnesota.
Omar, who will be one of the first Muslim women to serve in Congress, came to the U.S. from Somalia as a refugee over 20 years ago. On tuesday night, she was elected to represent Minnesota's 5th district, a seat formerly held by Keith Ellison.
Omar has been vocal in her opposition to President Trump's executive actions to ban refugees from coming to the U.S. "We are doctors, we're teachers, we're poets, we're business owners, we're factory workers," Omar said last year, just before the ban on people from Muslim-majority countries. "Despite the cold here in Minnesota and in many parts of America, we experienced the warmth of welcoming neighbors."
In New Hampshire, Safiya Wazir has also felt the welcome of a community. Last night she won her bid for New Hampshire's House of Representatives, making her the first refugee to win a seat in the state's legislature.
Wazir fled Afghanistan as a child and lived in a refugee camp in Uzbekistan for several years before being resettled in Concord, N.H., more than a decade ago. In a race where her opponents were openly negative about the growing immigrant population of Concord, Wazir chose to focus her campaign on issues facing the community, such as equal housing, education, paid family leave, and Medicaid expansion.
When asked about being resettled in the U.S., Wazir said, "All I was thinking was about my education and going forward with my life to make my life better."
In addition to Omar and Wazir, Joe Neguse is the child of refugees who fled Eritrea, a war-torn country in East-Africa, and were resettled in the U.S. Last night Neguse won his bid to represent Colorado's 2nd congressional district. Neguse credits his family history as the impetus for his choosing to dedicate himself to public service and ultimately as the driving force for his running for Congress.
Samantha Vang, whose parents were refugees resettled in Minnesota, was elected to the Minnesota house last night. Adam Yang and Paul Yang, who both won Judge positions in the state, were refugees who found safety in Minnesota. These newly elected officials were among nine Hmong Americans running for office in Minnesota this year.
These victories, of course, come amidst efforts by the Trump Administration to limit refugee admissions to the U.S. over the past two years. In October, the President announced that the U.S. would admit a historically low 30,000 refugees in fiscal 2019.