Refugee Agencies Prepared for Afghan Resettlement
By Dan Friedman
Sep 20, 2021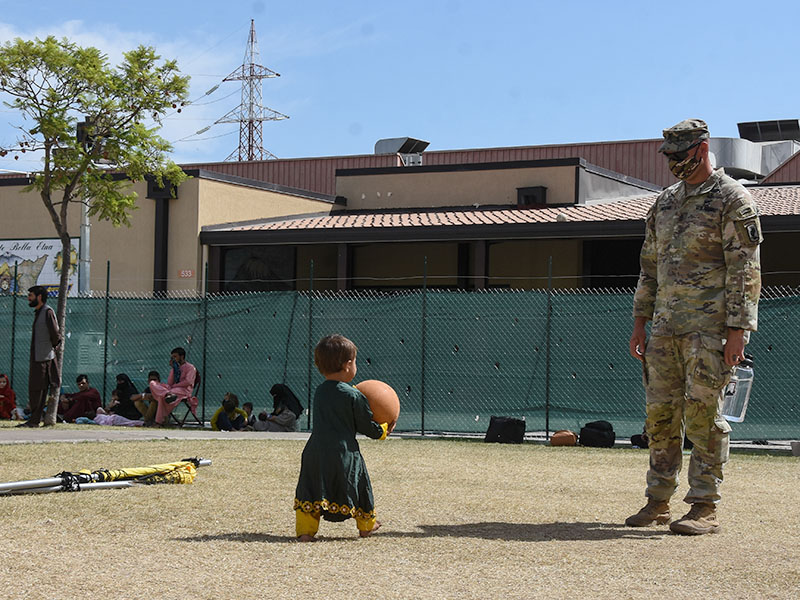 (Francesco Militello Mirto/NurPhoto via Getty Images)
This summer, as the consequences of the American military withdrawal from Afghanistan became clear, aid and emergency organizations and U.S. refugee resettlement agencies stepped up their response.
"This is a crucial time. Afghans are arriving across the continent and, soon, they'll find their way to our HIAS affiliates who have been preparing for the last month," noted Alicia Wrenn, senior director of resettlement and integration for HIAS.
By the end of August, thousands of Afghans had made it to America, though hundreds of thousands who were hoping to come were blocked by either the Taliban threat or by the loss of important documents pre-emptively destroyed by the U.S. Embassy staff in Kabul.
By September 14, The New York Times had seen an "internal federal document" noting that 64,000 Afghan evacuees had arrived in the United States of which 49,000 were on army bases. Another 18,000 remain on overseas bases.
After criticism by HIAS President and CEO Mark Hetfield among others, the piecemeal approach to receiving Afghans and processing them across multiple departments has been rapidly reformed. Former Delaware governor Jack Markell has been tasked with pulling together the many strands of the Afghan resettlement project, including the Afghan Placement and Assistance (APA) Program.
Resettlement organizations across 46 states, including many HIAS affiliates are prepared, and continuing to prepare for a refugee population that, NPR notes, has more widespread support than almost any group since the Vietnam War.
Karen Monken, director of pre-arrival and initial resettlement, reports that "our affiliates and their communities are anxiously awaiting information on when refugees will be able to travel to our partners across the U.S." Getting ready for arrivals, volunteers have offered unprecedented amounts of time, money and furniture.
Wrenn expressed her gratitude, "Our affiliate network is receiving huge gestures of support from volunteers, from local employers, and from local funders. Right now everyone seems to be stepping up to ease the journey and support the integration of Afghans into communities and civic life."
In an indication that resettlement is about to increase significantly over the coming weeks, Markell has spoken to governors to explain the numbers of Afghan each state should expect.
Wrenn is positive about the final outcome. "This has been heartbreaking for the many Afghans who have left loved ones behind. We are confident that over the next months, we can help thousands of them start to establish their American lives."