Rabbis Build Sukkah Outside Trump Tower to Promote Welcome
By Gabe Cahn, HIAS.org
Oct 10, 2017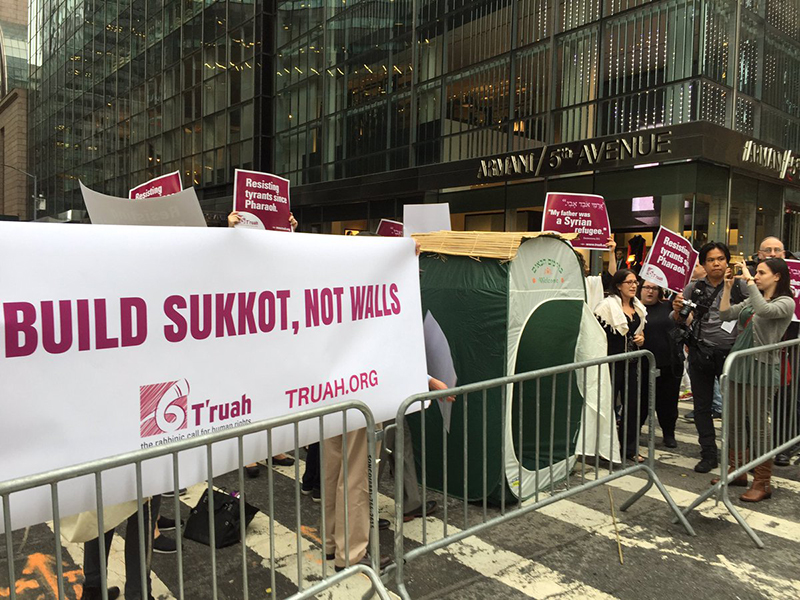 (T'ruah)
"This is a particularly devastating moment," Rabbi Rachel Grant Meyer, director of education for community engagement at HIAS, told the Israeli newspaper Haaretz.
"In the midst of what is really the worst refugee crisis in history, we're seeing actions taken to pull out the welcome mat for refugees."
On Monday, October 9, Grant Meyer joined two dozen New York rabbis in an action organized by T'ruah: The Rabbinic Call for Human Rights. The symbolic shelter was intended to send a timely and distinctly Jewish message in response to anti-immigrant and anti-refugee policies.
Rabbis set up sukkah hut at Trump Tower to protest travel ban and immigration crackdown https://t.co/6xwHQ61997 pic.twitter.com/0xSvzfnoCj

— New York Daily News (@NYDailyNews) October 9, 2017
As
The Jerusalem Post reported
, "the executive director of T'ruah, Rabbi Jill Jacobs, constructed the sukkah to point out the need for a more welcoming American policy towards refugees and migrants."
Rabbis bring sukkah hut to Trump Tower in protest against the US government's immigration policies https://t.co/nXsDEajNHm pic.twitter.com/pKVJk75HtN

— Ruptly (@Ruptly) October 9, 2017