Providing Detained Asylum Seekers Access to Representation and Justice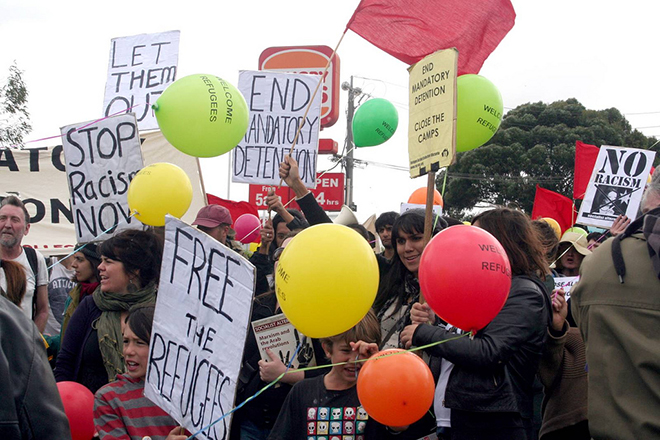 Imagine barely escaping a targeted, brutal attack on your family by armed militants or experiencing persecution triggered by your sexual orientation, making your way to the welcoming shores of the United States—and being immediately detained and imprisoned without any access to legal counsel or representation. This is the harsh reality of thousands of asylum seekers searching for haven in the United States.
A December 2011 Cardozo Law Review report entitled Access To Justice: The Availability and Adequacy of Counsel in Removal Proceedings, authored by members of the Study Group on Immigrant Representation and led by the Honorable Judge Robert A. Katzman of the U.S. Court of Appeals for the Second Circuit, highlights the crisis in the availability of legal representation for detained immigrants in New York.* The crisis adversely and disproportionately impacts immigrants, including survivors of torture and asylum seekers detained by the Department of Homeland Security.
According to the report, a staggering 60 percent of detained immigrants do not have counsel by the time their cases are completed; of those, only 3 percent are able to secure a successful outcome in their case. Unlike the criminal justice system, in which judges are generally required to appoint counsel for defendants who cannot afford a lawyer, there are no similar safeguards in place in the immigration enforcement system to ensure legal representation for immigrants in removal proceedings. As a result, over half of all individuals in immigration court must face the complex legal proceedings alone and unrepresented, while the government is always represented by a lawyer. This systemic denial of representation has predictable and intentional results—the mass removal of individuals deemed somehow undesirable.
Survivors of torture and asylum seekers are hidden among the hundreds of individuals detained each day by Immigration and Customs Enforcement (ICE) within a complex and broken immigration detention system. Their anonymity means they cannot secure the services they so desperately need. As a result, many are unable to retain the legal representation that is crucial to properly asserting their claim for asylum before the immigration court and ensuring their release from detention.
Since 1996, in order to help meet the needs of these particularly vulnerable individuals, HIAS has worked directly with detained survivors of torture and asylum seekers to ensure that they are advised of their rights, provided detailed information on the asylum and immigration removal process, and given an opportunity to secure highly trained legal counsel at no expense.
Building on HIAS' years of successfully serving and representing numerous individuals in detention centers throughout New York and New Jersey, in November 2012, with funding provided by the Office of Refugee Resettlement and the Lutheran Immigration and Refugee Service, HIAS hired a full time fellow to conduct "Know Your Rights" trainings at local detention centers; screen for survivors of torture; and provide individual legal consultations with asylum seekers, survivors of torture, and other individuals in detention.
Since November 2012, HIAS has screened over 450 individuals from 40 different countries and provided "Know Your Rights" presentations to hundreds more. Of the screened individuals, HIAS has identified over 50 torture survivors and asylum seekers. Of these, only 32 percent have obtained legal counsel, forcing the vast majority of individuals seeking sanctuary and protection in the United States to navigate a legal system that has been described by some federal courts as "labyrinthine."**
Through HIAS' work with detained individuals, we are able to see firsthand how the need for legal representations dwarfs the availability of legal resources for immigrants and asylum seekers. It is clear that more needs to be done to ensure that the right to legal representation is applied equally to all individuals, including members of our immigrant community. As the detention of individuals seeking relief from persecution shows no signs of abating, it remains clear that the availability of high quality and universal legal representation for detained individuals is vital to ensuring the continued protection of the due process rights of immigrant detainees.
---
* NYIRS Steering Committee, Accessing Justice: The Availability and Adequacy of Counsel in Removal Proceedings, New York Immigrant Representation Study Report: Part I, Cardozo Law Review (2011).
** Drax v. Reno, 338 F.3d 98, 99 (2d Cir. 2003)