As People Are Displaced, We Must Meet Them On Their Journey
By Melanie Nezer, Senior Vice President for Global Public Affairs, and Jessica Reese, Vice President for Institutional Development
Jul 28, 2022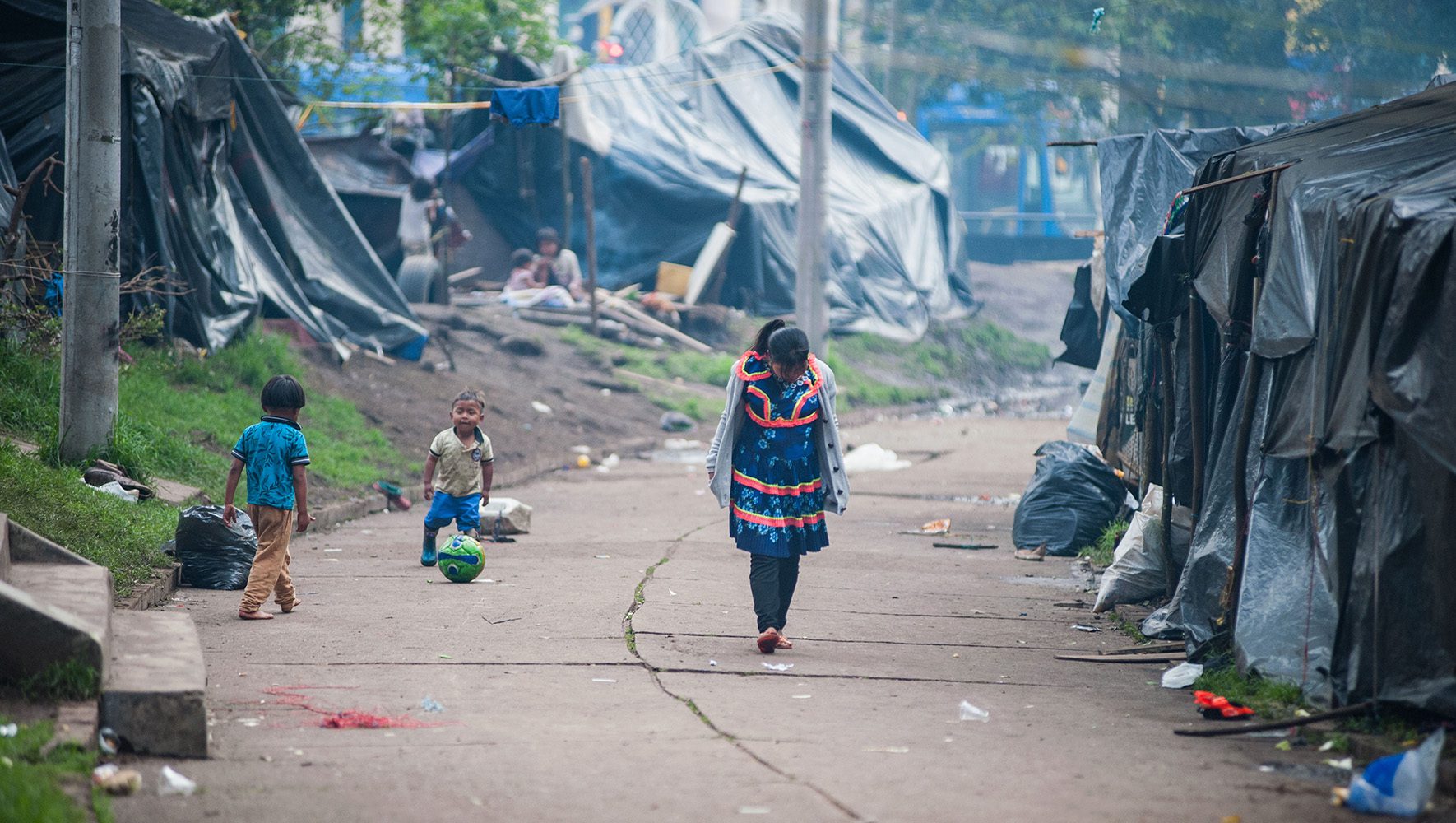 Nezer and Reese spent several days last month in Colombia visiting HIAS Colombia offices and learning about their newest programs. 
Traveling first to Bogotá and then further south to Cali, we were quickly reminded that the needs of refugees around the world are often the same: safety, work, food, and school for the children. Across Colombia, to help refugees meet these needs, HIAS provides mental health and psychosocial support and, in partnership with Airbnb, emergency housing in some parts of the country.
Armed conflict continues in this beautiful country, and evidence of the violence that continues to displace tens of thousands of Colombians was all around us. At the City Hall in Popayan, the capital of the state of Cauca, we saw a group of about 20 Afro-Colombians who had recently arrived from the southwestern state of Nariño, an area of escalating conflict and displacement. There were adults and children of all ages sitting in the courtyard with their luggage – all their remaining belongings – waiting for help.
At the same time as the conflict forces Colombians to leave their homes, Venezuelans continue to arrive in Colombia by the thousands. Many want to stay in Colombia; others are transiting south to Ecuador, Peru, and Chile, and north to Panama, Mexico, and the U.S. border. In the north of Colombia, thousands of Haitians who had found work in Brazil and Chile are now on the move to look for new work, so HIAS provides them with survival kits. There's a constant movement of people through the country, many in the backs of commercial trucks. We were told that people tie themselves to the trucks, to keep them on board even if they fall asleep.
Many people can be seen walking along highways, despite the risk of robbery and violence. Heartbreakingly, these walkers include mothers with small kids, some with no shoes and barely any belongings. The city of Cali, just north of Popayan, has set up an area at the bus station where refugees and migrants can rest and connect with agencies that provide services, like HIAS and the UN Refugee Agency. A video shown on a loop at the reception area warns people about some of the dangers of the road, like snakes, scorpions, and extreme cold, as well as the ever-present risk of exploitation and sexual abuse.
We walked around the open market in Cali and saw Venezuelan men lined up for day labor. We were told they were often underpaid for their work, or not paid at all because they are powerless to collect. People said the public bathrooms at the market are particularly dangerous for women and children, but often their only option for running water. To counter this, HIAS provides women who work in the market with flashlights and whistles to help prevent violence, but these tools are not enough.
Visiting these various refugee groups and witnessing the huge burdens they bore, we heard directly from them about the enormous physical and mental stress they experience every day.
We visited a rundown building that charges a daily rate for a small room, separated from the common area only by curtains. If people can't pay the rent they sleep in the park across the street. Our HIAS colleagues said the daily hotels are so dangerous that parents take turns sleeping so they can make sure their children are not taken from them during the night by people seeking to abuse and exploit them. They hope for the best when they leave their children alone during the day.
Some Venezuelan refugees, brought together by a community group supported by HIAS, said they started each day with nothing, because everything they earned they had to spend to survive and there was no way to save up for the next day. They talked about their concern for teenagers and young adults, who have nothing to do and are prime targets for gangs. They had very specific needs in mind for how foreign aid groups could help: micro-loans, business and job training, anything that could help them start saving and get a bit ahead.
We met with a group of refugee and displaced men who participated in our innovative "positive masculinities" program, and they told us how they were learning to rethink before they reacted in anger or violence. One young participant said the program made him think about the man he was and was helping him become the man he wanted to be.
HIAS' responsibility is to now try to facilitate the economic integration requested by almost everyone we met. We want to help provide more emergency housing and emergency food support — basic items for survival, but often not sufficiently funded by the UN and institutional donors.
The world has been so welcoming and generous to people fleeing Ukraine — and HIAS is grateful for this global outpouring of support. At the same time, we are committed to making sure that refugees in the countries that don't make the news every day also get the help they deserve. Talking to mothers, fathers, and children who are courageously facing every new day as refugees has strengthened our resolve to make sure refugees can live their lives with a basic level of safety, knowing they have a place to sleep at night, and can begin to build for the future.